---
Retail Sales Slide More Than Expected, Grow At Weakest Annual Pace Since June 2020
Yesterday, when previewing today's closely watched retail sales prints, we shared the latest card data tracking data from Bank of America which predicted a much sharper than expected drop, expecting a 0.8% drop in the headline print and a -1.0% drop in the ex autos number.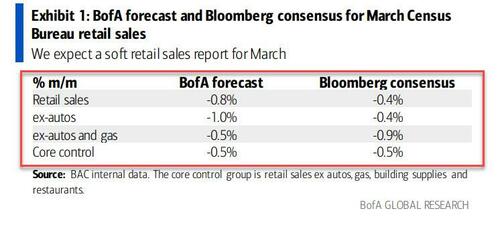 And, as usual, Bank of America was right (even if the numbers were flipped) with the headline and retail sales-ex autos (measured nominally) coming in as the bank predicted, and roughly twice as bad as consensus had expected, even though the core retail sales and control group (retail sales ex autos, gas, building materials and restaurants) beat modestly despite also printing red.
Retail Sales -1.0%, Exp. -0.4%
Retail Sales ex Auto -0.8%, Exp. -0.4%
Retail Sales ex Autos and Gas -0.3%, Exp. -0.6%
Retail Sales control group -0.3%, Exp. -0.5%
What is concerning is that retail sales rose just 2.9% Y/Y: this was the lowest annual rise in retail sales since June 2020.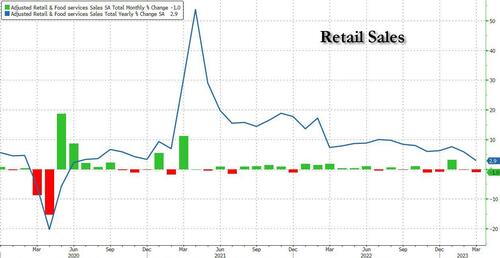 Looking at the components, the biggest drop by far was in gasoline stations which is the result of the drop in gas prices in March, which have however since rebounded strongly. Additionally, we saw a big drop in motor vehicle stores, furniture, clothing, food & beverage, general merchandise, and of particular note, electronics and appliance stores, which have had a very rough time since the pandemic. Also note the -10.3% drop in nominal retail sales for the category: when adjusted for inflation this means that retail sales for electronics are plunging more than 15% in real times.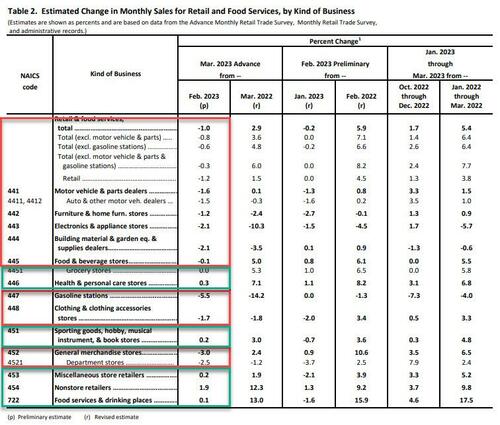 Bottom line: the 'lag' from monetary policy, coupled with the hit to spending following the bank crisis is starting to catch up.
Loading...