---
Rich Investors Take "Cautious" Approach To Markets Over Next 12 Months 
By now, it is common knowledge that technology stocks, the FAAMGs, are in one of the biggest bubbles in capital markets history. Investors have quickly pivoted to these fast-growing tech firms, with an unprecedented concentration in AAPL, MSFT, AMZN, GOOGL, and FB. With the US presidential election fast-approaching, momentum and valuation concerns have materialized for these high-flying stocks, as the world's most sophisticated family offices and investors have recently described their investment outlook as "cautious," according to a new Citi Private Bank survey. 
About three-quarters of all respondents, including ultra-high net worth individuals and family offices, described their 12-month investment sentiment as "cautious." Many flagged the cautious mood, raised cash reserves, and increased direct investments due to the virus pandemic. 
The survey, which was administered in June and July to about 180 family offices and investors, had a quarter of all respondents worried about the surge of social unrest and violent crime spreading across the US. 
About 59% of respondents said they had or will increase their allocations to direct investments over the coming 12 months, with technology, healthcare, and real estate as their three top sector choices.
Stephen Campbell, Managing Director and Chairman, Private Capital Group, Citi Private Bank, said family offices and wealthy investors have survived the virus downturn and see more opportunity in private markets.
"Our findings capture the sentiment of respondents from all regions of the globe. We find that family offices and ultra-high net worth individuals have weathered the crisis well. They are positioned to deploy further capital as they see opportunities arise, especially in private markets. However, it cannot be ignored that the survey found liquidity to be at a premium, and clients often willing to sacrifice short to medium-term returns to maintain that," Campbell wrote in the survey. 
The caution expressed by respondents comes as FAAMGs are clearly in a bubble.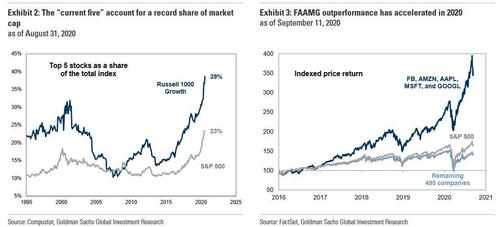 Half of the respodents said they expect total portfolio returns for the next 12 months to be in the 1% to 5% range. When asked about future reconfigurations to the portfolio, 56% said they are making "some tactical changes," while only 14%" reported making "significant portfolio changes."
Peter Clive Charrington, Global Head of Citi Private Bank, commented on the survey:  
"The results and analysis in this report give a rare insight into the thinking of some of the world's most sophisticated family office executives and other leading investors. We asked them about their outlook for the global economy and financial markets, as well as what they are doing with the portfolios that they oversee. The answers about the opportunities and risks ahead – and the actions that respondents expect to take – provides Citi Private Bank the opportunity better to address the challenges and needs of our global clients. We have found to a surprising degree that our clients have remained closer to their Citi team as they navigate these uncertain times."
In a separate survey, produced by UBS Global Wealth, they noted, the wealthiest of investors are waiting for a pullback in markets before they start buying.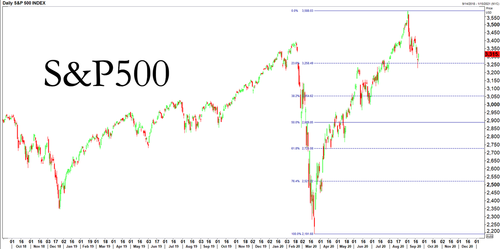 The question wealthy investors have on their mind: How deep will the pullback be?