---
Pennsylvania Gov. Issues Disaster Declaration After I-95 Bridge Collapse, May Take 'Months' To Rebuild
Update (1919ET): 
Pennsylvania Governor Josh Shapiro will declare a "disaster declaration" on Monday to tap federal funds to rebuild a bridge on Interstate 95 in Northeast Philadelphia that was destroyed by a tanker fire, according to NBC 10.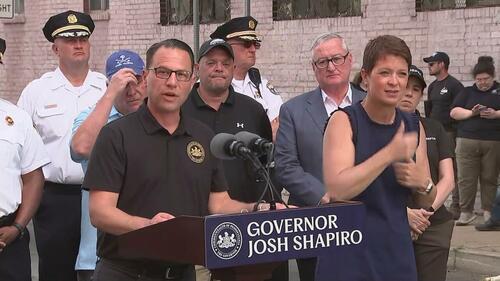 During a press conference on Sunday evening, Shapiro said the bridge rebuild could take "some number of months." PennDOT officials and engineers have yet to give specifics on a timeline for reconstruction. 
"To expedite this process and to cut through the red tape, tomorrow morning I plan to issue a disaster declaration, allowing the Commonwealth to immediately draw down federal funds and move quickly to repair and reconstruct this roadway.

"I've spoken directly to Secretary Pete Buttigeig of the United States Department of Transportation, along with Senator Casey, Congressman Boyle and other federal officials," the governor said. 
With regards to the complete rebuild of I-95 roadway, we expect that to take a number of months.

We will know more about that exact timeline once the engineers and PennDOT have completed their review. pic.twitter.com/WBVb5AOXTU

— Governor Josh Shapiro (@GovernorShapiro) June 11, 2023
Shapiro said officials are creating alternative routes for motorists during the rebuild.
Early this AM a vehicle fire under I-95 in Philly caused part of the highway to collapse.

While this is still an active scene, I completed an aerial view of the site and was briefed by first responders, law enforcement and transportation experts on the ground with @PhillyMayor. pic.twitter.com/g4rHy5NTMM

— Governor Josh Shapiro (@GovernorShapiro) June 11, 2023
 I-95 is a major artery for transporting people and goods, and the bridge's closure is already sparking traffic chaos. 
*   *   * 
Interstate 95 in Philadelphia closed on Sunday after a tanker truck burst into flames underneath an overpass, causing a portion of the bridge to collapse. 
All lanes on 1-95 are shut down in both directions nearing Cottman Avenue exit due to large fire. Smoke is visible. Avoid 1-95 approaching Northeast Philadelphia and expect delays. https://t.co/DydujHbkqr

— Philadelphia OEM (@PhilaOEM) June 11, 2023
NBC's Randy Gyllenhaal reported the 'accident' broke out around 0630 ET on the off-ramp to Cottman Avenue, right underneath I-95, in the Tacony neighborhood in Northeast Philadelphia. 
Major fire on 95 North approaching Cottman @FOX29philly @CBSPhiladelphia @NBCPhiladelphia looks like the grass is on fire pic.twitter.com/PKbUYkrWLn

— Sgt. Mark Fusetti (Retired) (@MarkFusetti) June 11, 2023
All north and southbound lanes are closed for 3 to 4 miles between Bridge Street and Academy Road. Traffic chaos has erupted across that section of the city, as per traffic data via TomTom.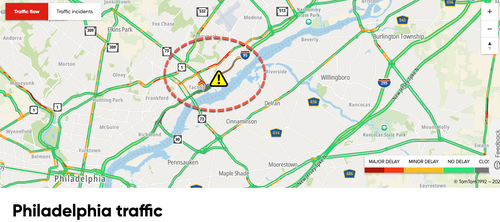 Gyllenhaal said officials are on the scene and investigating the accident and the state of the bridge. He said the southbound side is "compromised" while there could be structural issues with the northbound section. 
All lanes of I95 closed in both directions between Woodhaven and Aramingo exits due to fire/road collapse. Other streets closed for the response. Avoid area. Plan and seek alternative travel routes. pic.twitter.com/myNyH0nCiq

— Philadelphia OEM (@PhilaOEM) June 11, 2023
Officials told Gyllenhaal, "The roadway is gone." 
The runoff from the tanker is also causing underground explosions, explained Captain Derrick Bowmer of the Philadelphia Fire Department. There have been multiple reports of exploding manholes around the area. 
"We will be here for awhile," Bowmer said. "We have fire coming out of those manholes."
He said the 'highways isn't expected to re-open anytime soon,' and this could spark significant traffic delays on Monday morning, considering the I-95 highway is a major interstate through the Mid-Alantic corridor. 
Pennsylvania Governor Josh Shapiro tweeted he has been briefed on the tanker explosion and bridge collapse. 
Loading...