---
Rookie Traders "Down Under" On Sydney's Beaches Are Earning As Much As $400,000 Straight Out Of School
I think we just found where all the recently laid off bankers from Wall Street are going to wind up: Sydney, Australia.
Why, you ask? Because rookie traders "down under" are earning as much as $400,000 straight out of school, according to a new Bloomberg report on the burgeoning market for tech-driven trading. 
Noting that Citadel Securities, IMC Trading BV and Optiver BV all already have established presences on the continent, Bloomberg says that math and science majors may command up to that much to work at trading firms. The city has appeal because of a university system that churns out grads who are familiar with, and adapt well to, the business and trading world. 
James Meade, head of employability at UNSW Sydney, said: "Trading firms offer extraordinary grad salaries." 
Citadel could be upping its staff in Australia by 50% to 100%, the report says. It already has more than 60 employees there. Matt Culek, COO, said: "We are excited about the pipeline of talent that we've seen coming out of schools in Australia."
Optiver has most of its 500 Asia-Pacific staff in Sydney already, the report says. IMC employs more than 1,300 people. More than 90% of its 300 regional employees are based in Sydney already.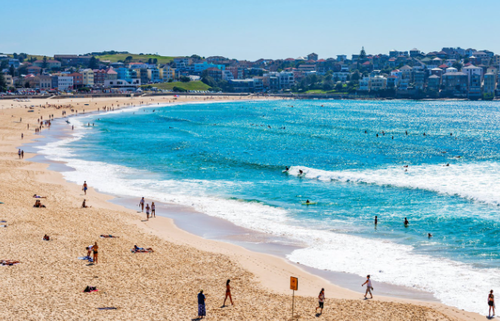 And the business isn't all based in Australia, rather the traders are working to build a hub for other regional markets - Japan, South Korea and other large Asian markets - the report says. 
Sydney has a long history with tech-driven trading, the report details:
Sydney traces its roots in the computer-driven trading business back to the 1990s, when Australia's stock exchange had one of the biggest options markets in Asia-Pacific, which helped entice firms to the city. Tax breaks on offshore trading revenues, which are in the process of being phased out, also contributed.

Sydney is also a major forex trading hub, and Macquarie Group Ltd., which is based in the city, has a longstanding trading business that helped its profits hit a record last year.
And of course, fun in the sun after work on Australia's many beaches isn't a bad perk either. John Fildes, a capital markets veteran who now works for Bain & Co., told Bloomberg that the jobs there have become "a lifestyle thing". 
One former trader for Optiver - who is now paying as much as A$250,000 ($165,000) - said: "My schedule was to get up quite early, be in the water around 6 a.m. Go home and grab a coffee, get on my scooter and ride over to the office. I still miss it."
"It's significantly better than a Wall Street bank. The hours are there, but the work is quite enjoyable," concluded 26 year old former Optiver intern Will Green. 
Loading...