---
Russia Central Bank Bans Sales Of Foreign Currency For 6 Months
Russians who want to convert their rapidly devaluing rubles, as Joe Biden was quick to point out today...
"1 ruble is now worth less than 1 American penny," Biden says.

Russia is facing a blitz of more than 2,000 economic sanctions over its invasion of Ukraine https://t.co/yndHY0idkv pic.twitter.com/SCejGjVet9

— Bloomberg Quicktake (@Quicktake) March 8, 2022
... into dollars or any foreign currency, are stuck for at least the next six months
In a statement on Tuesday, the Bank of Russia banned banks from selling cash currency to citizens who do not already have FX accounts for period of 6 months starting March 9, effectively ending ruble convertibility until September 9. It's unclear if the ban means there effectively won't be a RUB FX market until September, but it may also be a hint that the current crisis will be over by then, one way or another.
#BREAKING Russia suspends sale of foreign currencies until September 9, central bank says pic.twitter.com/As5KkoiWjF

— AFP News Agency (@AFP) March 8, 2022
The central bank also said that Russians who currently have accounts in FX can withdraw up to $10,000 in cash, and can withdraw additional amounts in rubles at market rate on day of issue. The bank was quick to point out that 90% of accounts in foreign currency do not hold over $10,000 and so will be unaffected, central bank says.
When FX withdrawals do happen, they will be paid in U.S. dollars, regardless of original foreign currency of account; and conversion to dollars will be at market rate, which is probably not a great option with the ruble seen trading anywhere between 120 and 170 to the dollar in the past day.
The bank also said that it may take "several days" for the banks to supply the necessary amount of foreign currency to the actual office, it added.
Meanwhile, for citizens who open new accounts in FX, withdrawals will be in rubles during this period. And of course, citizens will still be able to sell FX to banks, although we very much doubt it that there will be much demand to convert hard currency - whether FX or gold - into rubles during this crisis period.
It wasn't immediately clear how the Bank of Russia would treat conversions in or out of gold or crypto, although if the recent shift in political sentiment is any indication...
RUSSIA'S DEPUTY GORELKIN CALLED ON THE AUTHORITIES TO SUPPORT THE CREATION OF RUSSIAN  CRYPTOCURRENCY EXCHANGE
... Russia may soon join El Salvador as one of the most active adopters of digital currencies. For now, however, it appears locals are mostly buying gold.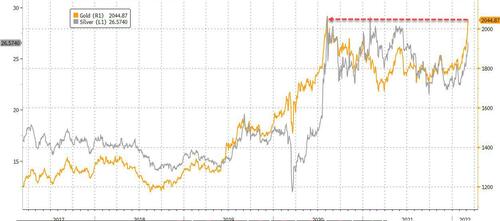 The ruble hit an all-time low against Western currencies on Monday after Russia was hit by unprecedented Western sanctions targeting the central bank and major financial institutions. On Tuesday, the Russian economy was dealt another blow when US President Joe Biden imposed an embargo on US imports of Russian oil and gas.
Loading...