---
Oil Slides Under $100 After Russia Says Given "Written Guarantees" Ukraine Sanctions Won't Impact Iran Nuclear Deal
Brent prices have dropped below $100 (down $40 from a week ago) and WTI is below $95/bbl,  following headlines that signal potential relief to supply woes, with Moscow saying that Russia has received "written guarantees" from the Biden administration that its trade with Iran won't be impacted by Ukraine-related sanctions, and suggesting that negotiations which had been put on ice late last week, may resume.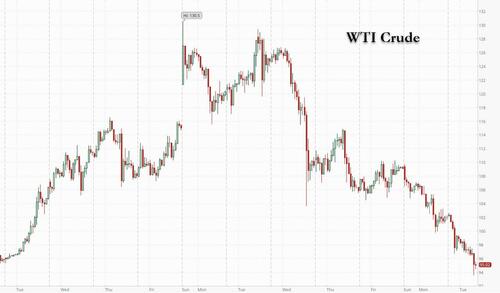 "They are included in the text of the agreement itself on the resumption" of the deal on Iran's nuclear program, Russian Foreign Minister Sergey Lavrov said Tuesday, according to Bloomberg. Within the past days, talks toward restoring the JCPOA nuclear deal in Vienna were declared "paused" - after more than a week ago Russia demanded written guarantees that Ukraine-related sanctions arising from the invasion which began on Feb.24 wouldn't impact its trade partnership with Iran.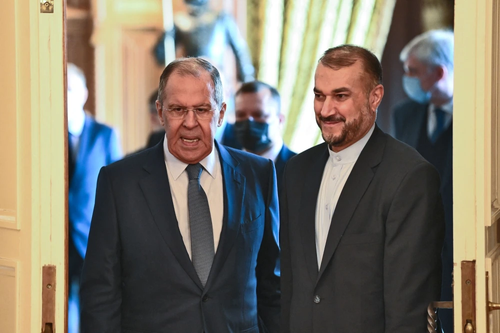 Lavrov said in a March 5th message: "We have asked for a written guarantee…that the current process triggered by the United States does not in any way damage our right to free and full trade, economic and investment cooperation and military-technical cooperation with the Islamic Republic."
In the wake of the "pause" in talks announced last Friday, March 11, Russia's chief negotiator, Mikhail Ulyanov, sought to bat down the charge that it's all about Moscow throwing a monkey wrench into the Vienna process. He said immediately after the stoppage of talks was announced:
"The only thing which I want to tell you...the conclusion of the deal does not depend on Russia only."
Western officials had expressed fears that Moscow would use the Vienna process - particularly at a moment the Biden administration is scrambling to tap new supplies of oil and gas for Europe as an alternative to dependency on Russia - as leverage against the US and EU's fresh Ukraine-related isolation measures and sanctions.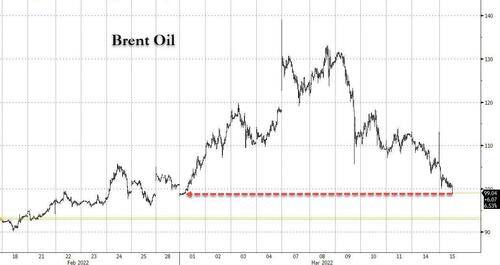 The Wall Street Journal wrote last Friday, "The Iran nuclear talks broke off Friday with no agreement, imperiling negotiations... After weeks of round-the-clock negotiations in Vienna, the breakoff in talks significantly raises the prospect that efforts to revive the 2015 nuclear deal may fail."
But this new announcement by the Russian foreign ministry suggests talks may now be back "on". Reuters writes on Tuesday of the new development, "Russian Foreign Minister Sergei Lavrov told his Iranian counterpart on Tuesday that agreement on the revival of the Iranian nuclear deal was in the finishing straight." The report says "Lavrov made the remarks at the start of talks in Moscow that were expected to be followed by a news conference."
Loading...