---
Russia Launches Large Baltic Sea Naval Drills As EU Officials Push "NATO's Lake" Rhetoric
Russia has kicked off a major planned naval drill in the Black Sea, dubbed the Ocean Shield-2023 naval exercises, coming after a series of close encounters with NATO in the form of recent aerial intercepts over both the Baltic and Black Seas.
Russia's somewhat regular drills in these waters are often in response to NATO exercises in the region, in tit-for-tat muscle flexing. Some EU policy wonks have of late begun to call the Baltic "NATO's lake" in a direct challenge to Moscow.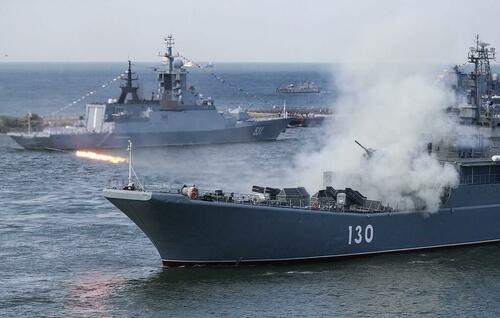 "The Ocean Shield-2023 naval exercises have begun in the Baltic Sea," Russia's Defense Ministry (MoD) confirmed in a statement, detailing that in total some 6,000 personnel are taking part, operating 30 warships and boats, along with 20 support vessels. 
"During the drill, measures will be worked out to protect sea lanes, transport troops and military cargo, as well as to defend the sea coast, the statement added. "In total, it is planned to perform more than 200 combat exercises, including with the practical use of weapons."
The Baltic Sea coastline is also very important to Russia as its strategic Kaliningrad exclave sits on it, sandwiched between two NATO members, Poland and Lithuania.
The timing of the new drills is additionally important lest Brussels begins to see the Baltic as "NATO's lake"—as Politico recently referred to it, echoing policy thinkers in Europe:
A resurgent NATO is set to tighten its grip on the Baltic Sea, complicating a vital transit route for Vladimir Putin's navy in Russia's backyard...

"[Sweden and Finland] make NATO much more geographically coherent. The Baltic Sea becomes a NATO lake, which is generally useful, also because of the Arctic's increased importance," said Ulrike Franke, a senior fellow at the European Council on Foreign Relations. 
Despite Western pundits often insisting, contra Mearsheimer, that Russia's February 2022 invasion of Ukraine had nothing to do with NATO expansion to Russia's doorstep, just a brief look at the dramatically shifting geopolitical situation and influence around the Baltic Sea since the end of the Cold War says otherwise...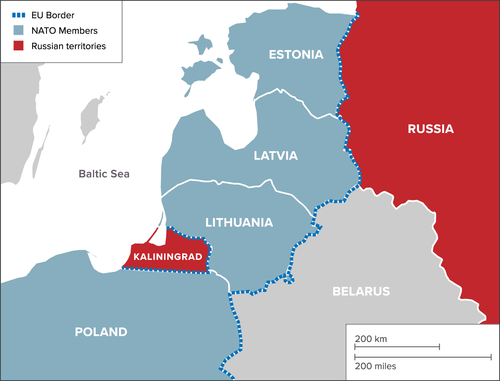 "NATO has steadily increased its control of the Baltic Sea — a crucial maritime gateway for the Russian fleet which has bases near St. Petersburg and in the heavily militarized Kaliningrad exclave," wrote Politico. "During the Cold War, only Denmark and Germany at the far western edge of the Baltic were in the alliance. Poland joining NATO in 1999 and the three Baltic republics in 2004 put most of the sea's southern shore under alliance control.
Loading...