---
Russia Seeks To Work With Africa To Weaken Dollar As Putin Hosts Summit
Talk of de-dollarization has long been in the air, particularly in the lead-up to BRICS nations gathering in South Africa in August, with the question high on the agenda.
Russia's foreign ministry spokesperson Maria Zakharova on Wednesday issued a direct, provocative challenge to Washington and its dollar dominance, asserting that Moscow will work with African leaders to weaken the US dollar.
Zakharova, per remarks cited in RIA Novosti, denounced the United States' using it as a tool for global hegemony, and as "a means of realizing its aggression." The foreign ministry comments came just ahead of the high-level summit of African leaders set to be held in St. Petersburg at the end of this week.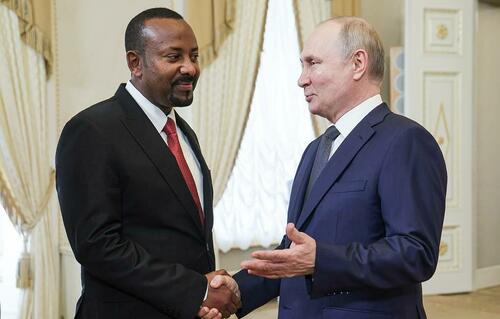 African leaders have begun arriving in Russia Wednesday for what is the second Russia-Africa summit since 2019, set to kick off Thursday and go through Friday.
Proposals for ending the Ukraine conflict will be discussed, but also alternatives in the wake of the collapse of the UN-backed Black Sea Initiative grain deal. 
While President Putin is also hosting individual meetings with key head of states such as the Ethiopian and Egyptian leaders, there's a degree of disappointment given the low attendance this year, clearly a result of the Ukraine crisis and the West's pressure campaign and sanctions against Moscow.
The Associated Press noted that "the number of heads of states attending shrank from 43 then to 17 now because of what the Kremlin described as a crude Western pressure to discourage African nations from attending it."
In light of this, Kremlin spokesman Dmitry Peskov has highlighted "unconcealed brazen interference by the U.S., France and other states through their diplomatic missions in African countries, and attempts to put pressure on the leadership of these countries in order to prevent their active participation in the forum."
"It's absolutely outrageous, but it will in no way prevent the success of the summit," Peskov told reporters.
Official delegations from #African countries are arriving to 🇷🇺 St.Petersburg to participate in the Second #Russia-#Africa Summit.#RussiaAfrica #Summit2023 pic.twitter.com/39O8yT0g7t

— Russia in South Africa 🇷🇺 (@EmbassyofRussia) July 26, 2023
However, many more countries will be represented even if not through their heads of state, with the Kremlin underscoring that 32 other African countries will send senior government officials or their ambassador for the major summit, which Putin will oversee.
Loading...