---
Russia To Seize 'Naughty' Western Companies As Putin Rails Against "Medieval" Asset Seizures Abroad
Putin is hitting back in retaliation after Western governments have frozen some $300 billion in Russian central bank assets since the Ukraine war began. The Russian president told an audience at the St. Petersburg International Economic Forum (SPIEF) on Friday that it was theft and reveals a "medieval" mindset on the part of the Western allies.
"Many businessmen were stunned to see that their accounts in the West were frozen. It never crossed anyone's mind. This is simply robbery! They closed it, took it away and won't even explain why. It's shocking. It's like the Middle Ages," Putin stated, according to a translation in RT.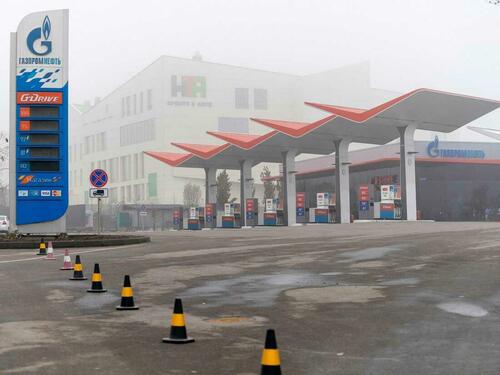 He also underscored the growing risks for Russians who held their assets abroad, "Our people have a good saying: 'Where you were born is where you should conduct your business'," he said.
But Moscow is doing more than just issuing threats and condemnations, as last week the Kremlin took definitive legal action against Western companies still doing business in Russia, in retaliation for US and European sanctions. 
The FT reported this week:
Russia is to adopt powers to seize assets of "naughty" western companies and will make it harder for them to exit the country, as Vladimir Putin seeks ways to retaliate against US and European sanctions. The Kremlin last week secretly ordered legislation to enable western assets to be appropriated at knockdown prices and is discussing even more draconian measures to fully nationalize groups, according to people familiar with the deliberations.
The push is being described as a carrot-and-stick approach which chiefly uses the threat of nationalization.  According to more from FT: "The confidential Kremlin decree, seen by the Financial Times, would give the Russian state priority rights to buy any western asset for sale at a 'significant discount' so they could later be sold at a profit."
Additionally, "Putin's order to his cabinet, signed last week, also requires all private Russian buyers of western assets to be fully Russian-held or in a process to exclude all foreign shareholders, further complicating any exit procedure."
Kremlin spokesman Dmitry Peskov has described that Western companies had in many cases exited the country altogether at a huge loss, or else in some cases they simply stopped paying salaries.
The Russian government is launching mechanisms to return the assets of foreign companies owned by Russians - Putin

The President of Russia focused on the fact that Western countries do not release Russian businesses to Russia. Nevertheless, special zones for such companies have… pic.twitter.com/ZNHyFMZneE

— Sprinter (@Sprinter99880) June 16, 2023
"If a company doesn't fulfil its obligations, then, of course, it goes in the category of naughty companies," Peskov told the FT. "We say goodbye to those companies. And what we do with their assets after that is our business."
A senior businessman with holdings in Russia told the publication, "I think nationalization is inevitable. It is only a matter of time" as the way things are going: "The state will need money."
Loading...