---
Russian Firm Offers $71,000 Cash Bounty For Destruction Or Capture Of Western Tanks
Within days of the US and Germany approving heavy main battle tanks for Ukraine, including future deliveries of the advanced Abrams M1 and Leopard tanks, one Russian company has issued a bounty for their destruction. 
"A Russian company has offered a cash bounty of up to 5 million rubles ($71,648) for the destruction or capture of Western-made tanks recently promised to Ukraine by its European and American allies," according to regional media reports.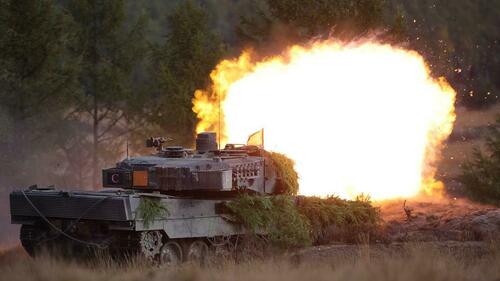 Apparently the race will be on for Russian troops (or mercenaries, in the case of Wagner Group) to be the "first" - given the Yekaterinburg-based company Fores stipulated the $70,000+ reward for whoever destroys or captures the initial western tank, with a pay out of 500,000 rubles ($7,164) for each subsequent tank.
Fores said it is motivated by a patriotic desire to support the national army: 
"The decision to transfer western tanks to Kyiv indicates that NATO is no longer supplying Ukraine with defensive weapons only and means that we need to consolidate and support our army," Fores said in a statement.
It comes after the Kremlin said that tanks provided by Washington will "burn" - and that ultimately they will make no different for Ukraine's chances on the battlefield.
"I am certain that many experts understand the absurdity of this idea. The plan is disastrous in terms of technology," Putin spokesman Dmitry Peskov said last Wednesday. "But above all, it overestimates the potential it will add to the Ukrainian army. These tanks burn just like all the others."
Given that already the Ukrainian government is claiming to be involved in 'fast-track' talks with Western backers to receive fighter jets like the US F-16, we wonder how big a 'bounty' Russian companies will offer for airplanes.
Loading...