---
After "Significant Declines" In Price & Liquidity, VanEck Suspends Creations For Largest Russia ETF
Update (1705ET): Things just got a little more problematic for anyone with Russian exposure.
VanEck is halting the creation of shares for the VanEck Russia ETF (RSX), the world's largest Russia-focused exchange-traded fund, due to "significant declines" in value and liquidity of Russian securities.
"Although shares of the Fund are expected to continue trading on Cboe BZX Exchange, Inc., there can be no assurance that an active market will be maintained for the Fund's shares."
The bottom line is simple - with the underlying assets practically worthless - as we detailed below Dow Jones Russia GDRs are down a stunning 97% in just a few days...
RSX is now trading as a pure synthetic product, with no underlying anchor to reality. That was pretty obvious last night when the ETF closed with a 150% premium to NAV...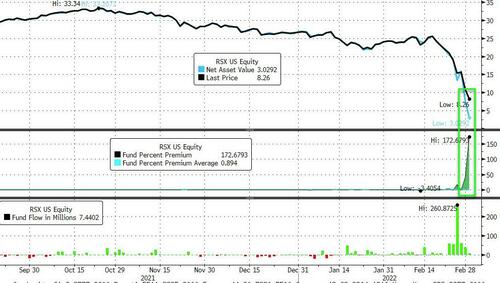 Full Statement from VanEck (emphasis ours):
This Supplement updates certain information contained in the above-dated Summary Prospectus, Prospectus and Statement of Additional Information for VanEck® ETF Trust (the "Trust") regarding VanEck Russia ETF (the "Fund"), a series of the Trust. You may obtain copies of the Fund's Summary Prospectus, Prospectus and Statement of Additional Information free of charge, upon request, by calling toll-free 1.800.826.2333 or by visiting the VanEck website at www.vaneck.com.

Following Russia's large-scale invasion of Ukraine on February 24, 2022, governments of the United States and many other countries have imposed economic sanctions on certain Russian individuals and Russian corporate and banking entities. A number of jurisdictions have also instituted broader sanctions on Russia, including banning Russia from global payments systems that facilitate cross-border payments. In response, the government of Russia has imposed capital controls to restrict movements of capital entering and exiting the country. As a result, the value and liquidity of Russian securities and its currency have experienced significant declines. Further, the Russian securities markets did not open for trading on February 28, 2022. There is no assurance that these disruptions will not continue.

In light of these circumstances, effective March 3, 2022, the Fund will temporarily suspend new creations of its shares until further notice.

During this time, the Fund may not meet its investment objective, may experience increased tracking error and may experience significant premiums or discounts to the Fund's NAV and wider bid-ask spreads.

Although shares of the Fund are expected to continue trading on Cboe BZX Exchange, Inc., there can be no assurance that an active market will be maintained for the Fund's shares.
Trade (or hedge) accordingly.
*  *  *
As we detailed earlier, Russia has kept domestic stock trading closed for the third session as wealth funds (or the national plunge protection team) prepare to unleash billions of dollars to buy the dip. Even as domestic markets remain close, Russian companies trading abroad continue to collapse in value. 
This is evident in the Dow Jones Russia GDR Index, an index designed to track the top Russian Global Depositary Receipts (GDRs) that trade on the London Stock Exchange. The index plunged a mindboggling 97% in just a few days and wiped out $572 billion from the market value of 23 stocks, including Gazprom PJSC, Sberbank of Russia PJSC, and Rosneft PJSC, according to Bloomberg.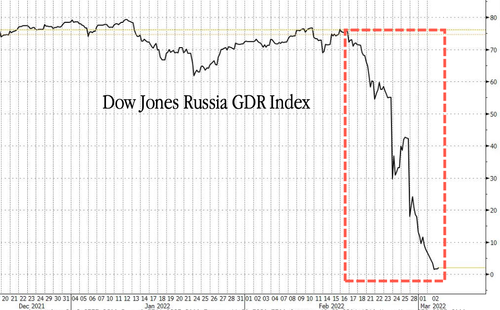 The three-session closing of the Moscow bourse is its longest closure since the 1998 Russian financial crisis. Trading in Moscow came to an abrupt halt late last week after U.S. and Europe sanctioned Russia over the invasion of Ukraine.
Then over the weekend, Western governments stepped up the pressure on Russia by expelling some Russian banks from SWIFT, a global financial messaging service, and "paralyzed" the Russian central bank reserves held in the U.S. 
"It's very difficult to see any scenario right now where buying Russian assets makes sense," David Coombs, head of multi-asset investments at Rathbones, told CNN.

All bets, he added, would be a "pure gamble."
The pricing of Russian assets abroad suggests finding buyers for stocks and bonds could be an arduous task. On Friday, S&P lowered Russia's credit rating to "junk." 
When markets reopen, Moscow is set to deploy $10 billion from its sovereign wealth fund to buy up battered domestic stocks -- essentially taking a page from Washington (and Beijing's) playbook, and unleashes its own version of the plunge protection team to attempt to backstop stocks and reinstate some confidence.
Investors are also using VanEck's Russia ETF (RSX) as a proxy for when Russian markets reopen. After falling near 30% at the open in the U.S. cash session, RSX has rallied upwards of 45% from the low and has gone slightly into the green as of 1130 ET.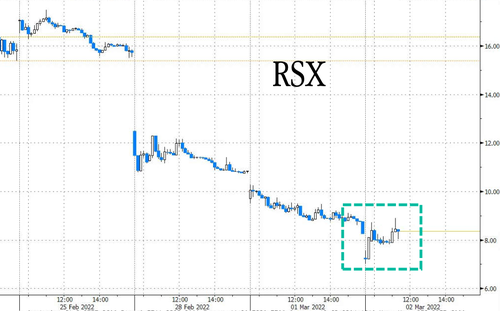 There's still no timeline on when Russian markets will reopen. During Greece's 2015 financial crisis, stocks remained closed for a month. 
"Even if the [Russian] stock market remains closed for a period of time, we're likely to see the leading ETFs as good proxies for where the market is headed," Todd Rosenbluth, head of ETF and mutual-fund research at CFRA, told WSJ.

"The same thing happened in Greece in 2015."
One can only wonder if the centrally planned efforts (closing local markets and priming the PPT) will be able to control madness when markets reopen or will it backfire (offering trapped longs a better exit)?