---
RV Bust Kicks Into High Gear As Winnebago Records Big Revenue Miss
Let's look back at our coverage of the boom and bust in the RV industry over the previous two years: 
We previewed last month that RV dealerships nationwide were heavily discounting motorhomes and towable trailers. The RV bust has now clobbered motorhome maker Winnebago Industries, who reported the third quarter (ended May 27) revenues that missed amid higher discounts and waning sales volumes.
Winnebago reported a 38.2% year-over-year plunge in the quarter due to sliding unit sales related to souring RV retail market conditions. Discounts were much higher than in the same quarter last year, an attempt by management to spark demand. However, high interest rates are curbing demand. 
Revenue fell the most in the Towable RV segment, down 52% to $384.1 million. The decline is primarily due to lower unit volume associated with 'challenging' retail market conditions and discounts and allowances versus a year ago. Revenues declined 27.5% in the Motorhome RV segment. 
Winnebago shares were flat in Wednesday morning trading in New York while investors digested the news. Shares remain 26% below the peak established in early 2021 during the boom. 
Taking a look at the results from the RV Industry Association's April 2023 survey of all manufacturers showed that total RV shipments ended the month with 31,216 units, a decrease of (-45.4%) compared to the 57,192 units shipped in April 2022. RV shipments are down (-52.1%) through April, with 109,816 units.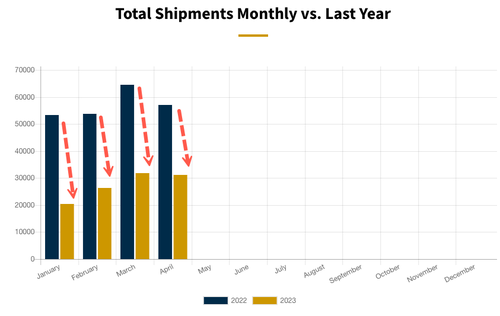 A record monthly drop in data going back three decades is an ominous sign of an impending recession.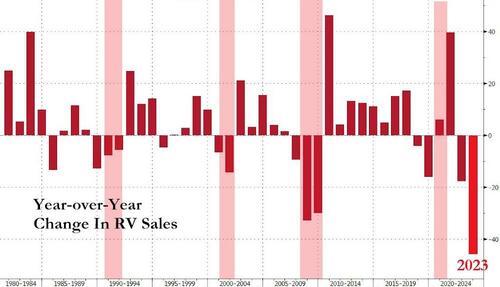 Gues who killed the RV bubble? Well it's the very same ones who allowed for record low interest rates...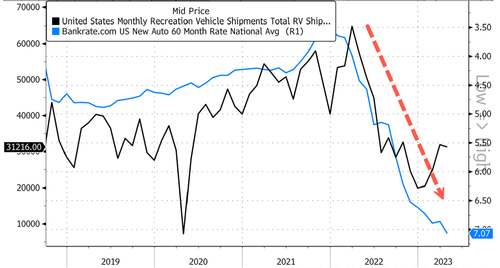 Towable RVs, led by travel trailers, ended the month down (-48.6%) compared with last April with 26,860 shipments. Motorhomes finished the month down (-12.4%) compared to last year's with 4,356 units.
One surprising data point from the report is that parked mobile home shipments continue to surge because of the worst housing affordability in a generation. For some, the 'American Dream' consists of a trailer home, or as millennials call it, a 'tiny home,' as inflation eats away wages for two years.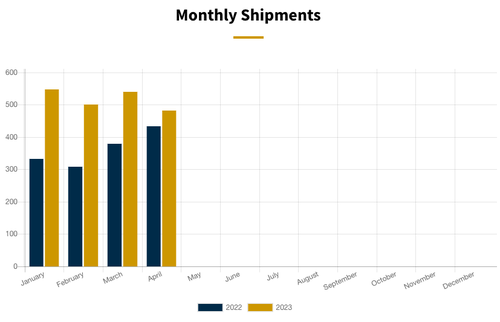 The boom is over. The bust is underway. Those who didn't panic during the Covid era can find great deals this summer. 
Loading...