---
As Americans Ditch Airports And Hotels, RV Boom Saved GDP From Even Bigger Collapse
RV travel is booming this summer as American families ditch airports and hotels for campgrounds. 
Reuters is reporting new data via the RV Industry Association (RVIA) shows wholesale shipments of RVs posted their highest monthly total in June since October 2018. Shipments totaled 40,462 units in June or about +10.8% YoY.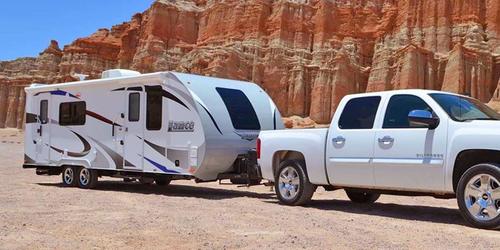 Shipments in April plunged because of lockdowns, were down 82% YoY, and -30% in May. 
"We didn't anticipate this turn being as strong as it has been," Craig Kirby, RVIA's president. "People don't want to fly, they don't want to stay in a hotel. In an RV, you can cook your own meals and sleep in your own bed."
In late May, baby boomers, cooped-up in homes, exiting lockdowns, panic bought RVs to get out of the house and travel, since flying on airplanes or going on cruises were not in their best interest.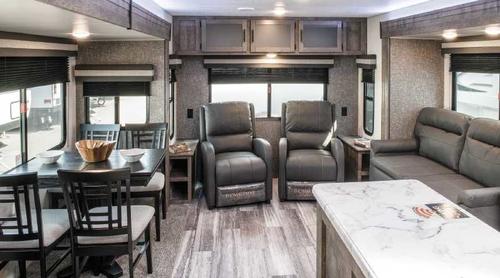 Kirby said some manufacturers are developing RVs "with dedicated workspaces that allow for the desks and other systems to be stowed away once work is over." 
He said mobile workspaces in RVs could be the next big trend for the industry - especially since people can now remotely work. 
Google search term "By RV" explodes to record highs.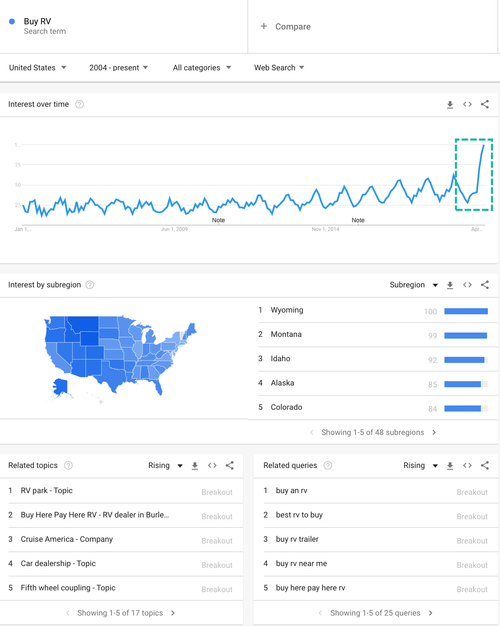 Kirby said first-time buyers are surging. Dealers are reporting 50% to 80% of sales are first-time purchasers. A year ago, that figure was around 25% to 35%. He said RVs are attracting millennials. 
Cross-generational panic buying of RVs was so great in Q2 GDP, it partially saved growth from crashing further, which registered at a mindboggling 32.9% annualized rate.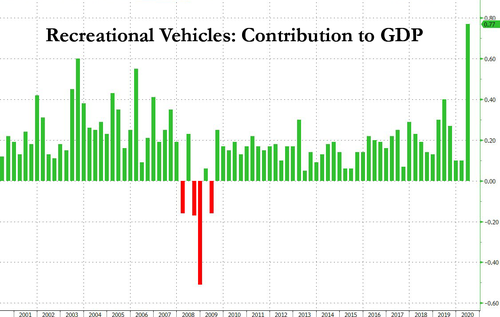 Winnebago Industries Inc.'s CEO Michael Happe said a turnaround in the industry has begun.
"We have seen an incredible rebound in retail demand and dealer demand since early May across all our businesses," Happe told investors on a conference call last month.
Dealerships have also reported increasing sales since lockdowns ended. Olathe Ford RV Center's general manager Daryn Anderson told The Kansas City Star that folks have turned to RVs because they feel it's safer than airplanes and hotels. He said RV demand is exploding. 
"All of a sudden, the phone started ringing and the internet got busy," Anderson said. "The next thing we knew, the last two months have been records by huge margins."
Anderson attributed this boost in business to people's desire to get out of the house.
"I think people are quarantining, but they're also tired of sitting inside their houses and not being able to go out and do things," Anderson said. "So, they're buying campers and maybe going to a lake or a state park or a national park. They're far enough away from the next person, and they can still have a little bit of an adventure and be able to enjoy themselves."
While the pandemic has clearly altered the shift in how people travel, there is also reason to believe, with at least ten million people about to get evicted, America's working poor could end up moving from apartments and homes to mobile RV trailers.