---
Sam Zell Buys Gold To Hedge Against Surging Inflation, "Debasement" Of The Dollar
Fed Chairman Jerome Powell insisted once again last week that the inflationary pressures building up in America's overheating economy would be "transitory" (though the central bank is keeping a close eye on prices in keeping with its mandate), but as Wall Street strategists warned their clients on Tuesday as US equities tumbled, signs that the US economy might be headed toward hyperinflation are getting harder and harder to ignore.
As investors brace for the prospect of a sustained downturn in equities, Sam Zell, the infamous Chicago real-estate investor and billionaire, told Bloomberg that he's seeing signs of inflation everywhere he looks. 
And as Treasury Secretary Janet Yellen hints that the Fed (which she once led) might be forced to hike rates sooner rather than later, threatening lofty equity valuations, Zell is resorting to an old-fashioned inflationary hedge that some investors claim has been rendered obsolete by bitcoin.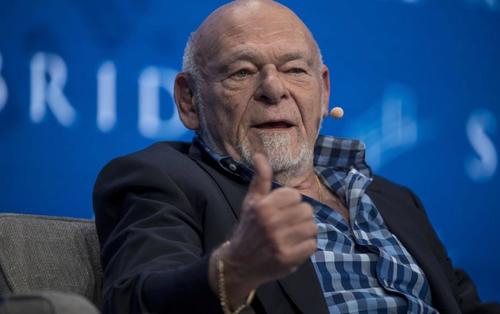 Sam Zell
Many are questioning whether gold (which has been out of favor seemingly since the financial crisis) has become obsolete in the age of crypto, and Zell acknowledged that even he has mocked investors for believing in the yellow pet rock.
"Obviously one of the natural reactions is to buy gold...It feels very funny because I've spent my career talking about why would you want to own gold? It has no income, it costs to store. And yet, when you see the debasement of the currency, you say, what am I going to hold on to?"
Continuing on this theme, the 79-year-old Zell says he's also concerned about the dollar, and other currencies as well as countries print money like the US. He also questioned whether inflation will be transitory, as Powell and others - though not Treasury Secretary Janet Yellen - have insisted.
As far as where inflationary pressures are most evident, Zell said inflation can be seen "all over the place".
"Oh boy, we're seeing it all over the place," Zell said. "You read about lumber prices, but we're seeing it in all of our businesses. The obvious bottlenecks in the supply chain arena are pushing up prices. It's very reminiscent of the '70s."
While Zell is buying gold, he doesn't have as much confidence in other commodities, like oil, which he says isn't pricing in the long-term demand risk presented by EVs. He added that he's concerned about renewables weakening American power grids, pointing to recent examples in Texas and California of power grid failures.
"Everybody's worried about going back to work and office-space occupancy. I don't think that's really an issue," he said. "The problem is that, before the pandemic, we were dealing with an oversupply of office space. Obviously the pandemic hasn't reduced that oversupply and has probably encouraged it accordingly."
He also described bricks-and-mortar retailers as "a falling knife".
"Street retail today is like a falling knife, and you don't know how far it goes down," he said. While that "doesn't mean the best malls aren't going to perform," there's a "huge amount of real estate that's going to have to be reprogrammed in one form or another."
Hotels are facing more of a temporary challenge over the next three to four years, Zell said.
"We will see a slow recovery in business travel," he said. "In the interim period of time, it's going to be a slow recovery, and hotels are big overhead things and running them at less-than-optimum occupancy is a very expensive scenario."
Watch the full interview below: