---
It's Official: Samsung To Build $17bln Chip Factory In Taylor, Texas
Update (1912ET): At a press conference in Austin, Texas, Gov. Greg Abbott announced that Samsung Electronics Co. would construct a new semiconductor manufacturing facility in Taylor, a small town outside Austin. 
Samsung will invest $17 billion into the plant, including buildings, property improvements, machinery, and equipment. The investment is the most significant foreign direct investment in Texas history. 
Samsung will build a new $17 billion semiconductor manufacturing facility in Taylor — the largest foreign direct investment in Texas on record!

More details: https://t.co/xA0em8kQND pic.twitter.com/TLv2XBqaHG

— Gov. Greg Abbott (@GovAbbott) November 23, 2021
The plant will begin construction in early 2022 and start producing advanced logic chips that will power devices for applications such as mobile, 5G, high-performance computing, and artificial intelligence in the second half of 2024.
"Companies like Samsung continue to invest in Texas because of our world-class business climate and exceptional workforce," said Abbott.
"Samsung's new semiconductor manufacturing facility in Taylor will bring countless opportunities for hardworking Central Texans and their families and will play a major role in our state's continued exceptionalism in the semiconductor industry. I look forward to expanding our partnership to keep the Lone Star State a leader in advanced technology and a dynamic economic powerhouse," he continued.
Abbott will set up a $27,000,000 grant via the Texas Enterprise Fund awarded to Samsung for job creation. 
"As we add a new facility in Taylor, Samsung is laying the groundwork for another important chapter in our future," said Dr. Kinam Kim, Vice Chairman and CEO of Samsung Electronics Device Solutions Division.
"With greater manufacturing capacity, we will be able to better serve the needs of our customers and contribute to the stability of the global semiconductor supply chain. We are also proud to be bringing more jobs and supporting the training and talent development for local communities, as Samsung celebrates 25 years of semiconductor manufacturing in the United States," said Kim. 
The mayor of the small Texas town was ecstatic on Samsung's decision:
"Samsung's decision to locate its cutting-edge semiconductor fabrication plant in Taylor is the single most significant and consequential development for the local economy since the International & Great Northern Railroad laid tracks here in the 1870s," said Taylor Mayor Brandt Rydell.
"The City of Taylor is honored to have been selected by Samsung as the site for this critically important project, and we look forward to a long-lasting and mutually-beneficial relationship between our community and the company," Rydell said. 
Great news for President Biden's "Build Back Better" plan, but economic benefits won't start materializing years from now. 
* * * 
WSJ reports Texas Gov. Greg Abbott is scheduled to make a major "economic announcement" on Tuesday at 5 pm local time concerning new plans for a massive semiconductor plant in Taylor, Texas. 
South Korean tech giant, Samsung Electronics Co., is doubling down in Texas with another facility, about 30 miles from its manufacturing hub in Austin. The new Taylor facility will cost a whopping $17 billion and create 1,800 jobs. Chip production wouldn't start until the second half of 2024.
WSJ said officials in Taylor incentivized Samsung by giving them "property-tax breaks of up to 92.5% for the first ten years, with the write-offs gradually declining over the next several decades."
"A final decision has not yet been made regarding the location," a Samsung spokeswoman said.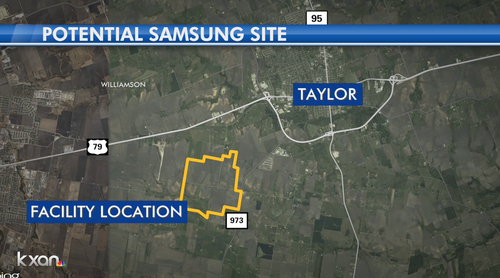 Samsung is taking advantage of the Biden administration's effort to lure advanced manufacturing back to the U.S., especially semiconductor production, as global supply chains are being reworked around China. 
In February, President Biden signed an executive order to address the global semiconductor chip shortage. "Make no mistake, we're not simply planning to order up reports. We are planning to take actions to close gaps as we identify them," an administration official said at the time.
Then in July, the Biden administration announced a "supply-chain disruptions task force" to identify bottlenecks. Secretary of Commerce Gina Raimondo has headed up the task force with the help of "Mayor Pete," focused on semiconductors and other areas, including homebuilding and construction. 
This year's semiconductor shortage has been very disruptive to domestic manufacturing firms. The problem is that while U.S. semiconductor firms account for 47% of global chip sales, only 12% of production is domestic. In the 1990s, the U.S. accounted for 37% of the global output. 
Is this move the beginning of Biden's "Build Back Better" strategy working? Or is this reflective of a red state's more-open and less-taxed status as being attractive for global competition? The U.S. is also seeking independence from China on large-capacity batteries for electric vehicles, rare earth minerals, and pharmaceuticals.