---
San Francisco Ranked Worst-Run City In America
It will hardly come as a surprise to readers, and indeed anyone, that San Francisco, plagued with shit-covered streets, a drug and homelessness crisis, out-of-control violent crime, and a commercial real estate downturn, has ranked as the worst-run city in the country, according to a new study by personal finance website WalletHub. 
WalletHub researchers analyzed 149 cities via a "quality of services" score. They were able to find the score by using 36 metrics, like high school graduation rates, public hospital system quality, and crime rates, condensing those metrics into six categories, which were then measured against the city's per-capita budget. 
San Francisco scored 149 out of 149 cities. Across the six key categories, the city ranked 92 in the economy, 65 in safety, and 49 in financial stability. Even though the city ranked last on the overall list, there were some bright spots, number two in health and 12 in health.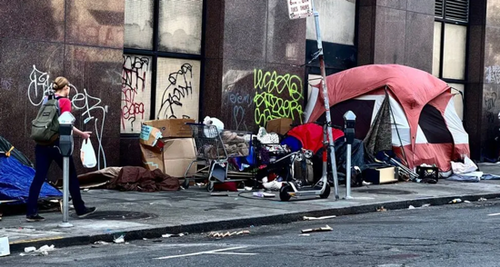 Ranking last on WalletHub's list comes as no surprise. Progressive city leadership under Mayor London Breed is running an 'unsustainable' budget deficit while the local economy falters. A commercial real estate crisis is unfolding in the downtown area as building owners are defaulting on properties. Crime is out of control, forcing businesses to flee. And Democrats who control the town appear to have no interest in enforcing law and order. 
Wild Video from Oakland California sideshow street Takeover last night

(@ppv_tahoe) Video footage was filmed on the 100 block of 10th street overnight.#oakland #sideshow #california
📸 _okpatrick pic.twitter.com/Nc6laXxTEB

— PPV-TAHOE - News Journalist (@ppv_tahoe) May 6, 2023
And it seems like almost overnight. Democrats have transformed a once thriving city into a hellhole riddled with crime and drugs. Failed policies and no accountability from lawmakers are disgusting. Voters can save their city by voting in the next mayoral election in November 2024. But quite honestly, the city might not recover for years. It's time to consider moving to an area where living expenses and crime are much lower. 
Loading...