---
Premium
The Scariest Chart For Bulls: Are CTAs About To Sell $220 Billion In Stocks?
Late last week, when we showcased the dramatic reversal of one of Goldman's biggest (and most accurate) bulls into a (tactical) bear, pointing out what according to GS flow trader Scott Rubner was one of the top bearish factors for stocks, we noted that CTAs - which until recently were aggressive buyers of stocks - could very soon turn into (potentially very motivated) sellers as "CTA flows dynamics present asymmetrical risk to the downside" should the selling in stocks accelerate. This is shown by the yellow line below which projects hypothetical CTA activity in a -2 std dev market selloff.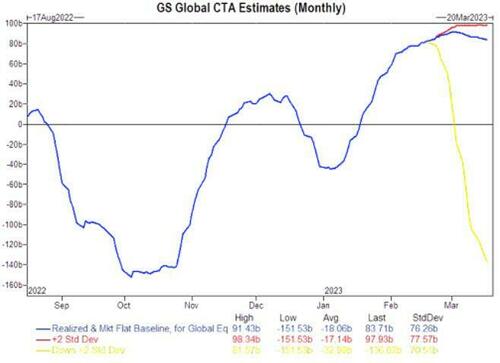 The reason for that is that both the Short-Term and (more important) Medium-Term pivots were about to be taken out if the drop in S&P futures extended below 4,000.
Loading...