---
Boris Johnson Imposes New National Lockdown Across England: Live Updates
Summary:
Mutant COVID strain found in NY, Calif.
BoJo launches new national lockdown in England
Cuomo expands vaccine rollout
Lebanon orders new lockdown
UK reports 50K+ cases for 7th day
UK scientists "not confident" NHS can handle surge in COVID cases
UK to expand 'Tier 4' lockdowns nationwide; reports of Tier 5
UK starts Astra-Zeneca vaccine rollout
US begins 2nd doses
US cases top 200K
Global cases top 85MM
Officials play catch-up with vaccine rollout
UK to delay second vaccine doses
Japan weighs state of emergency
Scotland reimposes lockdown
Germany to extend lockdown
Fauci says possible vaccines become mandatory
Greece announced 1-week lockdown
Norway's PM announces fresh restrictions
South Korea widens ban on private gatherings
Norway imposes new restrictions
Thailand sees 745 new cases Monday
* * *
Update (1800ET): Gov. Andrew Cuomo has officially declared that the mutated strain of COVID-19 first isolated in the UK has arrived in the Empire State. Meanwhile, on the west coast, Gov. Gavin Newsom revealed Monday that 6 cases of the new mutant strain have been isolated in the southern part of the state, which is presently facing one of the most strict lockdowns in the country.
But if Newsom and Cuomo feel so inclined, they have set up the perfect excuse to tighten restrictions further.
* * *
Update (1500ET): Boris Johnson has just announced a new national lockdown for England that effectively mirrors the lockdown from last spring. In addition to closing schools and non-essential businesses, citizens will be asked to remain at home except when shopping for food, or traveling to/from work (if physical attendance is absolutely essential).
Here's a rundown of the restrictions, courtesy of No. 10 Downing Street.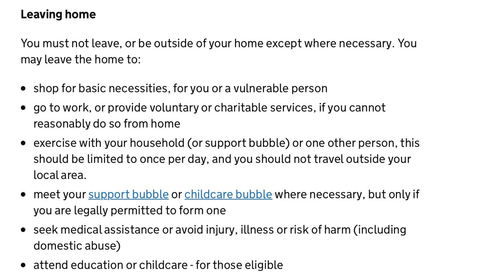 With the NHS on the verge of being overwhelmed as the UK suffers record numbers of cases, deaths and hospitalizations, BoJo said he had no choice but to revive painful lockdown measures across all of England. The decision follows a similar move by Scotland's Nicola Sturgeon.
Unlike last year, BoJo announced that university entrance exams will not go ahead as normal, and will be disrupted.
In addition to the new restrictions, the UK is moving to "Alert Level 5". The new lockdown measures will begin tomorrow, and last until mid-February, Johnson said.
Though Johnson acknowledged that schools aren't a major vector for spread, he warned that thanks to the new hyperinfectious strain of the virus, schools could serve as a vector for reopening.
"With every jab that goes into our arms, we are tilting the odds against COVID-19, and in the favor of the British people," BoJo said, in closing. "But now I'm afraid we must again stay home, protect the NHS and save lives."
Here's a rundown of the order's details courtesy of Laura Kuensberg.
-Primaries, secondaries and colleagues to do remote learning from tomorrow apart from key worker + vulnerable kids
- Exams won't go ahead as currently planned
- Kids who receive Free School Meals will still get them

— Laura Kuenssberg (@bbclaurak) January 4, 2021
- Nurseries and early years settings will stay open
- Kids are still safe at school PM says, but schools can act as vectors of infection
- CMOs warn NHS may be overwhelmed in coming days if no action taken

— Laura Kuenssberg (@bbclaurak) January 4, 2021
- NHS expects by mid-Feb if things go well..
first vaccine should have been offered to top four priority groups -all care home residents + carers, everyone over 70, all front line NHS and social care workers + those who are v clinically vulnerable

— Laura Kuenssberg (@bbclaurak) January 4, 2021
-IF vaccine works out, IF everyone plays their part, IF everything goes as hoped, then we can start to get out of this by Feb half term
- that's a lot of IFs

— Laura Kuenssberg (@bbclaurak) January 4, 2021
-Measures will become law in early hours of Tues morn
- 'I really do believe we are entering the last phase of the struggle' with every jab that goes into every arm, 'we are tilting the odds'
- but 'for now I'm afraid, you must stay at home, protect the NHS and save lives'

— Laura Kuenssberg (@bbclaurak) January 4, 2021
As more cases of the mutant strain first isolated in the UK are discovered in the US and elsewhere, the UK economy is still struggling with the blowback from dozens of countries banning passenger travel and some even barring freight, all while new trade barriers with the EU are going up.
* * *
Update (1445ET): As the first Americans receive their second "booster" dose of the Pfizer-BioNTech vaccine, Germany is reportedly joining the UK and Denmark in delaying COVID-19 shots. This, despite warnings from Pfizer and Moderna that there's no evidence that the immunity provided by their shots lasts longer than 21 days (at which point they're supposed to receive their second dose).
* * *
Update (1230ET): After receiving blowback for an executive order threatening penalties for providers who vaccinate patients out of turn (in the name of combating economic inequality and racism), NY Gov Andrew Cuomo on Monday decided to expand the criteria for who is now eligible to receive the vaccine.
Meanwhile, he is marshalling additional state resources to help quickly vaccinate all nursing home residents in the state. The governor hopes to have 85% of residents (at least, those who survived the COVID onslaught from the spring) vaccinated by the end of the week. Cuomo also imposed an order requiring on hospitals to use up their vaccine supplies without further delay.
New York State will add state resources to the federal program to vaccinate nursing home residents & staff to expedite the process.

We expect 85% of nursing home residents to have received their first dose by the end of this week.

— Andrew Cuomo (@NYGovCuomo) January 4, 2021
Today we are expanding the list of people eligible to get a COVID-19 vaccine to include all doctors, nurses and staff who come into contact with the public.

Not sure if you're eligible? Visit https://t.co/yVyJY042Pd.

— Andrew Cuomo (@NYGovCuomo) January 4, 2021
And here are the latest numbers from the Empire State.
Today's update on the numbers:

Total COVID hospitalizations are at 8,251.

Of the 134,360 tests reported yesterday, 11,209 were positive (8.34% of total).

Sadly, there were 170 fatalities. pic.twitter.com/OdtUy9RDB5

— Andrew Cuomo (@NYGovCuomo) January 4, 2021
In other news, tiny, explosion-ravaged Lebanon has just imposed a new national lockdown and curfew set to begin Jan. 7 and last until Feb. 1. New curfew hours are between 1800 and 0500 local time with the odd-even rule for vehicle movement to be implemented on Wednesday (it's based on digits displayed on vehicle license plates).
And in the UK, top medical officers across all 4 constituent nations are warning that they're "not confident" in the NHS's ability to cope with the expected surge in COVID cases, hospitalizations and deaths in the coming months.
This from the 4 Chief Medical Officers across UK- 'We are not confident that the NHS can handle a further sustained rise in cases and without further action there is a material risk of the NHS in several areas being overwhelmed over the next 21 days.'

— Laura Kuenssberg (@bbclaurak) January 4, 2021
Remember this tho from CMOs too... "Although the NHS is under immense pressure, significant changes have been made so people can still receive lifesaving treatment. It is absolutely critical that people still come forward for emergency care.'

— Laura Kuenssberg (@bbclaurak) January 4, 2021
It comes as the UK has reported more than 50K new cases for the 7th straight day. Now, we wait to hear more from BoJo in the coming hours.
* * *
Update (1045ET): The EU's vaccine regulator, the EMA, could authorize Moderna's vaccine for emergency use (it would be the second vaccine after Pfizer-BioNTech's to receive approval in the EU) as soon as Monday, according to the AFP.
As Germany and the UK lead Europe back toward punishing lockdowns, the Amsterdam-based EMA is saying it has already fast-tracked the decision from the originally scheduled date of Jan.12 due to pressure from individual EU states.
"There is a meeting of EMA's human medicines committee (CHMP) today, Monday, 4 January, to discuss the Moderna vaccine," the regulator said.
The EMA said it would issue a statement as soon as possible "in the event that the CHMP reaches an opinion at today's meeting".
* * *
Update (1010ET): We noted earlier that UK PM Boris Johnson was preparing to deliver another nationwide address this evening, presumably to announce an expansion of the UK's "Tier 4" lockdown restrictions.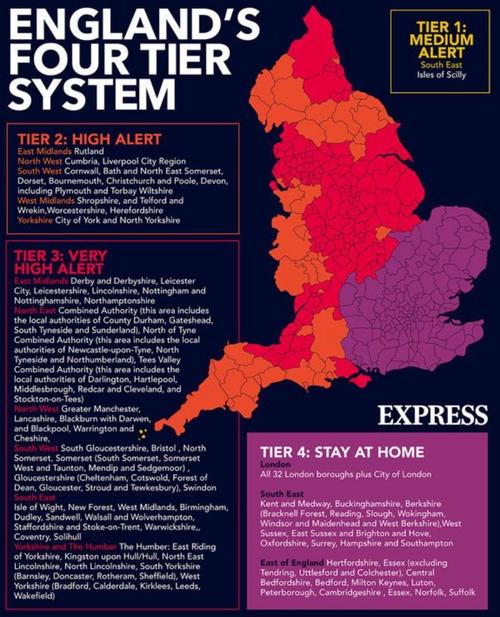 Well, just minutes after Scotland ordered a lockdown of its own, the UK's ITV reports that BoJo plans to impose "Tier 4" restrictions everywhere as new cases near 60K cases/day.  Most importantly, BoJo is expected to announce mandatory closures for schools across the country, a sign that the PM is abandoning his insistence that in-person education be prioritized.
PM will be directly addressing the nation. It won't be a press conference. Tier 4 restrictions will be imposed everywhere. Schools closed. No more team games in parks. But outdoor exercise will still be allowed. https://t.co/dhKbH2lkgC

— Robert Peston (@Peston) January 4, 2021
PM is addressing nation at 8 tonight. Parliament to be recalled Wednesday. Tough national lockdown to be announced

— Robert Peston (@Peston) January 4, 2021
The BBC meanwhile reports that BoJo is planning to roll out new "Tier 5" restrictions, offering a glimpse of reality to what has become an inside joke among lockdown opponents in the UK.
In Scotland, the lockdown that will go into effect at midnight will last for a month, and first minister Nicola Sturgeon has said it will be comparable to the springtime lockdown. She added that roughly half of new cases in Scotland are being attributed to the new hyperinfectious variant.
By now, it should go without saying that the super-infectious COVID-19 "mutation" first discovered in the UK has helped to inspire the new restrictions.
The new measures come as the UK starts vaccinating the most vulnerable patients with the AstraZeneca-Oxford vaccine. 82-year-old retired maintenance manager Brian Pinker was injected with the first dose of the vaccine at a hospital in Oxford, where he is a dialysis patient.
* * *
Three weeks have passed since the US approved the Pfizer-BioNTech COVID-19 vaccine for emergency use, and on Monday, the health-care workers who received the vaccine during the first day of the rollout are scheduled to receive their second dose - even as OWS head Moncef Slaoui floats the possibility to stretch the supply of the Moderna vaccine by dividing each dose in half (trial data suggests a small group of patients who accidentally received a half-dose of the vaccine during the first jab actually saw higher efficacy rates).
Three weeks ago, the first #covid19 vaccines were administered in the US. A number of health-care workers are expected to get their 2nd shot today. The initial rollout is behind schedule, but experts suggest we'll see the pace pick up this month: https://t.co/624M7IPaMz

— Meg Tirrell (@megtirrell) January 4, 2021
Then again, the slower-than-expected rollout of the coronavirus vaccine in the US isn't due to a dearth of supplies: For whatever reason, many US states have struggled in dispensing the vaccines - in some cases, because health-care workers and others who are first in line for the vaccine are refusing to take it. Meanwhile, in Israel, the country with the highest vaccination rate relative to its population, hundreds of patients were sickened after receiving their first dose. A California nurse in San Diego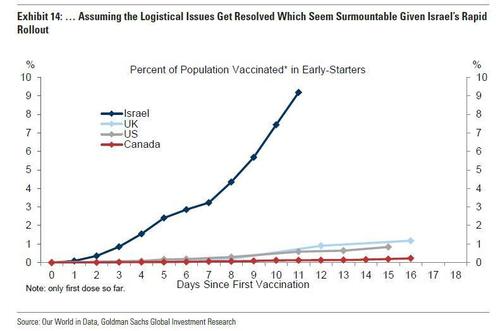 As the vaccine rollout lags targets set around the world, governments in the UK and US are exploring decidedly incompatible strategies for alleviating the issue. In the UK, authorities have decided to delay the second round of shots in favor of trying to vaccinate as many people as possible during the first round of shots. Even as their colleagues in the US dismiss this strategy as wrong-headed. Dr. Anthony Fauci told CNN late last week that he "would not be in favor of doing that...we're going to keep doing what we're doing.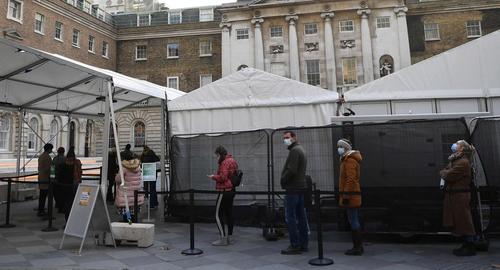 Having approved the first jabs for emergency use more than a week before the US, the UK is already ahead of its rivals when it comes to the number of people being vaccinated. And now that the UK has become the first country to approve the Astrazeneca-Oxford jab, millions of doses of that vaccine have already been shipped.
On Monday morning, former FDA Director Dr. Scott Gottlieb appeared on CNBC to reassure the public that there's no need to stockpile doses of the vaccines, just before Moderna held a press briefing on Monday morning to publicly raise its year-end target for the number of vaccines that will be rolled out this year.
It's just the latest reminder that sometimes, the "science" isn't always clear.
In the US, the number of new cases reported Monday topped 200K again as delays in reporting figures started to alleviate. The official number for the last 24 hours was closer to 300K, but nearly 1/3rd of those cases were delayed reports from over the holiday. Deaths, however, dipped back below 2K.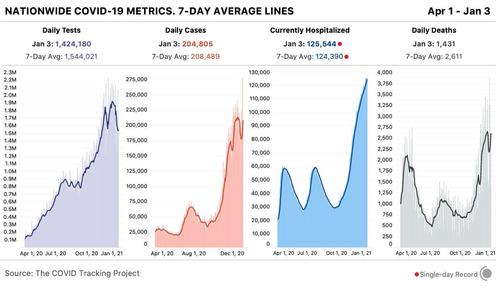 As the number of confirmed COVID-19 cases tops 85MM, here's some more COVID-19 news from overnight and Monday morning.
* * *
NIH's Dr. Fauci said it is possible that COVID-19 vaccines will become mandatory in order to travel to other countries or attend school (Source: the New York Post).
England's chief medical officer warned that COVID-19 vaccine shortages will be a problem for months as the government faced a revolt by GPs over cancelled second jabs for elderly patients, although other reports later noted that drug manufacturers hit back at claims by ministers regarding vaccine shortages (Source: Bloomberg).
Irish PM Martin said that Ireland will revert to Level 5 restrictions for a minimum of a month in an effort curb the spread.
Greece announced a one-week strict COVID-19 lockdown beginning on Sunday, in an effort to ease the pressure on the health system (Source: Newswires).
Norway's PM announced last night that the country will impose fresh restrictions including a nationwide ban on serving alcohol in bars and restaurants for 2 weeks, while also calling for people to not invite guests at home (Source: Newswires).
Japanese PM Yoshihide Suga said Monday that the central government would consider declaring a state of emergency in the capital and in three surrounding prefectures for the first time since April (Source: Nikkei).
Shenyang in northeast China suspended schools and closed businesses in areas where 100,000 people were told to stay home, after the city reported three new COVID-19 cases. Meanwhile, Beijing is to extend its quarantine period from 14 to 21 days for new arrivals to prevent imported cases (Source: Chinese press).
South Korea will widen the ban on private gatherings larger than four people nationwide and will extend social distancing rules in Seoul and neighbouring areas until January 17th (Source: Bloomberg).
NYC's rolling seven-day average of positive tests topped 9% for the third straight day (that's compared with just 2% in November). New hospitalizations increased to 213 and new cases rose to 3,885, based on a seven-day average, Mayor Bill de Blasio tweeted (Source: NYC/Bloomberg).
Thailand reported 745 new coronavirus cases on Monday as a surge in infections prompted authorities to impose fresh curbs in some of the most-populous regions including capital Bangkok (Source: Bloomberg).
Residents of Tokyo and 3 surrounding prefectures that will likely be subject to the government's state of emergency order will be asked to remain at home after 8pm from Friday. Governors of Tokyo and Saitama, Chiba and Kanagawa prefectures will make final decision tonight. Like other previous Japanese restrictions, the request will not be enforced, though it will run though at least the end of January (Source: Nikkei).
* * *
Following reports over the weekend about looming lockdowns in Europe, Scotland's leaders have just announced new lockdown measures that will take effect at midnight Tuesday morning. They said the restrictions will be similar to the March lockdown, with everything from retailers to gyms to spas to cinemas set to be closed. Meanwhile, UK PM Boris Johnson is expected to announce an expansion of Tier 4 restrictions during an address to the nation at 2000 local time.
Meanwhile, Bild reports that the German government and the 16 federal states have already agreed to extend the the current lockdown until Jan. 31 to curb the spread of the coronavirus pandemic. The anonymously sourced report landed more than 24 hours before Merkel is slated to speak with the leaders of the 16 states. Germany imposed a second hard lockdown on Dec. 16, closing schools, shops and restaurants after earlier attempts at a partial lockdown launched in early November did little to stifle new infections. It imposed a second hard lockdown on Dec. 16, closing schools, shops and restaurants after a partial lockdown introduced early November did not bring the hoped-for reduction in new infections.