---
Sculptor Tumbles As Investors Pull Tens Of Millions From Troubled Hedge Fund
The billion-dollar hedge fund formerly known as Och-Ziff Capital, one of the biggest such firms in Europe, saw its AUM shrink sharply in Q4 as LPs pulled $55 million from the firm's flagship fund during the quarter, according to data obtained by Bloomberg.
The fund, which is presently known as Sculptor Capital and is still run by Jimmy Levin, saw its shares slump by nearly 20% on Thurssday, the biggest intraday drop since May 2020, as CEO Levin's turnaround efforts sputtered, extending the firm's YTD slump to 38%. 
Source: Jimmy Levin
The firm, which houses several funds, broke down its performance as follows:
Multi-strategy funds gained 5% in 2021 to $11.1 billion in assets.

Despite Q4 outflows, portfolios still managed to make $100M during the 12-month period beginning in January and ending in December.

It marked the first year in seven where the firm saw positive net inflows.

Levin described 2021 as an "inflection" point and begged investors to stick with him for just a little while longer (as we noted above, the firm has been struggling for years).

"After years and years of hard work against what at times felt like some pretty tough odds, we're now in a place where we have actual, tangible results," he said.

Sculptor's Institutional Credit Strategies, which manages collateralized loan obligations, continued to be the biggest draw for clients in Q4, with inflows of $1.42 billion.

The unit managed about $16.1 billion of the firm's $38.1 billion of total assets as of year-end.

The firm's adjusted losses were 94 cents a share, missing analysts' estimates.

Opportunistic Credit Funds had outflows of $310 million, with assets totaling $6.35 billion
The firm struggled to bounce back from a wave of redemptions nearly 8 years ago when LPs pulled $30 billion from the formerly massive hedge fund shop. The withdrawals followed a disclosure that the firm had been targeted by prosecutors in the US over allegations that a portfolio manager had paid hundreds of millions of dollars in bribes in Africa. The firm has since resolved its legal issues, but it never again saw the heft that it once enjoyed. In fact, assets have been slowly dissipating.
Sculptor ranked near the bottom of last year's pack of big multi-strat funds in terms of performance, with the firm showing just a 5% gain.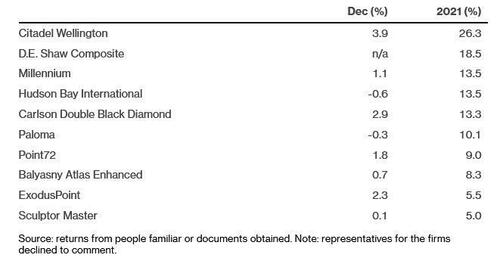 The results follow the departure earlier this month of board member J. Morgan Rutman, who had accused Levin of paying himself an excessive compensation, which could reach $200 million a year. The firm responded that this nine-figure number was grossly exaggerated.
Rutman insisted that something shady was afoot, claiming he had been "frozen out" of the compensation process due to his opposition to Levin's massive pay package.
Fortunately, Daniel Och, one of the firm's billionaire founders, has made some lucrative "trades" in the New York City luxury real-estate market.
Loading...