---
SEC's Conclusions About 2021 GameStop Run-Up Are "Misguided", Academics Argue
Has the SEC missed the real reasons behind the GameStop squeeze that occurred about a year ago? One group of academics seems to think so.
Half a dozen academics from Columbia University and the University of Notre Dame believe that the SEC has failed to examine "relevant securities-lending data and didn't study a long enough stretch of transactions" when conducting its investigation of the GameStop saga, Bloomberg reported this week.
The SEC has previously found that a short squeeze played "little part" in GME skyrocketing "to the moon" about a year ago. 
The 1000% run up in the stock was widely attributed by social media participants to be a result of bulls going after short sellers, causing shorts to cover at higher and higher prices. But when the SEC released their official findings on the situation last October, they said shorts "only played a minor role".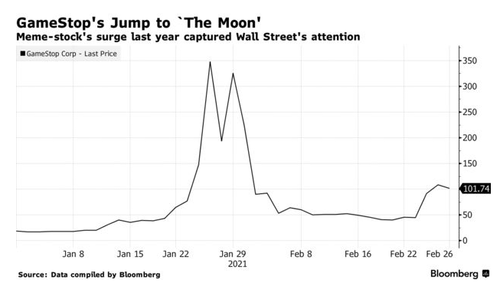 Joshua Mitts, lead author of the study, argues that the SEC's analysis was erroneous: "The SEC's October analysis used incomplete data and flawed methods to reach erroneous conclusions regarding the events of January 2021. Our findings suggest that the SEC's response to GameStop and other meme stocks may be deeply misguided."
Mitts is also well known for lobbying for new rules surrounding short selling, though his original 2018 white paper analysis to supplement that argument was recently called into question by well-known short seller Carson Block of Muddy Waters Research for potentially flawed analysis. 
The academics examining GameStop also pointed out that the SEC failed to examine the effects of a gamma squeeze in the name. They also took exception with the SEC for not reviewing short selling data in the name prior to December 24, 2020 and failing to take into account posts on Reddit as early as October 2020 calling for a short squeeze in the name. 
"Anti-fraud and anti-manipulation rules need to be overhauled for the social-media era. The SEC should focus on the distortive effects of short squeezes and gamma squeezes on the market and the harms they cause ordinary investors," Mitts concluded.