---
Shaky Start To US-Brokered Sudan Truce, Hundreds Of Thousands Flee Across Borders
"They feel it will become a war zone. But many simply don't have the means to leave Khartoum," Al Jazeera's Khartoum-based war correspondent Mohamed el-Tayeb observed Tuesday of ongoing efforts to evacuate foreigners, but which has still left no escape options for local Sudanese.
The United Nations High Commissioner for Refugees (UNHCR) is meanwhile preparing for hundreds of thousands of people to spill over borders into neighboring countries in the coming days and weeks, with a UNHCR briefing indicating that 270,000 people will likely go into South Sudan and Chad.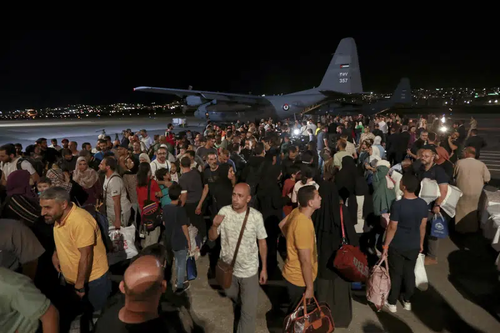 More refugees are also expected to flood into Eritrea, Ethiopia, Egypt, Libya, and Central African Republic, after fighting has raged between the nation's two top generals since April 15.
A new US-brokered ceasefire has been agreed upon as of late Monday, but it's unclear whether it will collapse just like prior truce efforts, including one last Friday which didn't hold, despite it being the Muslim holiday of Eid al-Fitr.
The Associated Press reports of the latest, "Sudanese and foreigners streamed out of the capital of Khartoum and other battle zones as fighting Tuesday shook a new three-day truce brokered by the United States and Saudi Arabia, the latest attempt to pull Africa's third-largest nation back from the abyss."
US Secretary of State Antony Blinken announced late Monday he had helped broker the deal, and is assisting American citizens remotely in escaping the war-torn capital, after evacuation flights secured the exit of some 70 US Embassy staffers and their families.
"In Khartoum, bus stations were packed Tuesday morning with people who had spent the night there in hopes of getting on a departing bus. Drivers increased prices, sometimes tenfold, for routes to the border crossing with Egypt or the eastern Red Sea city of Port Sudan," the AP describes. "Fuel prices have skyrocketed, to $67 a gallon from from $4.2, and prices for food and water have doubled in many cases, the Norwegian Refugee Council said."
The death toll is approaching 500 or more, with thousands wounded, and huge swathes of the capital destroyed...
فيديو مفزع لما آلت إليه الأوضاع في منطقة " شمبات" بالخرطوم بحري، عقب المعارك العنيفة والقصف الجوي من قبل الجيش خلال اشتباكه مع قوات الدعم السريع المتمردة.#السودان pic.twitter.com/8JD0cxhrbu

— Sudan News (@Sudan_tweet) April 24, 2023
The International Committee of the Red Cross said it welcomes the ceasefire as a "potential lifesaver for civilians" who have remained largely trapped in their homes for days, often without electricity or water.
"It's clear that this ceasefire must be implemented up and down the chain of command and that it must hold for it to give a real respite to civilians suffering from the fighting," ICRC's regional director for Africa, Patrick Youssef, said in a statement. He urged a "durable political solution to end the bloodshed" with the mediation of international countries.
Loading...