---
"The Sheriff Is Coming": Wall Street On Edge Ahead Of Gensler Appointment As SEC Chair
The potential appointment of Gary Gensler to head of the Securities and Exchange Commission reportedly has Wall Street on edge.
Gensler, who Bloomberg notes went "from being one of the youngest partners in the history of Goldman Sachs Group Inc. to becoming a favorite of progressive Democrats", is widely expected to be President-elect Joe Biden's pick to head up the agency.
His arrival will likely be a stark difference from the last 4 years of Jay Clayton, as Gensler's resume includes going to war with major financial titans when he was head of the Commodity Futures Trading Commission - and winning. Financial lobbyists sometimes simply called him "the enemy" during the 2010 Dodd-Frank Act battle. 
Justin Slaughter, a consultant at Mercury Strategies, said: "The sheriff is coming to the preeminent financial regulator in the world. It means regulation and enforcement are about to get much tougher."
When he arrives at his post, Gensler will not only have to deal with a Fed-induced stock market mania, but also tensions with China and the growth of private equity. 
His party is counting on him to boost enforcement actions and fines against firms and executives accused of wrongdoing. As is par for the course in the Democrat playbook, he will also "face pressure to push companies to disclose political spending, climate-change risks and the diversity of their employees," Bloomberg writes.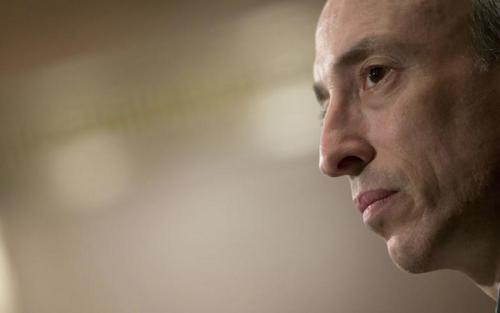 Graham Steele, who served as an aide to Senator Sherrod Brown of Ohio, said: "He developed a reputation for being adversarial to Wall Street because he came from the industry and understood the business so he could push back against their arguments when they were hollow."
Ian Katz, an analyst at Capital Alpha Partners in Washington, commented: "What's really unnerving to a lot of people is that it's pretty clear that he doesn't need them. He doesn't need to go back there for a job, he's made his money. He's not terribly interested in who he ticks off or not and that's very powerful."
Gensler wasn't an instant favorite with Democrats, either. Due to his background with Goldman Sachs, Senator Bernie Sanders tried to block his nomination for head of the CTFC by Barack Obama. But eventually, he won their favor, demonstrating his past on Wall Street would give him an inside edge to regulating effectively. He was aggressive in pushing for Dodd-Frank and turned the CTFC into a powerhouse by pushing employees at the regulator to work ferociously.
In fact, "a survey of federal employees at the time named the derivatives regulator as one of the worst places to work among small agencies, giving it low marks for work-life balance, pay and quality of leadership," Bloomberg said. 
He also expanded the CTFC's jurisdiction and put a regime in place to help regulate derivative transactions involving American banks that were handled in foreign countries.
Tyler Gellasch, a former SEC aide, concluded: "At a time when many are questioning whether capitalism can really work for everyone and address huge societal challenges like racial justice and climate change, the importance of the SEC becomes enormous: it sets the rules for companies and their investors."
Gensler is currently a professor of business at MIT's business school.