---
A Shiny New Car Is Out Of Reach For Many Americans
New vehicle affordability continues to sour as high-interest rates and soaring monthly payments have prevented many middle-class folks from owning a shiny new car. 
Let's begin with the Cox Automotive/Moody's Analytics Vehicle Affordability Index that shows new vehicle affordability hit a record low in 2022. The number of median weeks of income needed to purchase a new vehicle hit a record high of 44 weeks. Before the pandemic, the index hovered between 33-35 weeks for nearly a decade.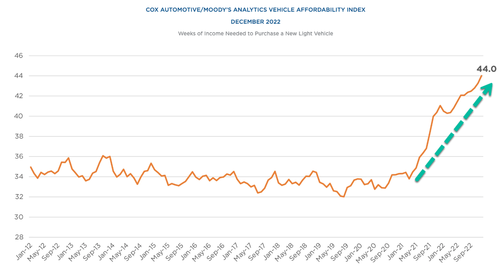 It's important to note some of the affordability issues plaguing the middle class. The first is the average monthly auto payment has hit a record high of $777, almost doubling from late 2019, according to Kelley Blue Book owner Cox Automotive. 
For a decade, the average new-car payment in the US bumped along at roughly $400 a month. That's about as much as the typical American household can shell out and still meet other major expenses, said Jonathan Smoke, chief economist at Cox. But it crossed that mark in November 2019 and has been soaring ever since. -Bloomberg 
JPMorgan's data shows new car prices have also hit a record high of $50,000. This figure has jumped 30% since 2019. Add soaring interest rates to the mix, and it appears the era of every American owning a new car has ended for now.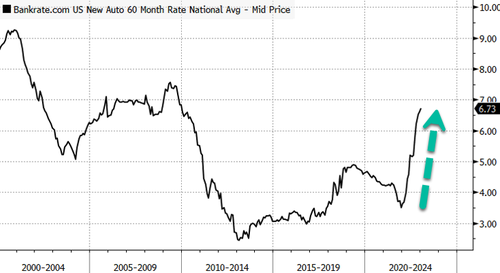 "The idea of a new car in every American's driveway is not the world we live in," Charlie Chesbrough, a senior economist at Cox, told Bloomberg.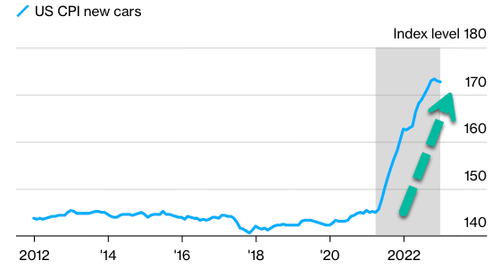 However, the middle class has gravitated towards used cars. Cox data shows the average one costs around $27,000 -- about half the price of a new car. 
Besides the affordability crisis driven by high-interest rates and rising prices, there's also a major issue with tight inventories of new cars among automakers. Bloomberg said:
In the US, automakers customarily carried 60 to 100 days of inventory. These days, manufacturers are targeting about half that much to lower overheads and keep prices high.

"We'll never go back to the inventory levels that we were at in the past," GM Chief Executive Officer Mary Barra told investors last year.
Bloomberg spoke with one person who is frustrated about the inability to afford a new vehicle and had to settle on a car that's over a decade over. 
Sercy Sanders has been riding the bus in Pittsburgh ever since the transmission blew on his 2006 Acura TL in early January. When the cost of repairing it was more than the car was worth, Sanders got pre-approved for a loan from his credit union and set out to find a 2016 Honda Accord for under $17,000. But he found nothing for less than $19,000 and now is looking at models that are over a decade old. 

"That's just the way it may have to be if I want to stay in my price range and not have too high a monthly car bill," said Sanders, 48, a customer service representative and single dad of two high schoolers. "It's very frustrating. I wanted a newer vehicle that I felt would be more reliable. With an older used car, you just never know what you're going to get."
The bad news for the middle class is that wholesale used car prices are beginning to re-accelerate after a year of sliding, though they remain 64% higher than Covid lows. 
Mark Wakefield, managing director at consulting firm AlixPartners, said: "You've seen a move to more wealthy people buying cars." 
While the wealthy purchase new cars, everyone else is buying used junkers. And after many middle-class and low-income families have been battered by 21 months of negative real wages, personal savings depleted, and credit cards maxed out, their ability to afford a new car in the years ahead plummets, ensuring the used car market will remain robust as more people than ever will be driving older and older cars. 
It's a great time to be a mechanic. 
Loading...