---
Short Interest In ARK Funds Explodes After "Rock Star" Cathie Wood's "Banner" 2020
Shorts are stepping in to bet against Cathie Wood and her firm, ARK Invest, in a big way. Short interest as a percentage of shares outstanding for the firm's flagship $21 billion ARK Innovation ETF spiked to an all time high of 1.9% from just 0.3% one month ago, according to data from IHS Markit Ltd. and Bloomberg. 
Shorts are also piling into the firm's other ETFs, including its $9.4 billion Genomic Revolution ETF and its $5.9 billion Ark Next Generation ETF. ARKK rose almost 150% in 2020 and brought in $9.6 billion in new money. 
The fund's success in 2020 was largely tied to the parabolic move in Tesla.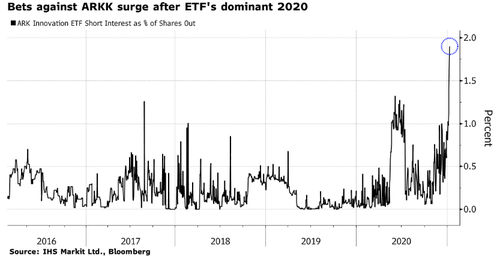 Dave Nadig of ETF Trends told Bloomberg: "You can't expect any shortable asset to have the kind of meteoric rise ARKK has had and not attract almost mechanical short-selling. There are, quite literally, traders who have screens for 'ETFs that went up X far over Y time' to use as contrarian short indicators."
ETF expert Eric Blachunas commented: "The Ark phenomenon is the first time ever that a rock-star portfolio manager has been shortable. Typically, they're in a mutual fund or a hedge fund, which you can't short. This is breaking new ground in a way."
We noted just a day ago that ARK funds had seen a record inflows over $1 billion a week ago. The massive volume in ARK's funds has continued from 2020 into 2021, as Balchunas had predicted late last year when he pointed out several reason the fund could actually become a victim of its own bloated size.
On Friday of last week, ARK funds set new inflow and turnover records, as Jim Bianco of Bianco Research pointed out on Twitter Sunday evening. ARK's funds saw inflows of over $1 billion last Friday - something "not even Vanguard did," Balchunas noted Monday morning.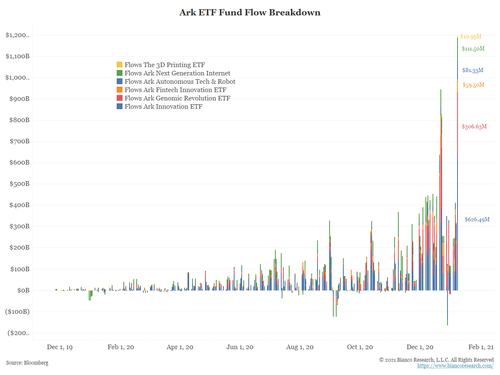 ARK's flagship ETF, its "Innovation" ETF, saw inflows of $626.49 million on Friday, Bianco's charts noted. Again, this was just days after we noted a $136 million outflow for the ETF.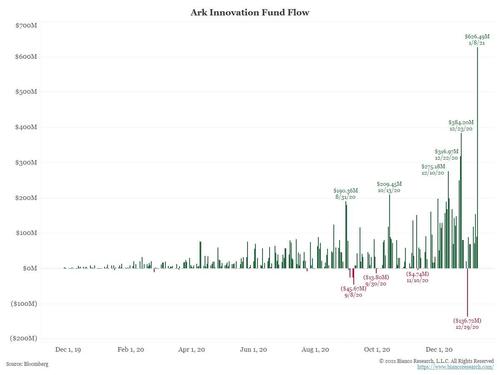 The Innovation fund inflows helped post records for total dollar turnover, Bianco noted, as measured by the price of their ETF times their volume. The firm saw $3.43 billion in total turnover between all of its funds, with the company's Innovation ETF shattering records and posting $1.83 billion in total dollar turnover.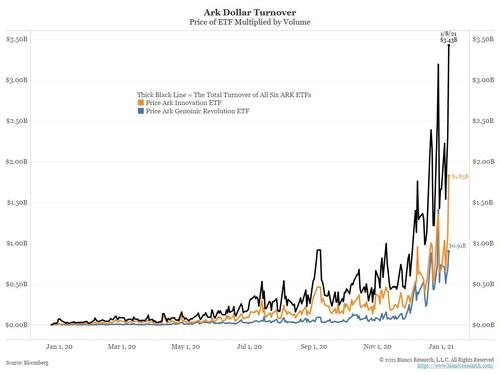 Recall, late last year we published a report highlighting Bloomberg's ETF expert Eric Balchunas' take on how ARK Funds could wind up becoming victims of their own success. 
Many of Balchunas' assumptions pointed out sustained massive inflows into the ARK family of ETFs - notably its ARKK ETF - which we noted late last year was seeing inflows of hundreds of millions of dollars per day. In fact, ARK's haul was so massive that Balchunas noted that it had a chance of taking in more cash than Blackrock in December 2020. 
"This one ETF has more in assets than the other 240 actively managed equity ETFs combined," Balchunas wrote in late 2020.