---
As Short Sellers Go Extinct, An Unintended Consequence Emerges
One of the intended consequences of the Fed's now relentless intervention in markets, has been the gradual eradication of all stock and ETF shorts, which as the following chart from Deutsche Bank shows, have collapsed to near all time lows (the Y-axis is inverted), thanks to the market's relentless grind higher which has made shorting stocks an especially masochistic ordeal (and a source of recurring alpha for all those who take the opposite side).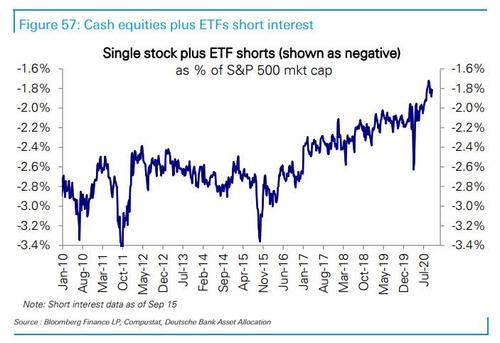 One of the unintended consequences of this near-extinction of market bears is that financial companies that traditionally make money from lending out shares to shorts are hurting, badly, as the collapse in short has resulted in a sharp revenue drop for those asset managers and brokers who mediate such trades.
According to Reuters, which uses figures from research firm DataLend, stock lenders' revenue plunged almost 15% in the year to Sept. 30 from 2019, while revenue for the September quarter alone was $1.8 billion, the lowest in the four years of comparable records.
And while we already knew that...
Single stock + ETF short interest at all time lows pic.twitter.com/pzhncWM4IV

— zerohedge (@zerohedge) January 12, 2020
... to Reuters that drop is confirmation that the "apparently unstoppable equities rally has caused many hedge funds to reduce shorting, typically a crucial way of earning market-beating returns."
"It's 'whatever it takes,' globally, and it is by far the most frustrating rally for all our client base," said George Boubouras, head of research, at Melbourne-based K2 Asset Management. One assumes the client base is short.
"With so much liquidity from central banks it is a difficult macro environment to run sustained short positions." Judging by the fact that soon there won't be any shorts left at all, the word "impossible" may be more apt than merely "difficult."
The Fed's proxy in capital markets, Blackrock, the world's largest asset manager, earned roughly 6% of its $3.6 billion in quarterly revenue from stock lending in the June quarter, while State Street earned about 4% of its Q2 revenue.
"For Blackrock and others, a hit to securities lending revenues is likely to be a pain point," said Stephen Biggar, director of financial services research at Argus Research in New York.
"The revenues generated were a big rationale for how fund companies were able to lower their fees."
Yet while nobody will shed any tears for the plunge in sec lending fees at Blackrock or other repo desks, a second unintended consequences of this collapse in shorting is that there is even less liquidity for traders and even more pressure on those who use stock lending revenue to keep trading fees low.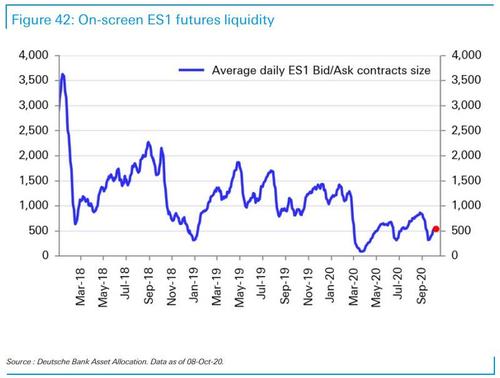 It's also why Japanese venture capitalists-turned-hedge funds such as SoftBank can't figure out how the purchase of "only" $10 billion in (extremely levered) call spreads can push the entire market as much as 4% in one day.  As an aside, speaking at the Milken Institute the head of Soft Bank's Vision Fund, Rajeev Misra, admitted that his company had recently made an entry into public markets with a bang, but refused to take blame for the resulting melt up:
"Are we buying a few billion of other stocks to diversify away from the Alibaba we sold in the past six months?"" Misra asked rhetorically, meaning yes. "We're still sitting on a lot of cash. It's a liquidity-management strategy, it's a diversification strategy."
"Nobody buying $10 billion of Nasdaq over a few weeks is going to move the Nasdaq. We're not even a dolphin; forget being a whale." Actually, yes - buying $10 billion of Nasdaq over a few weeks during the slowest month of the year will move the Nasdaq and will move it pretty aggressively as we saw, and a big reason for that is the collapse in liquidity among other things because shorts are no longer there to grease the market.
In any case, it's not all bad news: a big reason for the drop in revenues this year is the lack of "specials," or crowded short-seller targets that earn lenders huge fees, in some cases as much as 100%+ on the amount of shares lent out.
Last quarter, the top five fee earners, German battery maker Varta, electric truck maker - and we use the term loosely - Nikola, cruise line Carnival Corp, cannabis producer Canopy Growth and drugmaker Inovio earned lenders $120 million from lending fees, DataLend said. That was less than half what the top five made a year earlier, as shorts no longer bother to chase even the biggest market frauds.
To be sure, short interest has not totally evaporated, with some $2.2 trillion of stock globally on loan, Allen said, while rising share prices have powered other revenue streams for lenders and brokers. But market participants warn reduced short-selling could have other consequences.
"Lending and short-selling activity are important to the health of the market ecosystem as a whole," said Stuart Jones, chairman of industry body the Pan Asia Securities Lending Association. "Without them, you start to lose liquidity and a corrective force that can counter more exuberant prices."
There is another reason why shorts are critical: when stocks tumble during a crash, they provide a natural buyer in what would otherwise be a bidless market, as they cover their profitable positions. Then again, we now live in a world where their services are no longer needed as the Fed changes the rules of the game every time there is even a 20% drop in the S&P500. It's also why nobody has any idea what will happen when after the next market crash the Fed steps in... and the selling refuses to stop.