---
Shorts Crushed As Dollar Surges, Euro Tumbles In Violent Trend Reversal
Following the worst month for the dollar in a decade, there has been a bout of position squaring as we start August, largely on the back of a slump in the Euro, which is down 200 pips in 2 days, and accelerating weakness in the Yen, which have sent the Bloomberg dollar index to its highest level in a week, surging the most since June 14.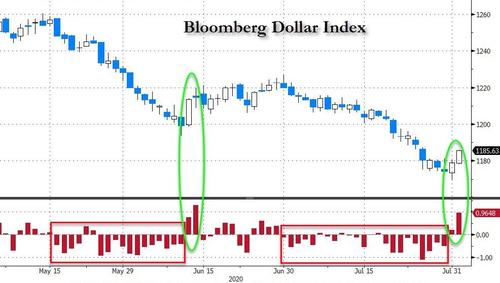 The spike in the dollar has pushed Treasury yields higher from their all time closing lows printed on Friday (as positive purchasing managers readings in China and Europe helped buoy risk appetite), while the sharp reversal has triggered a furious bout of short covering in Dollar futures, which according to the latest CFTC data has printed the most short in 9 years.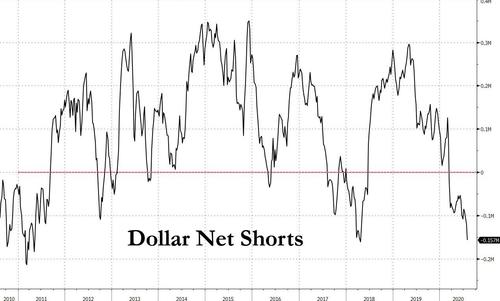 The shorting of the dollar accelerated last week, with Goldman's FX strategists noting that in the week ending July 28, non-commercial traders net sold $5.2bn USD, following net sales of $2.2bn USD the previous week. Currently, they are net short $24.5bn USD. Both asset managers and leveraged funds contributed to the net sales of Dollars. At the same time, asset managers net sold $6.3bn USD, primarily against net purchases of EUR, JPY, and GBP.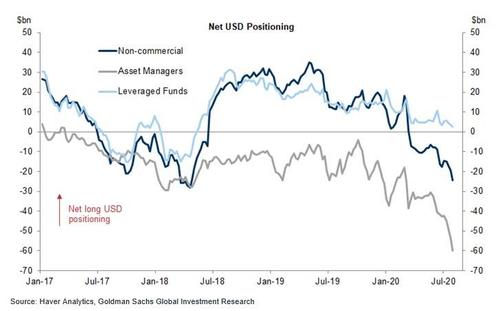 The net sales of USD were primarily against net purchases of $5.1bn EUR, which non-commercial traders have also net purchased in eight of the prior nine weeks. Asset managers are currently net long $48.3bn EUR, the highest exposure in years. Leveraged funds also net sold USD, while net purchasing $1.3bn EUR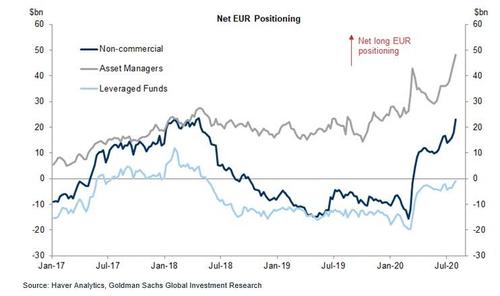 A similar increase in net longs was also observed in the Yen.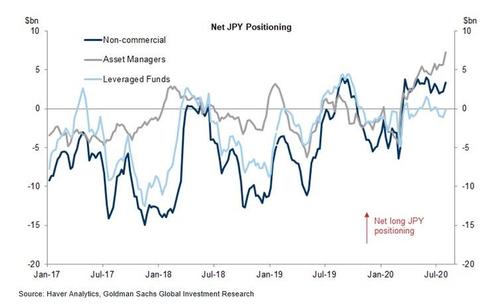 And now that traders are starting to turn their attention to surging covid cases in Europe and Japan while the US situation appears to have plateaued, expect this rollercoaster to reverse fully with the EUR slide only starting and the Dollar uptrend resuming.
What is most surprising perhaps about the reversal in the dollar is the lack of gold weakness - at least for now - despite the surge in the dollar. Keep an eye on precious metals to see if gold strength continues despite the apparent break in the dollar downside trend.