---
Siemens Finally Delivers Gazprom Transport Documents For Nord Stream Turbine
Siemens Energy AG has finally delivered a Canadian export license for a Russian Gazprom PJSC natural gas turbine, which helps pump NatGas into the Nord Stream 1 pipeline.
Russian state-media outlet Kommersant reported that a resolution to the paperwork delays would allow for the NatGas turbine to be shipped from Germany to Helsinki, Finland, in the next couple of days. 
Kommersant said the turbine delivery wouldn't immediately result in increased NatGas flows on the Nord Stream 1 due to other equipment needing maintenance work. 
Moscow recently said the turbine had been in Canada at a Siemens facility - the only place in the world where it can be worked on - but has since been "stuck in transit" in Germany.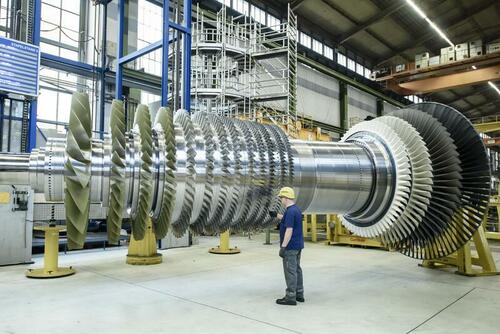 Kremlin officials have accused Europe of intentionally delaying the turbine shipment out of Germany. Earlier this month, Canada granted a special sanctions waiver for the turbine's return, citing solidarity with European allies like Germany, badly in need of the smooth return of NatGas supply on the most critical pipeline to Europe. 
Nord Stream 1 was cut to 40% of its capacity starting in June due to what Russia blamed on Canadian sanctions. Nord Stream was completely shuttered for a ten-day maintenance period but reopened last week. 
"The turbine will be installed after all the technical formalities have been completed, and the flows will be at the levels that are technologically possible," Kremlin spokesman Dmitry Peskov said Monday. 
Peskov noted, "we have issues with other equipment, of which Siemens is well aware," adding Nord Stream woes are only beginning. 
He said Russia is "not interested" in a complete turnoff of Nord Stream 1 but warned, "if Europe continues its course of absolutely recklessly imposing sanctions and restrictions that are hitting it, the situation may change." 
Peskov said Europeans are only to blame for the continent's below-average NatGas storage ahead of winter. He said Europeans are suffering the consequences of their own sanctions against Russia. 
Meanwhile, Deutsche Bank recently warned: "Don't forget as well that Putin has suggested that if the turbine is not back early this week, then gas flow may fall to 20% capacity even though originally, this turbine wasn't expected to be needed until September." 
Loading...