---
Game Over: FDIC Shutters Silicon Valley Bank, Appoints Receiver
Update (1135ET):  Game over for Silicon Valley bank.
*FDIC: SVB BANK CLOSED BY CALIFORNIA REGULATOR
*FDIC: SVB BANK IS FIRST INSURED INSTITUTION TO FAIL THIS YEAR
*FDIC CREATES A DEPOSIT INSURANCE NATIONAL BANK OF SANTA CLARA
*FDIC: NAMED FEDERAL DEPOSIT INSURANCE FDIC AS RECEIVER
*FDIC CREATES A DEPOSIT INSURANCE NATIONAL BANK OF SANTA CLARA
*SILICON VALLEY BANK INSURED DEPOSITORS TO HAVE ACCESS MONDAY
As we noted before, while the FDIC noted that SVIB had $175BN in deposits as of Dec 31, note that some $151.5BN of these are uninsured, which means they get exactly zero although a sizable number of them likely pulled their deposits in the past few days.
And just like that SVB is no more: a historic collapse which in many ways was faster than Lehman, and which has seen SIVB stock plunge from $763 to 0 in 16 months.
Full FDIC statement below:
Silicon Valley Bank, Santa Clara, California, was closed today by the California Department of Financial Protection and Innovation, which appointed the Federal Deposit Insurance Corporation (FDIC) as receiver. To protect insured depositors, the FDIC created the Deposit Insurance National Bank of Santa Clara (DINB). At the time of closing, the FDIC as receiver immediately transferred to the DINB all insured deposits of Silicon Valley Bank.

All insured depositors will have full access to their insured deposits no later than Monday morning, March 13, 2023. The FDIC will pay uninsured depositors an advance dividend within the next week. Uninsured depositors will receive a receivership certificate for the remaining amount of their uninsured funds. As the FDIC sells the assets of Silicon Valley Bank, future dividend payments may be made to uninsured depositors.

Silicon Valley Bank had 17 branches in California and Massachusetts. The main office and all branches of Silicon Valley Bank will reopen on Monday, March 13, 2023. The DINB will maintain Silicon Valley Bank's normal business hours. Banking activities will resume no later than Monday, March 13, including on-line banking and other services. Silicon Valley Bank's official checks will continue to clear. Under the Federal Deposit Insurance Act, the FDIC may create a DINB to ensure that customers have continued access to their insured funds.

As of December 31, 2022, Silicon Valley Bank had approximately $209.0 billion in total assets and about $175.4 billion in total deposits. At the time of closing, the amount of deposits in excess of the insurance limits was undetermined. The amount of uninsured deposits will be determined once the FDIC obtains additional information from the bank and customers.

Customers with accounts in excess of $250,000 should contact the FDIC toll-free at 1-866-799-0959.

The FDIC as receiver will retain all the assets from Silicon Valley Bank for later disposition. Loan customers should continue to make their payments as usual.

Silicon Valley Bank is the first FDIC-insured institution to fail this year. The last FDIC-insured institution to close was Almena State Bank, Almena, Kansas, on October 23, 2020.
* * *
Update (1030ET): In a hearing before the US House Ways & Means Committee Friday, Treasury Secretary Janet Yellen said the department is monitoring "a few" banks amid issues at SVB.
"There are recent developments that concern a few banks that I'm monitoring very carefully and when banks experience financial losses, it is and should be a matter of concern," 
Additionally, Reuters is reporting that SVB told its employees in a memo on Friday that they should work from home until further notice, stating according to a memo seen by the news service:
"SVB is undergoing a series of conversations that have not been concluded yet to determine next steps for the company."
*  *  *
Update (0900ET): CNBC's David Faber reports that SVB has sought an adviser to find a buyer after attempts to raise capital have failed. However, Faber added that deposit outflows are outpacing any efforts to find a buyer...
BREAKING: SVB Financial in talks to sell itself after attempts to raise capital have failed, sources say (via @DavidFaber) https://t.co/VixRcKa3R1 pic.twitter.com/QdoxlgsTS0

— CNBC Now (@CNBCnow) March 10, 2023
Meanwhile, we've seen this playbook before...
At what time does JPM offer to buy SIVB for $2

— zerohedge (@zerohedge) March 10, 2023
* * *
Trading in Silicon Valley Bank shares has been halted for news pending after they plunged another 65% overnight after numerous icon VCs recommended clients pull cash from the struggling regional bank...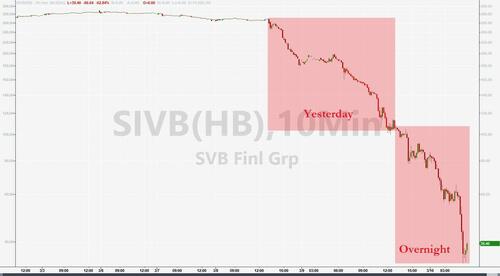 Perhaps more problematically, SVB's bonds (1.8s of 2031) are collapsing...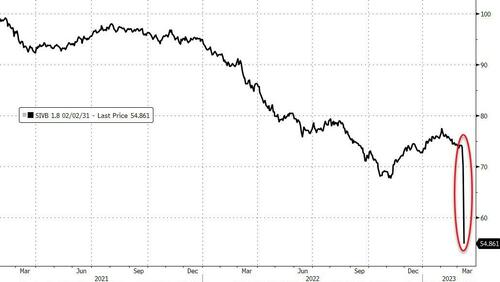 Bonds are extending losses after the stock was halted...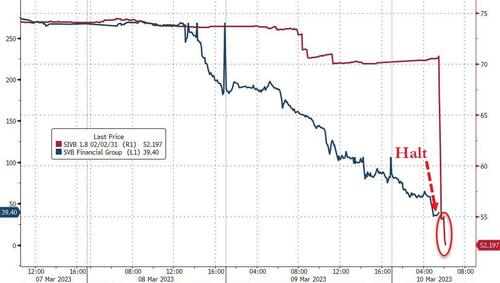 The fears of SVB's collapse is contagiousl dragging down others including Schwab, Western Alliance, and First Republic...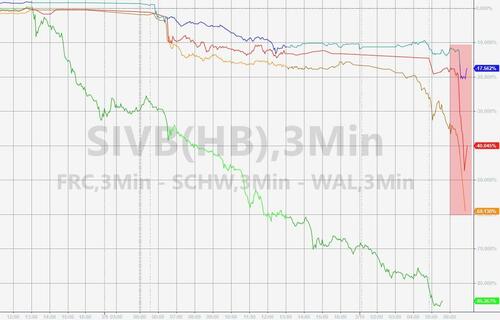 SVB Financial Group Chief Executive Officer Greg Becker held a conference call on Thursday advising clients of SVB-owned Silicon Valley Bank to "stay calm" amid concern about the bank's financial position, according to a person familiar with the matter.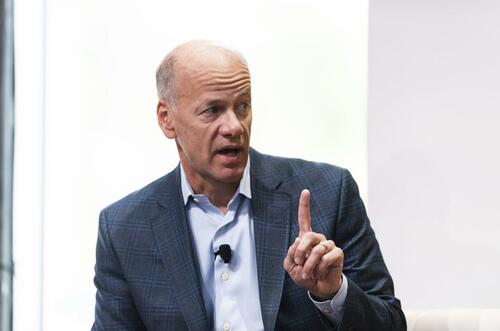 But a large number of VCs have suggested pulling cash sooner rather than later.
"This is a classic bank run, and when the bank run starts you don't want to be the last guy there," Ava Labs President John Wu said in an interview with Bloomberg Television.
However, some VCs said they were standing by the bank.
"It is truly unfortunate that several GPs and companies are making a tough situation for SVB worse by pressing the panic button," said G Squared founder Larry Aschebrook.

"SVB has supported entrepreneurs and GPs at all stages of their businesses and that partnership should run both ways."
"We'll have to see how this story develops but something always breaks hard during or after a Fed hiking cycle," said Jim Reid, a strategist at Deutsche Bank AG.
"Is this another mini wobble on this front or the start of something bigger?"
Michael 'Big Short' Burry also weighed in on Silicon Valley Bank last night.
"It is possible today we found our Enron," the 'Big Short' investor said Thursday in a now-deleted Tweet
The Treasury Department is monitoring Silicon Valley Bank "very carefully," White House Economic Advisor Bharat Ramamurti tells CNBC.
"I don't want to say more than that right now, but I want to assure the viewers that this is something we are on top of," he says, while adding that this is a "highly fluid situation"
Developing...
Loading...