---
Silver Is Soaring Again, Citi Sees $2000 Gold Imminent
Update (0830ET): 5 minutes after we posted and suggested that BIS precious metals boss Benoit Gilson should "get back to work"... he did...

*  *  *
Silver futures are surging again this morning, dramatically outperforming gold (which is also up notably) with both pushing to new multi-year highs...
Silver futures are back near $21...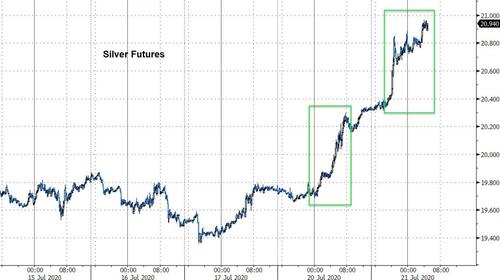 Source: Bloomberg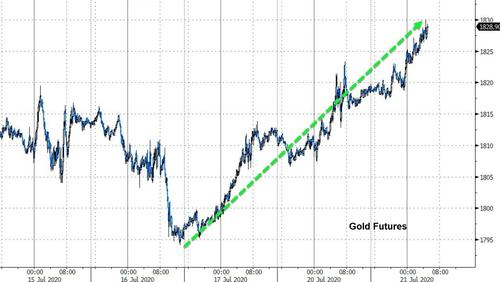 Source: Bloomberg
Silver is massively outperforming gold...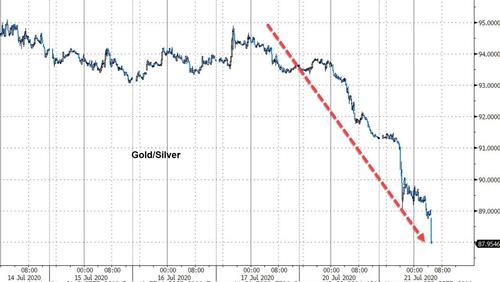 Source: Bloomberg
Erasing all of the pandemic/easing driven spike...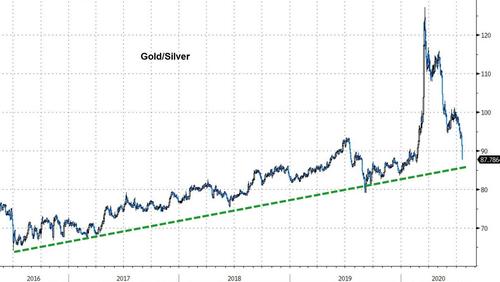 Source: Bloomberg
Citi analysts said in a note this week, gold is benefiting from loose monetary policy, low real yields, record inflows into exchange-traded funds and increased asset allocation. They expect the precious metal to climb to an all-time high in the next six-to-nine months, and there's a 30% probability it'll top $2,000 an ounce in the next three-to-five months.
"Nominal gold prices have already posted fresh records in every other G-10 and major emerging market currency this year," the analysts said.

"It is only a matter of time for fresh" highs in U.S. dollars, they said, adding that demand for a store of wealth should also lift silver.
Citi is the latest in a growing line of firms suggesting precious metals have more room to run - even making new record highs (in US terms).
Is the woirld losing faith in fiat?