---
Smith & Wesson Shares Plunge As CEO Admits Demand For Guns Has "Cooled Significantly"
Smith & Wesson Brands Inc. stock plunged 21% on Friday after the company reported demand for firearms "has cooled significantly" from the height of the pandemic and social unrest in 2020/21. 
The gunmaker reported net sales of $177.7 million, a decrease of $79.9 million, or 31.0%, from the same quarter last year, with analysts warning tough YoY comparisons amid normalizing demand for firearms after a two-year surge. 
"Although the firearms market remains elevated and healthy with new entrants, it has cooled significantly from the height of the pandemic surge and seems to now be following pre-pandemic historical demand patterns," CEO Mike Smith said in a statement accompanying the company's third-quarter earnings that ended January 31.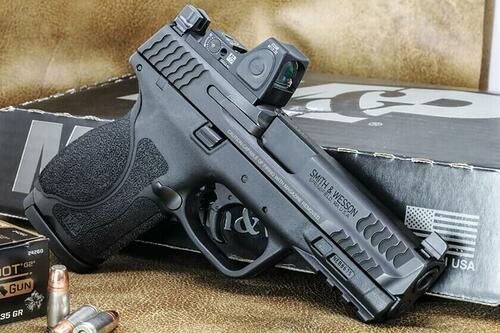 Scott Stember, a senior research analyst at CL King & Associates, said the gunmakers non-GAAP EPS declined from the last year's level, "when the U.S. was in the full throes of the post-pandemic surge in firearms demand." 
"We will continue to model a sharp falloff in demand and profits in the out-year as we await proof that SWBI can better maintain margins than in prior boom or bust cycles," Stember wrote, adding that promotional activity is resuming. 
"Firearm demand has normalized following a 2-year surge environment and combined with a restocked channel, SWBI is now facing tough comps, returning promotions and decremental margins," Craig-Hallum, an analyst at Steve Dyer. He lowered his price target for the company from $17 to $20. 
Last October, we asked the question: "Panic-Buying Over? U.S. Gun Demand Tumbles Near 2 Year Lows, FBI Data Suggests." 
Months later, it appears our suspicions were indeed correct with Smith & Wesson's admission by the CEO that panic hoarding guns is over. 
Another proxy of souring gun demand is monitoring 9mm ammo prices (which, by the way, is the most common self-defense round in the U.S.) have fallen since the high of 70 cents a round in early 2021 and based around 30 cents. Still, prices aren't back to pre-pandemic levels, nor should they with raw commodity prices soaring.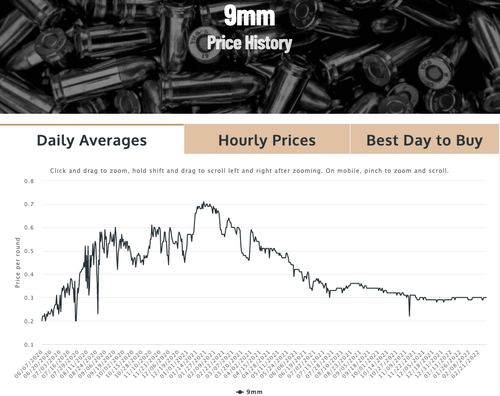 So what sparks the next panic hoarding of guns? Is it the conflict in Ukraine?
Loading...