---
Snowflake Safe-Zone: Triggered SNL Cast "Won't Be Forced" To Appear Alongside Elon Musk
Liberals are getting so sick of Elon Musk, they literally can't stand being anywhere near him. It's a stark change from heralding Musk as their hero just years ago, isn't it? 
This is now why the snowflakes on Saturday Night Live are being offered a "safe space" by their show and "won't be forced to appear alongside controversial billionaire Elon Musk when he hosts the show", according to the New York Post. 
One source told the NY Post: "Speaking historically, if a cast member has been that unhappy, they don't have to do it. ['SNL' boss Lorne Michaels] won't ever make them do anything they don't want to do."
Things already look like they're kicking off well with Musk and the cast. When Musk tweeted days ago "Let's find out just how live Saturday Night Live really is", cast member Bowen Yang fired back on Instagram: "What the fuck does this even mean?"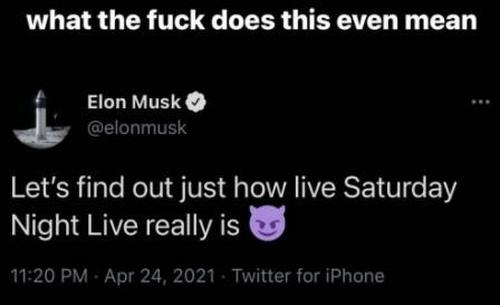 "Only CEO I want to do a sketch with is Cher-E Oteri," wrote writer Andrew Dismukes. Cast member Aidy Bryant reposted a Tweet by Bernie Sanders that called it a "moral obscenity" that "the 50 wealthiest people in America today own more wealth than the bottom half of our people."
Musk, as a reminder, saw his net worth rise by over $100 billion in 2020 while Tesla stock mooned for reasons that, we would guess, have yet to fully be explained.
NBC announced Musk would be hosting last weekend. It made the announcement "just hours" after the SpaceX Crew Dragon capsule docked with the International Space Station. 
🚀🚀🚀 pic.twitter.com/WyTGhSsSVg

— Saturday Night Live - SNL (@nbcsnl) April 24, 2021
As we noted last week, the show isn't well known for having businesspeople host, but Musk's crossover into the realm of celebrity appears to have afforded him the opportunity. Musk has also made guest appearances on CBS shows Young Sheldon and The Big Bang Theory, as well as voicing a part on South Park, The Simpsons and Rick and Morty. 
For better or for worse, it's going to get eyeballs on the show, which is NBC's endgame. The news at the time also triggered the lot of liberal SNL viewers, who lashed out at the program on Twitter, which became a group "cancel" effort/therapy session for snowflakes:
Having Elon Musk host SNL seriously feels like the show's biggest misstep since having Trump host

— Joshua Benton (@jbenton) April 25, 2021
idk how much communication you have with lorne or the higher ups, but someone needs to tell them that absolutely no one wants this. i can not think of a single person who wants this.

and i don't mean miley

— Your Tall Friend Jord (@TallGuySchmidt) April 24, 2021
This is dumb.
This is really dumb.

— Jo (@JoJoFromJerz) April 24, 2021
I'd rather have a root canal with no anesthesia than watch Elon Musk pretend to be human.

— 🙈🙉🙊 (@toddkimmelman) April 24, 2021
Elon can fuck himself. Miley deserves better. The writing's been shit this year but this takes the cake. Deleting SNL from my DVR ASAP.

— Ang (@angelamusings) April 24, 2021
Are you SHITTING ME? Elon Musk, seriously? Not funny. Bloated billionaire babyman. (Another one, that is.) Stop this!

— ABL in Madison (@AmyBarlowLib) April 25, 2021
Or which skit will feature Elon telling his wife she's way too emotional and should stop being sad about their child that died.

— Katie Tuohy 🍲🐀 (@katieroo_25) April 24, 2021