---
Solid 20Y Auction Sees Near Record Indirect Demand, Record Low Dealers
After last week's rollercoaster of refunding auctions saw massive tails and stop through alternate day after day, today's sale of $15BN in 20Y notes was a positively boring affair by comparison.
Stopping at a high yield of 3.977%, the auction yield rose from last month's 3.678% and was the highest in 4 months, but more importantly after three big stop throughs, today's auction tailed the  When Issued 3.975% by 0.2bps, the first tail since October.
The bid to cover was surprisingly weak, sliding from last month's 2.83 to 2.54, the lowest since October and well below the six auction average of 2.60.
The internals were more solid, with foreign buyers taking down 75.3%, down from January's near record high 76.25% but well above the recent average of 71.6%; and with Directs taking down 18.0% just above the 17.5% recent average, Dealers ended up holding just 6.7%, a record low for the series.
Overall, this was not a stellar auction but with near record Indirect demand and record low Dealer awards, it was more than good enough.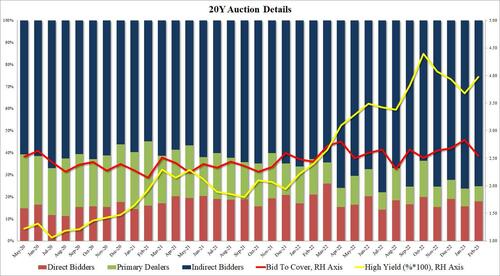 Loading...