---
"On Some Measures, Inflation Is Already Above 2.5%": Inflationary Lessons From The Used Car Market
Last week, when discussing an emerging problem facing the Fed which is desperately trying to find inflation, we said that "inflation is already here" as the latest PCE data showed prices rebounding significantly, rising 0.4% over three months compared with the prior three months, on an annualized basis. CPI was still showing prices falling on that basis, although in August the reopening of the economy pushed three-month annualized CPI inflation above 3%.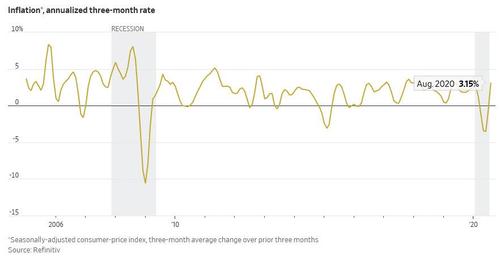 Today, UBS economist Paul Donovan made precisely that point, writing that "Fed President Evans yesterday indicated the Fed may be comfortable with 2.5% inflation" but "Inflation is over 2.5% already—on some measures. Inflation inequality causes most people to experience inflation that is higher than reported. And the growth of online retail means that different consumers can be charged different prices for the same things. The signal from central banks is that rates stay low if some inflation measures rise, but there is more to inflation than giving out random numbers greater than 2.0%."
He's right... and one place where the Fed can learn some lessons about surging inflation is the used car market, which as BofA chief economist Ethan Harris writes, "tells us a lot about the nature of the COVID shock, and it is having a notable impact on macro data."
Pointing to the "confluence of supply and demand forces which has created a shortage of used cars", Harris notes that "given the state of the world, perhaps it is appropriate that used cars are an important factor driving the economy."
As Harris elaborates, on the supply side the two month shutdown in auto production has created a shortage of new cars that spilled over into the used market. In addition, the weak economy is encouraging car owners to delay trading up into a new car. Meanwhile, on the demand side, the COVID crisis has caused people to shy away from public transportation and ride services. These supply and demand shifts have more than offset the increase in supply from rental car companies selling some of their fleet.
As a result, used cars are impacting both inflation and real activity: in July and August combined, used-car prices soared by 7.7%, the biggest two-month increase since 1969.  And since used cars and trucks make up 2.75% of the CPI basket, this surge alone has added 0.2% to the overall index, which as BofA notes, is "a lot when inflation is this low."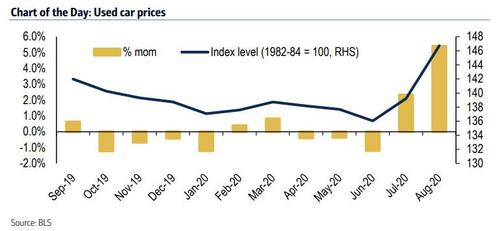 Meanwhile, used cars have also contributed to the V-shaped recovery in goods consumption, falling a cumulative 31% from February to April and then jumping 68% in the next two months.
Yet what goes up must come down, and the cooling off of the used car market is already in the works: auto manufacturers did not have their usual summer shutdown this year, and are starting to restore inventories to normal. Fleet sales continue to be weak as there is no rebound in the rental market in sight. At the same time, a good chunk of the normal cost advantage in buying a used car has been eroded as new car companies push for greater sales.
According to the Manheim Used Vehicle Value Index, used car inflation is already slowing, a leading sign of weaker retail prices.
Finally, the used car market has benefited from the big tax cuts and increased transfer receipts in the spring. Low income families benefitted the most and those benefits are fading. Real spending on used cars actually slowed in both July and August
And now that a new stimulus bill seems unlikely until the election, and potentially well beyond, it is only a matter of time before the sugar hike spending surge from this summer reverses with a bang, sending prices sharply lower over the coming months.