---
"Sounding Good Or Doing Good?" - Prof Damodaran Abandons The ESG Bandwagon
Questioning the righteousnness of ESG investing is almost as heretical as questioning lockdowns, mask-wearing, and Elon Musk's genius; which is why we have felt somewhat lonely out here on our branch of ESG skeptics.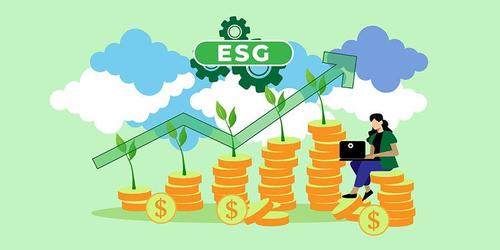 While flows continue to dominate, and virtue is signaled, performance ex-post just hasn't lived up to the hype and now, none other than the professor of valuations - NYU Stern's Aswath Damodaran - has been brave enough to write a paper (with Brad Cornell) daring to question the "value" of ESG investing.
In the last decade, companies have come under pressure to be socially conscious and environmentally responsible, with the pressure coming sometimes from politicians, regulators and interest groups, and sometimes from investors. The argument that corporate managers should replace their singular focus on shareholders with a broader vision, where they also serve other stakeholders, including customers, employees and society, has found a receptive audience with corporate CEOs and institutional investors. The pitch that companies should focus on "doing good" is sweetened with the promise that it will also be good for their bottom line and for shareholders. In this paper, we build a framework for value that will allow us to examine how being socially responsible can manifest in the tangible ingredients of value and look at the evidence for whether being socially responsible is creating value for companies and for investors.
Damodaran wrote the following to address this on his "Musings On Markets" blog:
In my time in corporate finance and valuation, I have seen many "new and revolutionary" ideas emerge, each one marketed as the solution to all of the problems that businesses face. Most of the time, these ideas start by repackaging an existing concept or measure and adding a couple of proprietary tweaks that are less improvement and more noise, then get acronyms, before being sold relentlessly. With each one, the magic fades once the limitations come to the surface, as they inevitably do, but not before consultants and bankers have been enriched.

So, forgive me for being a cynic when it comes to the latest entrant in this game, where ESG (Environmental, Social and Governance), a measure of the environment and social impact of companies, has become one of the fastest growing movements in business and investing, and this time, the sales pitch is wider and deeper.

Companies that improve their social goodness standing will not only become more profitable and valuable over time, we are told, but they will also advance society's best interests, thus resolving one of the fundamental conflicts of private enterprise, while also enriching investors. This week, the ESG debate has come back to take main stage, for three reasons.

It is the fiftieth anniversary of one of the most influential opinion pieces in media history, where Milton Friedman argued that the focus of a company should be profitability, not social good. There have been many retrospectives published in the last week, with the primary intent of showing how far the business world has moved away from Friedman's views. 

There were multiple news stories about how "good" companies, with goodness measured on the social scale, have done better during the COVID crisis, and how much money was flowing into ESG funds, with some suggesting that the crisis could be a tipping point for companies and investors, who were on the fence about the added benefits of being socially conscious. 

In a more long standing story line, the establishment seems to have bought into ESG consciousness, with business leaders in the Conference Board signing on to a "stakeholder interest" statement last year and institutional investors shifting more money into ESG funds.

In the interests of openness, I took issue with the Conference Board last year on stakeholder interests, and I start from a position of skepticism, when presented with "new" ways of business thinking. If the debate about ESG had been about facts, data and common sense, and ESG had won, I would gladly incorporate that thinking into my views on corporate finance, investing and valuation. But that has not been the case, at least so far, simply because ESG has been posited by its advocates as good, and any dissent from the party line on ESG (that it is good for companies, investors and society) is viewed as a sign of moral deficiency. At the risk of sounding being labeled a troglodyte (I kind of like that label), I will argue that many fundamental questions about ESG have remained unanswered or have been answered sloppily, and that it is in its proponents' best interests to stop overplaying the morality card, and to have an honest discussion about whether ESG is a net good for companies, investors and society.

...

Even if you overlook disagreements on ESG as growing pains, there is one more component that adds noise to the mix and that is the direction of causality: Do companies perform better because they are socially conscious (good) companies, or do companies that are doing well find it easier to do good?

 Put simply, if ESG metrics are based upon actions/measures that companies that are doing better, either operationally and/or in markets, can perform/deliver more easily than companies that are doing badly, researchers will find that ESG and performance move together, but it is not ESG that is causing good performance, but good performance which is allowing companies to be socially good.
Damodaran dares to conclude... it's over-hyped!
In many circles, ESG is being marketed as not only good for society, but good for companies and for investors. In my view,  the hype regarding ESG has vastly outrun the reality of both what it is, and what it can deliver, and the buzzwords are not helpful. That is the reason I have tried to under use words like sustainability and resilience, two standouts in the ESG advocates lexicon, in writing this post. I believe that the potential to make money on ESG for consultants, bankers and investment managers has made at least some of them cheerleaders for the concept, with claims of the payoffs based on research that is ambiguous and inconclusive, if not outright inconsistent. The evidence as I see it is nuanced, and can be summarized as follows:

There is a weak link between ESG and operating performance (growth and profitability), and while some firms benefit from being good, many do not. Telling firms that being socially responsible will deliver higher growth, profits and value is false advertising. The evidence is stronger that bad firms get punished, either with higher funding costs or with a greater incidence of disasters and shocks. ESG advocates are on much stronger ground telling companies not to be bad, than telling companies to be good. In short, expensive gestures by publicly traded companies to make themselves look "good" are futile, both in terms of improving performance and delivering returns.

The evidence that investors can generate positive excess returns with ESG-focused investing is weak, and there is no evidence that active ESG investing does any better than passive ESG investing, echoing a finding in much of active investing literature. Even the most favorable evidence on ESG investing fails to solve the causation problem. Based on the evidence, it appears to me that just as likely that successful firms adopt the ESG mantle, as it is that adopting the ESG mantle makes firms successful.

If there is a hopeful note for ESG investing, it is in the payoff to being early to the ESG game. Investors who are ahead of markets in assessing how corporate behavior, good or bad, will play out in performance or priced, will be able to earn excess returns, and if they can affect the change, by being activist, can benefit even more.

Much of the ESG literature starts with an almost perfunctory dismissal of Milton Friedman's thesis that companies should focus on delivering profits and value to their shareholders, rather than play the role of social policy makers. The more that I examine the arguments that advocates for ESG make for why companies should expand mission statements, and the evidence that they offer for the proposition, the more I am inclined to side with Friedman. After all, if ESG proponents are right, and being good makes companies more profitable and valuable, they are on the same page as Friedman. If, on the other hand, adopting ESG practices makes companies less valuable, the onus is on ESG's proponents to show that societal benefits exceed that lost value.

The ESG bandwagon may be gathering speed and getting companies and investors on board, but when all is said and done, a lot of money will have been spent, a few people (consultants, ESG experts, ESG measurers) will have benefitted, but companies will not be any more socially responsible than they were before ESG entered the business lexicon.

What is needed is an open, frank, and detailed dialogue concerning ESG-related corporate policies, with an acceptance that being good can add value at some companies and may destroy value at others, and that in the long term, investing in good companies can pay off during transition periods but will often translate into lower returns in the long term, rather than higher returns.
Read the full blog post here...
*  *  *
Full Paper below: