---
Southwest Cancels Thousands Of More Flights As Operational 'Meltdown' Continues
Six days after a powerful winter storm wreaked havoc on Christmas holiday travel across the US, most major carriers have normalized operations after a few days of widespread cancelations and delays. But at Southwest, it's a very different story. 
More than 2,300 flights, or 58% of its planned flights on Thursday, had been canceled, according to FlightAware. And the airline said Wednesday that it would only fly one-third of scheduled flights through the end of the week to normalize operations.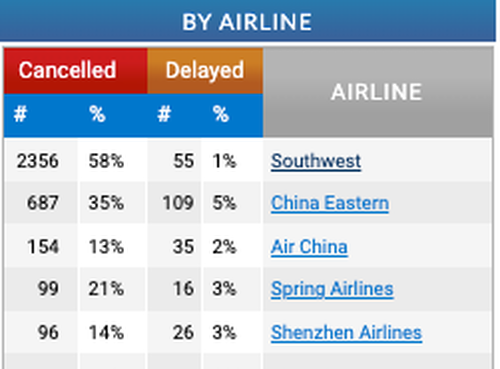 FlightAware said the budget airline scrapped more than 15,000 flights over the past week. The company issued another apology Wednesday for one of the worst operational mishaps in its five decades of existence. 
On Tuesday, CEO Robert Jordan said Southwest would operate a reduced schedule to get "back on track before next week." He blamed the winter storm for causing disruptions in the airline's "highly complex" network. 
Another Southwest executive issued a video apology Wednesday. Ryan Green, Southwest's chief commercial officer, pledged "to do everything we can and to work day and night to repair our relationship" with customers.
We shared a leaked memo from the airline that warned of a "state of operational emergency" at its Denver Airport hub after "an unusually high number" of employee absences ahead of Christmas. 
Southwest pilots are good ❤️ pic.twitter.com/l3xOXSJiGJ

— SamR (@_Ignis_Fatuus_) December 29, 2022
A combination of factors from staffing shortages, the winter storm, an antiquated crew-scheduling system, and a network designed that allowed cancellations in one region to spread throughout all other airports led to the travel mess. 
Maybe Southwest Airlines should spend less time hanging up fake woke holiday banners and more time making sure their flights don't get cancelled. pic.twitter.com/2dSOPC3QEw

— Brigitte Gabriel (@ACTBrigitte) December 27, 2022
"Historically, Southwest underinvested in IT, in technology, and this has come back in the past to hurt them," Cowen analyst Helane Becker told Bloomberg TV on Wednesday. 
Becker said, "People have a right to be really angry and annoyed. They should have invested years ago in these systems, and they just didn't." 
Southwest shares have slid 20% this month.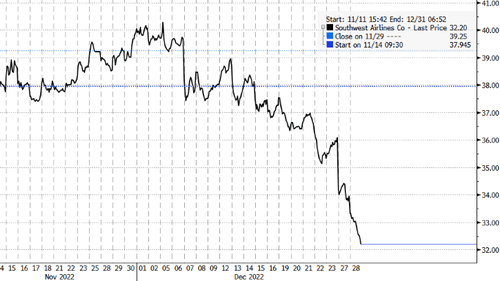 The Cowen analyst expects the airline will take an earnings hit "in the hundreds of millions of dollars range" because of the operational blunder. 
Still, the chaos is not over for Southwest. 
Loading...