---
"Soviet-Like Inflation" Returns As Sanctions Shock Russia Into Crisis 
Russians are feeling the economic pain of sanctions by the US and other Western countries, as inflation has sharply accelerated amid a collapsing ruble.
Annual inflation soared to 12.54% as of March 11, its highest since the second half of 2015 and up from 10.42% a week earlier, the Rosstat statistics agency announced Wednesday. Prices in Russia have increased over the last several weeks, and the economy is headed for a deep recession as there is more turmoil ahead.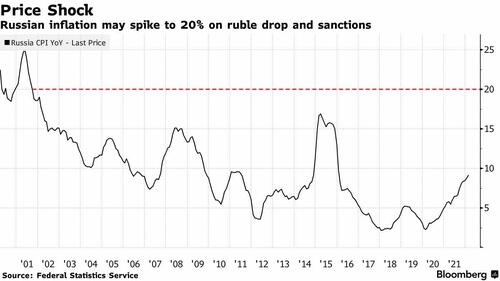 Between March 5-11, inflation data came in at 2.1%, the second-highest weekly print in more than two decades, down from a 2.2% rise in prices a week earlier. 
Alexander Abramov, a market analyst at RANEPA, a state-run university in Moscow, told Bloomberg that "Soviet-like inflation" could return as it manifests through a deficit of goods that pushes prices higher.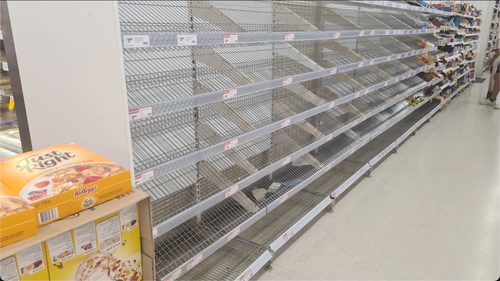 "The main risk now is the emergence of a shortage of basic imported everyday goods, as well as durable goods," Abramov said. "Many are no longer available in stores, and prices in online stores have risen sharply."
Deteriorating financial conditions and inflation over the Central Bank of Russia's 4% annual inflation target means households and businesses are distressed. 
Following the invasion of Ukraine, Western sanctions have plunged the Russian economy into a crisis that could be on par with the fall of the Soviet Union. 
Sanctions targeting the central bank's ability to use a majority of its reserves to stabilize the ruble have sent the currency to an all-time low, forcing the bank to raise interest rates to a shocking 20%. Cutting some Russian banks off SWIFT and not allowing them to transact in dollars and euros has amplified the financial crisis.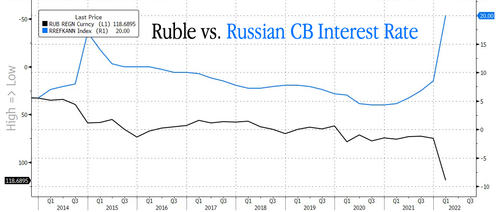 Rosstat said consumers in many cities reported shortages of staple foods, and prices have soared 15% over the last two weeks. Moscow has chosen to ban certain agricultural exports to stabilize domestic food prices. 
Prices for over-the-counter medicines have sharply risen. Imported goods and products with foreign components have seen price increases of at least 10% in the last two weeks. 
"Definitely households will be very severely hit and will pay a big price," Mario Bikarski, an analyst at the Economist Intelligence Unit told The Moscow Times. "Corporates are also suffering greatly … It will be Russia's private sector and households, especially lower-income households, that will take the biggest hits."
The central bank will reconvene on Friday to decide the following steps to prevent a systemic meltdown.
"Tight monetary conditions are helping inflation ease, but it won't save it from reaching 20% this year in the conditions of deficit of certain goods and a considerable ruble drop," Raiffeisen Bank analysts wrote in a note. 
The Moscow Times said economists surveyed by the central bank expect inflation to jump to 20% this year, with interest rates in the double-digit range through the end of 2023.