---
Softbank Is Back With "Gamma Squeeze" Part 2
After dropping to an overnight low of just one tick above 3,300, Eminis have since rebounded sharply after the open, reversing almost all overnight losses.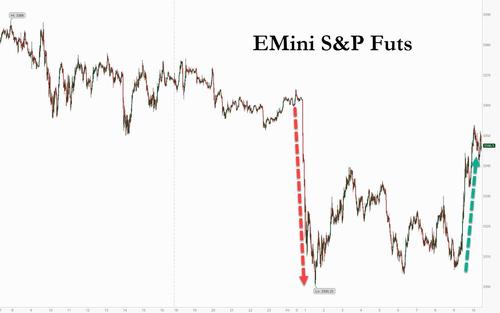 Why was the 3,300 ES level so important? Because as SpotGamma reports in its morning note, that is where the Zero Gamma level is, which makes "3300 critical support."
As our friends at SpotGamma further note referring to the chart below, a break of 3300 could "turn on" large put gamma positions from 3250 down through 3200, and add that "the concern is that many of those larger put positions reside out post election and so if the market declines now those puts may fuel volatility for an extended period."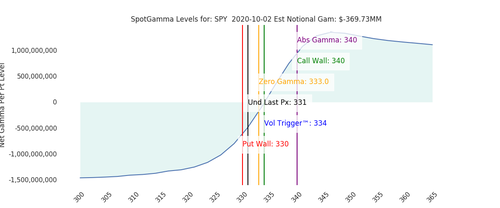 Meanwhile, to the upside 3400 is the largest call interest area, and a move above would trigger self-reinforcing buy a la gamma meltup.
What is perhaps most notable is that as the SpotGamma wrote overnight, highlighting the strong rally in many tech names "there are notes out detailing large options positions building in tech. Looking at FB as an example you can see how call activity has picked up over the last two weeks."
The punchline: "this chasm between call & put gamma is starting to look similar to that of early August." While the key to remember with these large options positions is that they bring negative gamma and therefore volatility aka "instability" to markets, they also means that SoftBank is back with another attempt to corner tech (and market) gamma once again after the historic August meltup.
And sure enough, moments ago CNBC's David Faber confirmed that SoftBank yesterday morning bought $200M worth of calls in NFLX, AMZN, FB and GOOGL. Only this time the dealers know where the gamma is coming from...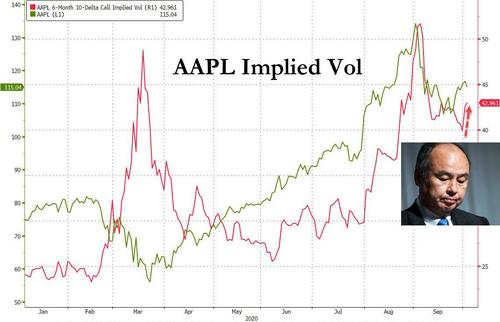 ... and if they wish to, they can easily cripple Masa Son by forcing tech names sharply lower and undoing the billions in profits the Japanese unicorn chaser generated in August during the market low-volume meltup.