---
S&P Futures Fall, Naz Tumbles On Goldman Tech Downgrade, "Stimulus Pessimism"
Just as "stimulus (and covid vaccine) optimism" was the go to "explanation" for the market's ramp in the past few weeks, so "stimulus (and covid vaccine) pessimism" is being trotted out to "explain" when stocks unexpectedly don't melt-up overnight. And sure enough, one day after stocks sank when Steven Mnuchin told the Milken Institute Global Conference yesterday that "getting something done" on stimulus before the election "would be difficult", the selling accelerated overnight in S&P futures which dropped over 1%, as Europe's biggest cities clamped down to curb the virus and hopes wilted for new stimulus from Washington.
Hopes for a U.S. package to boost the coronavirus-hit economy before the presidential election next month have also fizzled out after U.S. Treasury Secretary Steven Mnuchin said such a deal would be difficult.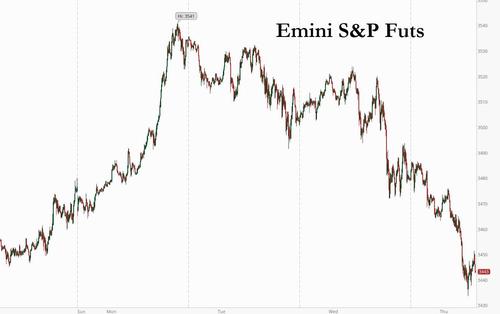 Nasdaq futures suffered an even bigger drop, sliding 1.8% after Goldman Sachs cut its recommendation on technology stocks to neutral, saying a barrage of policy and economic shifts will temporarily put an end to the outperformance of the sector.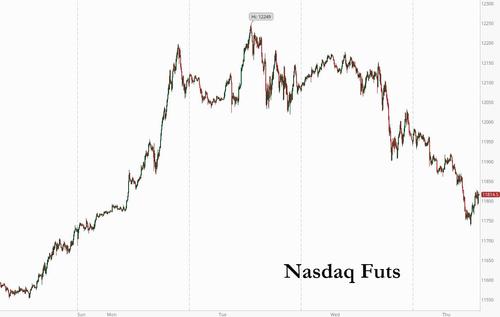 In single name action, Fastly plunged in late trading on Wednesday and again in pre-market trading on Thursday after saying that Chinese internet giant ByteDance, its No. 1 customer, spent less than predicted in the third quarter on cloud computing services as a result of rising U.S.-China trade tension. Other big losers in the pre-market included Tesla, Moderna and DocuSign. With S&P 500 contracts also well down, U.S. stocks are facing a third declining session unless earnings from Morgan Stanley and Charles Schwab later on Thursday somehow manage to spark optimism.
As Bloomberg notes, investors are coming to terms with virus flare-ups that are triggering tighter restrictions, just as stalled talks on U.S. stimulus and Britain's messy exit from Europe weigh on risk appetite. U.S. jobless figures in several hours may only add to the gloom, according to strategists at Mizuho International Plc including Peter Chatwell.
"Data today is expected to confirm U.S. economic sentiment is deteriorating, U.S. fiscal stimulus remains some way off, and a hard Brexit" is possible, Chatwell wrote in a note.
In Europe, markets fell for a 3rd consecutive session with the Stoxx 600 Index tumbling as much as 2.2% amid earnings disappointments and clampdowns by some of the region's largest cities to curb the coronavirus. Markets in London and Paris were lower 1.4%-1.7% and Frankfurt and Milan 2%-2.5% weaker. Shares of auto and energy companies led the drop. The U.K. government imposed tougher curbs on London in a bid to contain a spike in new cases, while France set a curfew in Paris as European nations from Germany to Italy to the Czech Republic reported record increases in new infections. Analysts said the rise in coronavirus infections across Europe and no sign of a vaccine anytime soon after two high profile propects experienced problems was hitting sentiment.
"In Europe you just have a long list of quite notable actions being taken, with Paris and other French cities going into curfew, and today reports that London is going to the next, high level phase of restrictions," said MUFG research head Derek Halpenny. "It's all pointing to a greater hit to fourth quarter activity and warrants a degree of adjustment in market pricing."
"We have been trading in a range for quite some time and up until the beginning of this week, at the top end of it, and it's a trend that is likely to continue," said Michael Hewson, senior market analyst a CMC Markets.
Earlier in the session, Asian stocks fell, led by communications and health care, after ending flat in the last session. MSCI's index of Asia-Pacific shares ex-Japan lost 0.6% while Japan's Nikkei .N225 dropped 0.5%. Most markets in the region were down, with Hong Kong's Hang Seng Index dropping 2.1% and India's S&P BSE Sensex Index falling 1.6%, while Australia's S&P/ASX 200 gained 0.5%. The Topix declined 0.7%, with Transaction and JNS Holdings Inc falling the most. The Shanghai Composite Index retreated 0.3%, with Jiayou International Logistics and EGing Photovoltaic Technology posting the biggest slides.
In FX, all eyes were on a two-day summit of European Union leaders which starts on Thursday as the EU and Britain continue their efforts to overcome stumbling blocks, such as fishing rights and competition safeguards, to agreeing a trade deal before the UK's Brexit transition arrangements end on Dec. 31. After this week's summit in Brussels, U.K. Prime Minister Boris Johnson is expected to decide whether to pull out of talks and brace the country for a no-deal exit from the bloc.
"Today is unlikely to be 'doomsday' for the British pound, as talks are expected to go on between the UK and EU negotiators beyond the supposed 15 October deadline," UniCredit bank said in a note to clients. The pound barely budged whereas the euro was a touch lower against the dollar at $1.1726. Money markets are betting that the BOE will lower interest rates to 0% in August 2021 ahead of the start of a two-day EU summit with the Brexit trade deal on the agenda.
Investors will also tune into European Central Bank President Christine Lagarde, who takes part in a debate on the global economy at 1600 GMT as part of the IMF and World Bank's annual meeting which is being held virtually.
Elsewhere, The Bloomberg Dollar Spot Index rose to a one-week high; the dollar advanced versus all of its Group-of-10 peers and neared 1.17 per euro, the greenback's strongest level in nearly two weeks.  Scandinavian and Antipodean currencies were the worst G-10 performers, led by a decline in Norway's krone. Australia's dollar touched the weakest level versus the greenback this month and sovereign yields slid after Governor Philip Lowe said the central bank is assessing whether buying longer-dated bonds would help spur hiring.
In rates, Treasuries were higher as the curve flattened led by the long end, following bigger advance for bunds on haven demand as Covid-19 cases rise in Europe. Yields lower by 0.5bp to 4bp across the curve with 2s10s curve flatter by nearly 2bp, 5s30s by ~2.5bp; 10-year lower by 2.7bp at ~0.70% vs 4bp-5bp declines for U.K. and German 10-year yields. Gilts bull-steepen ahead of Prime Minister Boris Johnson's decision on whether to continue working with European Union leaders on Brexit trade talks. In Europe, London and Paris face fresh Covid-19 related clampdowns amid record new coronavirus cases. Italian bonds declined on profit-taking, while German bunds rallied to leave their yields at their lowest level since the March spread of COVID-19 caused the global meltdown in stock markets and other riskier assets.
Oil prices also fell as the renewed surge in the virus in large parts of the world underpinned concerns about economic activity. Brent crude futures dropped 0.8% to $42.96 a barrel, WTI crude futures dropped back to $40.68 a barrel while gold and industrial metals like copper were broadly flat.
Today the DOL will report that Initial claims likely resumed their slow grind lower, as economists expect filings for new unemployment benefits to drop to 825,000 last week from 840,000, consensus shows, while continuing claims likely fell to 10.6 million from 11 million.
Looking at the day ahead, today's expected data include jobless claims and Empire State Manufacturing Survey. Morgan Stanley and Walgreens Boots are reporting earnings. From central banks, speakers include ECB President Lagarde, the Fed's Quarles, Bostic, Kaplan and Kashkari, as well as the BoE's Cunliffe.
Market Snapshot
S&P 500 futures down 0.9% to 3,448.25
STOXX Europe 600 down 2.1% to 362.68
MXAP down 1.1% to 175.06
MXAPJ down 1.2% to 579.85
Nikkei down 0.5% to 23,507.23
Topix down 0.7% to 1,631.79
Hang Seng Index down 2.1% to 24,158.54
Shanghai Composite down 0.3% to 3,332.18
Sensex down 1.8% to 40,053.86
Australia S&P/ASX 200 up 0.5% to 6,210.30
Kospi down 0.8% to 2,361.21
Brent futures down 1.1% to $42.83/bbl
Gold spot down 0.3% to $1,895.46
U.S. Dollar Index up 0.3% to 93.69
German 10Y yield fell 4.4 bps to -0.625%
Euro down 0.3% to $1.1710
Italian 10Y yield unchanged at 0.455%
Spanish 10Y yield fell 0.5 bps to 0.13%
Top Overnight News from Bloomberg
Democratic presidential nominee Joe Biden raised $383 million in September, breaking the monthly record his campaign set in August when it pulled in $364.5 million
Londoners will be banned from mixing with other households indoors and Paris is set for a curfew, as European leaders struggle to cope with record new coronavirus cases around the region
A combination of falling worldwide bond yields and rock-bottom currency hedging costs are bullish signals for U.S. Treasuries. The recent steepening of the U.S. yield curve has driven the yield pick up on 30-year Treasuries to 80 basis points over German bunds, for euro-hedged investors. Their yen-hedged equivalents get a yield of 1%, about the same on 10-year Italian debt where Japanese investors have recently made record purchases
Bond investors are pouring back into riskier debt in search of higher returns as they increasingly factor in years of low interest rates. China drew bumper demand for a bond sale this week even amid increasing tensions with the U.S. Turkey returned to international debt markets last week despite mounting geopolitical risks. And across emerging markets, dollar notes sold by the lowest-rated borrowers are returning more than top-rated peers
A quick look at the global markets courtesy of NewsSquawk
APAC equity markets traded mostly lower following a negative handover from Wall Street which saw major indices post a second straight day of declines amid the dwindling prospect of a pre-election relief bill, rising COVID-19 cases and as US earnings season gets underway. ASX 200 (+0.5%) bucked the trend following dovish remarks from RBA Governor Lowe who noted that it is reasonable to expect that further monetary easing would get more traction than was the case earlier, and it is possible to cut the Cash Rate to 10bps, but the Board has not yet made any decisions. Meanwhile, an overall better-than-expected Aussie jobs data further underpinned the index. Nikkei 225 (-0.5%) was subdued on yesterday's JPY action, whilst Rakuten shares rested at the foot of the index as it lost out to Amazon on Prime Day deals. The KOSPI (-0.8%) also traded with losses despite Big Hit Entertainment shares rising over 150% at its IPO. Elsewhere, Hang Seng (-2.0%) and Shanghai Comp (-0.2%) were also lower, with the former pressured after US sanctioned Hong Kong's Chief Executive Lam over her alleged undermining of Hong Kong's autonomy, albeit the US Treasury stopped short of imposing sanctions on banks. Meanwhile, Alibaba shares fell over 2.5% as US state department reportedly submitted an application to the Trump Admin to put Alibaba's unit Ant Group on a trade blacklist. Mainland China meanwhile opened with modest gains amid PBoC liquidity injections, but thereafter traded indecisively due to heightened geopolitical tensions after a US destroyer crossed the Taiwan Strait on Wednesday. Finally, JGBs saw modest gains as it tracks price broader price action across the fixed income futures complex.
Top Asian News
Hong Kong-Singapore Travel Bubble to Reopen Financial Hub Links
China Inflation Slows in September as Food Price Gains Moderate
BTS Band Members Make Millions as Big Hit Shares Jump in IPO
European equities (Eurostoxx 50 -2.5%) have endured heavy losses throughout the session as markets contemplate a disappointing Q4 growth landscape with lockdown measures tightened across the region once again. Various restrictions have been in place since for several weeks/months; however, the policy responses from various governments throughout the week have clearly placed an even tighter grip on the European economy, particularly in some of the core nations. Earlier today, Germany warned that the nation is facing a very broad second wave, whilst France recently imposed a curfew in the Paris region and London looks set to be designated tier 2 status in the recently announced "traffic-light" system. All of this has served to highlight that some of the expectations for growth this quarter will likely need to be revised lower, however, questions may begin to arise over what policy response such an outturn will be met with, particularly from a fiscal standpoint as negotiations over the EU recovery fund remain at an impasse. Losses can be seen across major European indices with the DAX (-3.0%) the marginal laggard after German Chancellor Merkel cautioned that even tougher lockdown measures might be required. From a sectoral standpoint, all sectors are lower on the session with notable softness seen in some of the more cyclical names such as autos, oil & gas and travel & leisure which have tended to bear the brunt of selling when COVID fears heighten. On travel & leisure, albeit not the worst performing company in the sector, Ryanair (-3%) earlier announced that it will cut its winter capacity to 40% from 60% and cautioned that FY2021 traffic will likely decrease to around 38 million guests. IAG (-4.0%) have also succumbed to the selling pressure despite reports suggesting that hedge fund heavyweight Marshall Wace has built a 3% stake in the Co. Elsewhere, Thyssenkrupp (-5.4%) are lower on the day after comments from the North Rhine-Westphalia premier who believes it would make more sense for the Co. to restructure and produce green steel than the Gov't take a stake. Earnings from swiss heavyweight Roche (-3.3%) have seen their shares lag amid softer than forecast revenues, whilst Schroders (-3.0%) shares are seen lower by an equal magnitude post-earnings. Looking ahead, the main highlight in the pre-market for US earnings comes via Morgan Stanley.
Top European News
Paris and London Face Clampdowns as Europe Posts Record Cases
Rolls-Royce Says Bond Success Removes Need for State-Backed Loan
Spain Pushes Back on German Concerns Over Handling of Outbreak
Dutch Home Prices Jump as the Market Overcomes Economic Weakness
In FX, a double hit for the Aussie as broad risk sentiment continues to deteriorate and RBA Governor Lowe upped the ante in terms of a potential 15 bp rate cut at the November policy meeting overnight, while the subsequent jobs report failed to provide much comfort even though headline payrolls and the unemployment rate were not quite as weak as forecast. Aud/Usd has extended its pull-back to sub-0.7100 and the Aud/Nzd cross is hovering just over 1.0700 to the relative benefit of the Kiwi that remains in-site of 0.6600, albeit losing traction from its recent 0.6650 axis ahead of NZ manufacturing PMI.
GBP - Some calm after the midweek session mayhem for Sterling, as Cable pivots 1.3000 within comparatively narrow confines and Eur/Gbp meanders between 0.9037-17 parameters. However, the Pound's predicament and position remains very fluid and prone to Brexit developments going into Day 1 of the European Council Summit, as any change in stance over the main outstanding issues could heighten the chances of a breakthrough and in turn lower the probability of no deal before deadline day (whenever that might be). As things stand, fishing rights is the key sticking point and area that neither side has given ground on, but the level playing field and state aid are also preventing the 2 sides from penning a draft trade deal.
USD - After Wednesday's whip-saw moves, in keeping with Sterling if not totally as a bi-product of the Gbp's choppy price action, the Dollar is firmly back in safe haven demand as EU stocks cave under the weight of rising COVID-19 cases. Indeed, the DXY has rebounded from sub-93.500 lows to 97.763, thus far and eclipsing this week's prior peak to expose 94.000 in advance of a busier US data schedule and more Fed speakers.
JPY/CHF/EUR/CAD - The Yen is faring better than others given its own allure as a refuge from risk, with Usd/Jpy sitting tight in the low 105.00 zone and well flanked by decent option expiries extending from 105.25 (2.2 bn) through 105.10-00 (1.7 bn) to 104.85 (1 bn). Meanwhile, the Franc has retreated to circa 0.9150, Euro towards 1.1700 where expiry interest may provide some support (1 bn from the round number to 1.1695) and Loonie further from 1.3100 to a test of 1.3200 awaiting comments from BoC's Lane.
In commodities, WTI and Brent front month futures are unsurprisingly pressured this morning, exhibiting losses of circa USD 1.0/bbl, as sentiment in general takes a hit with the FX, Fixed & Equity space all exhibiting risk-off price action. Specifically for crude, updates have been sparse following last nights private inventories which printed a larger than expected draw (-5.4mln vs. Exp. -2.8mln) and as such focus is on the EIA report today, at the slightly later time of 16:00BST/11:00ET given Monday's US holiday, for confirmation of this; for reference, the headline is expected at -2.835mln. Aside from this the OPEC+ JTC meeting is taking place today but focus is very much on the JMMC meeting for October 19th to get any insight/guidance from the committee as OPEC's plans for their supply schedule given the changing supply & demand picture since it was agreed. As such, price action this morning is very much being driven by the broader market drivers this morning and particularly the resurgence in COVID-19 cases and additional lockdown measures being implemented this morning in London & Paris already and the associated impacts for the demand side of the equation; evidenced by the poor performance in travel names and similarly sensitive areas of the economy in European equity trade this morning. Moving to metals, spot gold is subdued and back below the USD 1900/oz mark in-spite of the broad risk move as the metal is weighed on by a dominant dollar. Price action which sees the DXY in proximity to ever increasing session highs and therefore the precious metal remains at lows with losses in excess of USD 10/oz.
US Event Calendar
8:30am: Empire Manufacturing, est. 14, prior 17
8:30am: Initial Jobless Claims, est. 825,000, prior 840,000; Continuing Claims, est. 10.6m, prior 11m
8:30am: Import Price Index MoM, est. 0.25%, prior 0.9%; YoY, est. -1.2%, prior -1.4%
8:30am: Export Price Index MoM, est. 0.25%, prior 0.5%; YoY, prior -2.8%
8:30am: Philadelphia Fed Business Outlook, est. 14.8, prior 15
DB's Jim Reid concludes the overnight wrap
We finally got a negative Covid test result for one of the twins yesterday afternoon so we are back to restricted freedom rather than solitary confinement. I can't remember seeing my wife so happy. Never has wearing a mask and not being able to go near people felt so good. We actually had a Zoom parents evening last night and scheduled all 3 sessions back to back leaving Bronte the dog to look after the children in the other room. By the time we got back Bronte had eaten Maisie's dinner and planted the remains on the floor and Jamie was downing neat tomato ketchup straight out of the squeezy bottle. Neither of us could remember how much was there before we left but the fact that it was nearly empty by the time we got back worried us a little.
The bottle was a bit half empty yesterday as global equity markets fell back somewhat as they weighed up the seemingly never-ending US stimulus negotiations along with a number of earnings releases. By the close the S&P 500 had fallen back -0.66%, in spite of the buoyancy of energy stocks as WTI rose a further +2.09%. Furthermore the VIX index of volatility rose for a 3rd day running, albeit with a small +0.33pts increase. Elsewhere, the Dow Jones (-0.58%) and the NASDAQ (-0.80%) also fell, and in Europe the STOXX 600 shed -0.09%.
A large number of US banks reported again yesterday. Goldman Sachs (+0.13%) saw overall trading revenue up 29% for the quarter, primarily driven by fixed income. The beat saw EPS rise to record levels and nearly twice analysts' estimates. Bank of America's (-5.29%) trading operation did not do as well as peers during the last quarter, missing analysts' expectations of $3.5bn by $160mn. Bank of America CEO Moynihan noted that more fiscal stimulus is needed to see the recovery continue, joining the chorus of bank executives calling for action. United Airlines (+0.24% aftermarket) posted worse losses than expected but has lowered its daily cash burn to $25million from $40 million in the previous quarter. The company highlighted its $19.4 billion of liquidity though but with specific airline-only stimulus stalling in Washington, airlines will likely have to continue shoring up reserves.
On the topic of stimulus, yesterday we got more negative short-term headlines. The big one was from Treasury Secretary Mnuchin, who now does not expect a relief package to make it to President Trump's desk prior to the election. This comes after he and Speaker Pelosi spoke at length over the last few weeks. Speaking at a Milken Institute conference, the Treasury Secretary said "At this point getting something done before the election and executing on that would be difficult, just given where we are in the level of details." Mnuchin went on to note that the difference in overall price tag was not the breaking point, but the policies within each side's bill are seemingly not easily reconcilable. This is even before we get to the fact that Senate Majority leader McConnell has said that there are Republican Senators that are hesitant to pass a bill of the size that the White House and House Democrats have proposed.
Overnight in Asia markets are mostly trading lower following Wall Street's lead. The Nikkei (-0.71%), Hang Seng (-1.28%) and Kospi (-0.98%) are all down while the Shanghai Comp (+0.14%) is up. The Asx is also up +0.65% on comments from the RBA Governor that the central bank is considering whether buying longer-dated bonds would spur hiring. Meanwhile, futures on the S&P 500 (-0.37%) are currently pointing to a weaker open. Elsewhere, China's September CPI and PPI both came in softer than expectations at +1.7% yoy (vs. +1.9% yoy) and -2.1% yoy (vs. -1.8% yoy).
In other overnight news, Bloomberg is reporting that as part of a European tour last week, US Under Secretary Keith Krach met executives including Deutsche Telekom AG CEO Timotheus Hoettges and Meinrad Spenger, the head of Spanish telecom carrier MasMovil, to urge them to ditch Chinese vendors of cloud infrastructure on data-security concerns.
On the coronavirus, there was sadly yet another day of bad news out of Europe, with Italy reporting a record number of cases at 7,332 (albeit with much higher levels of testing now than back in March). The rise in numbers there are bringing it more into line with the recent increase we've seen in the UK and France in recent weeks, though Italy's numbers still remain at lower levels by comparison. French President Macron announced that nine of the country's largest cities, including Paris, will be subject to a curfew from 9pm to 6am starting on Saturday lasting at least 4 weeks. More restrictions were also seen in Switzerland. Meanwhile, Catalonia, Spain's largest region by population, ordered that bars and restaurants can only serve take away for the next 15 days. Overnight various media reports are suggesting that London is likely to see an tightening of restrictions as soon as tomorrow.
The concern over rising cases comes as hospitalisations increase. For example, here in England, the number of people in hospital with Covid has risen above the 4k mark for the first time since June 9. On a similar note, French President Macron said yesterday while announcing the new restrictions that the situation in French hospitals is "unsustainable" and the goal is to bring new cases down to 3,000 to 4,000 a day. France reported 22,591 new cases yesterday. So an ambitious target.
Onto Brexit, sterling was the strongest performing G10 currency yesterday after a Bloomberg report came through suggesting that the UK wouldn't walk away from EU trade talks today. Although this was increasingly expected, Prime Minister Johnson had previously set October 15 as a deadline to reach an agreement, ahead of the transition period's conclusion at the end of the year. Last night on a call between Prime Minister Johnson, European Commission President Von der Leyen and European Council President Charles Michel, the Prime Minister said he was disappointed with the progress but that he will decide on continuing talks only after the European Council meeting today and tomorrow. Bloomberg reported that those privy to the negotiations now consider the end of October or first few days of November as the real deadline for getting a deal, though that has remained a moving target.
Moving to fixed income, it was yet another day of falling yields in sovereign bond markets, as yields in parts of southern Europe fell to fresh all-time lows. Although BTPs were broadly flat, yields fell further in Greece, where 10yr yields fell -1.3bps to 0.772%, though in Spain 10yr yields are still 10bps above their recent lows in August 2019. Core country sovereign bonds also performed strongly, with 10yr bund yields down -2.5bps to a 5-month low, and French yields down -1.6bps to a 7-month low. Treasuries also advanced, moving -0.2bps to 0.726%.
In a parallel universe, we would be writing about tonight's second presidential debate, but with that cancelled this election is now set to be the first since 1996 without 3 presidential debates. Instead, both candidates will be facing separate town halls tonight, with President Trump in Miami and Joe Biden in Philadelphia. With Trump still facing a noticeable polling deficit (currently showing him down -10.4pp on average), our chart of the day yesterday (link here) looked at previous polling errors in US elections, and shows that if the polls remain steady over the final 3 weeks, it'd take the largest polling error since data began post WWII for President Trump to win the popular vote.
Wrapping up with yesterday's data, and the Euro Area industrial production numbers for August showed a +0.7% increase (vs. +0.8% expected). That's its 4th consecutive monthly gain, though the year-on-year reading actually fell a tenth to -7.2%. Over in the US, producer prices were up +0.4% month-on-month, while the year-on-year reading climbed into positive territory for the first time since March, at +0.4% as well. Both ahead of expectations.
To the day ahead now, and as mentioned EU leaders will gather in Brussels later today for the European Council summit. Elsewhere, earnings releases out include Morgan Stanley and the Walgreens Boots Alliance. Data releases include the weekly initial jobless claims from the US, along with the September Empire State manufacturing survey and Philadelphia Fed business outlook survey. From central banks, speakers include ECB President Lagarde, the Fed's Quarles, Bostic, Kaplan and Kashkari, as well as the BoE's Cunliffe.