---
S&P Futures Rebound As Trump Tweetstorm Leaves Door Open For More Stimulus Talks
It's been a rollercoaster 24 hours for markets, which initially surged on Tuesday on fresh fiscal stimulus hopes, only to see said hope crushed by Trump at exactly 2:47pm, when the president tweeted that had had "instructed my representatives to stop negotiating until after the election when, immediately after I win, we will pass a major Stimulus Bill that focuses on hardworking Americans and Small Business." The tweet unleashed a furious selling spree, which saw S&P futures drop as low as 3,330 overnight after closing 1.4% lower, more than 90 point from their pre-Trump tweet highs.
The tweets sparked the worst session for the S&P 500 and the Dow in two weeks, while airlines sank 3% as the move appeared to scuttle $25 billion in new bailout for the industry. All this happened just hours after Fed Chair Jerome Powell called for more help for businesses and households to keep a nascent economic recovery from faltering.
Trump said the biggest sticking point in the negotiations was the Democratic demand for aid to cash-strapped state and local governments, without which they will have to push through aggressive budget cuts: "I am rejecting their request, and looking to the future of our Country. I have instructed my representatives to stop negotiating until after the election when, immediately after I win, we will pass a major Stimulus Bill that focuses on hardworking Americans and Small Business," Trump tweeted.
However, about six hours later, in a furious tweet (and retweet) storm which touched on everything from the fake Russian collusion probe, to the FDA, the president appeared to backtrack from completely abandoning negotiations, when president made separate appeals for lawmakers to approve additional funding for airlines to prevent thousands of job cuts, more aid to small businesses and direct government payments worth up to $1,200 for most individuals.
The House & Senate should IMMEDIATELY Approve 25 Billion Dollars for Airline Payroll Support, & 135 Billion Dollars for Paycheck Protection Program for Small Business. Both of these will be fully paid for with unused funds from the Cares Act. Have this money. I will sign now!

— Donald J. Trump (@realDonaldTrump) October 7, 2020
In the aftermath of the Trump tweetstorm which took algos lots of milliseconds to parse through, futures resumed levitating and regained much of the Tuesday drop as markets in Asia recovered some ground following, with Japan's Topix down 0.1% on Wednesday afternoon and Hong Kong's Hang Seng index actually rising 0.6%.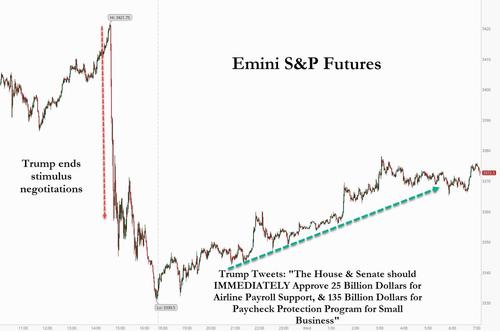 "These tweets appear to have arrested the risk-off move," Rabobank analyst Lyn Graham-Taylor wrote in an investor note "However, it seems a stretch to think that the Democrats would be fans of signing any standalone stimulus measures as, heading into the election, it would erode one of the differentiating factors between them and the Republicans."
Trump's apparent willingness to continue discussions helped push shares of Delta Air Lines, American Airlines Group, United Airlines and JetBlue higher between 2.4% and 6.9% in premarket trading. Amazon.com and Apple rose in premarket trading while Facebook was flat as investors seemed to take in stride a House panel's proposal of stricter antitrust rules to curb the power of the four technology giants, including Google. Italian payments giant Nexi SpA slid after news of private-equity backers selling shares.
Still, odds of Democrats accepting a piecemeal deal instead of a bulk package are virtually nil. As the FT notes, "Trump's subsequent statement that he was still interested in approving more federal aid on a piecemeal basis is unlikely to be greeted with enthusiasm among Democrats, who have long pushed for a comprehensive package. But it may leave a small sliver of hope that Mr Trump could yet compromise."
Sure enough, according to Medley Global, Trump's support for alternative stimulus measures are "removing the angst" from his earlier decision, allowing futures to push higher as investors digested the tweets; at the same time Treasuries resumed falling and the dollar was mixed, while oil reversed an earlier gain as the API report signaled U.S. crude stockpiles rose for the first time in four weeks. Gold gained.
Others, such as Axi Corp analyst Milan Cutkovic, quickly joined in attempting to spin the reversal of what until yesterday was the widely accepted narrative, as bullish: "(The halt in stimulus talks) is unlikely to be the catalyst for a significant sell-off as most market participants were not anticipating that a deal will be reached ahead of the election anyway." He cautioned however that "should there be no stimulus package announced shortly after the election, investors could get increasingly nervous about the economic recovery losing momentum."
European stocks erased initial gains to trade lower at mid-session on Wednesday, weighed down by declines among insurers and banking stocks. The Stoxx 600 Index was down 0.2% at 11:45 a.m. London time, with investors looking ahead to the release of the minutes from the U.S. Federal Reserve's September meeting and continuing to digest President Donald Trump's decision to halt stimulus talks. Gazprom PJSC's shares fell after it was hit with a 29 billion zloty ($7.6 billion) fine from Poland's antitrust watchdog, which said its proposed Nord Stream 2 gas pipeline impedes competition on European Union energy markets.
Earlier in the session, Asian stocks gained, led by energy and IT, after rising in the last session. The Topix was little changed, with Olympic rising and Tokai Soft Co Ltd falling the most.
Meanwhile, with Trump now out of the hospital, investors continue to monitor the virus's impact on economic recoveries around the world. Signs are mounting the virus is returning to the New York area, with infections reaching three-month highs. The European Commission is due to announce a contract to procure as many as 500,000 treatment courses of remdesivir from Gilead Sciences Inc., an EU official said.
In rates, Treasuries bear-steepen as stocks advanced ahead of today's 10Y auction, reversing all of yesterday's gains, and were near session lows after U.S. President Trump reversed Tuesday's position against negotiating economic stimulus measures. Yields were higher by 4bp-5bp at long end, steepening 5s30s by ~2bp, 2s10s by nearly 4bp; 10-year, higher by 4bp at 0.775%, lags bunds and gilts by 2bp-3bp. Supply was also a factor as dealers prepare to underwrite 10- and 30-year re-openings Wednesday and Thursday. Euro-area bonds mostly slipped before Lagarde speaks.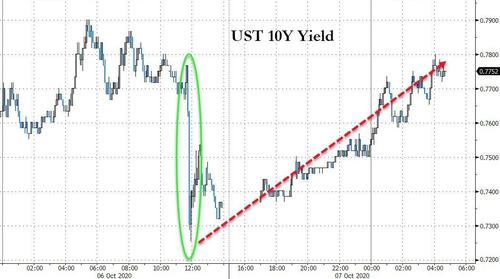 In FX, the Bloomberg Dollar Spot Index inched lower as it erased an Asia session gain and the Treasury curve steepened, following yesterday's flattening. Risk-sensitive currencies, led by Norway's krone and the Australian dollar, advanced versus the dollar; the yen was the worst performer as it extended losses in European hours.
In commodities, WTI and Brent remained under pressure at/near session lows as markets balance supply and demand side developments. On the demand side, woes of the implications of the resurging cases persist, in turn prompting the EIA to downgrade its 2020 world oil demand growth forecast by 300k BPD to a decline of 8.62mln BPD Y/Y and cut 2021 world oil demand growth forecast by 280k BPD to an increase of 6.25mln BPD Y/Y, with the OPEC and IEA releases due next week. From a supply standpoint, Private Inventory data printed a larger than expected build (+1.0mln bbls vs. Exp. +0.3mln bbls) and markets await confirmation from the EIA which showed similar expectations for the headline figure. (+0.294mln bbls).
And now hold on to your hats because the political rollercoaster is not done yet, and all eyes later in the day will be on the only debate between Vice President Mike Pence and Democratic challenger Kamala Harris, which comes less than a week after Trump said he had contracted COVID-19.
We also get the FOMC's minutes from their September meeting, and hear from the ECB's Lagarde, Villeroy, and the Fed's Rosengren, Bostic, Kashkari, Williams and Evans. Finally, the data highlights include August data on German industrial production, Italian retail sales and US consumer credit.
Market Snapshot
S&P 500 futures up 0.5% to 3,369.75
STOXX Europe 600 down 0.1% to 365.53
MXAP up 0.4% to 173.75
MXAPJ up 0.7% to 572.81
Nikkei down 0.05% to 23,422.82
Topix up 0.04% to 1,646.47
Hang Seng Index up 1.1% to 24,242.86
Shanghai Composite down 0.2% to 3,218.05
Sensex up 0.7% to 39,845.35
Australia S&P/ASX 200 up 1.3% to 6,036.38
Kospi up 0.9% to 2,386.94
Brent futures down 1.4% to $42.07/bbl
Gold spot up 0.7% to $1,891.79
U.S. Dollar Index little changed at 93.73
German 10Y yield fell 0.6 bps to -0.513%
Euro up 0.2% to $1.1759
Italian 10Y yield fell 3.1 bps to 0.573%
Spanish 10Y yield fell 1.4 bps to 0.222%
Top Overnight News from Bloomberg
The ECB is running down its stock of so-called commercial paper -- short-term debt instruments issued by companies to meet immediate funding needs -- while the Bank of England announced plans to discontinue purchases. It's a dramatic turnaround from April when some of Europe's biggest firms, including Iberdrola SA and Volkswagen AG, were urging the ECB to quicken short-term debt purchases to head-off crippling cash crunches
The French president is standing firm on his demand to keep the same access to British waters his country's fishing industry enjoys today, according to officials familiar with the talks. That's angering the British and creating tensions even among his allies within the EU
Spain's growing list of risks is starting to make investors nervous. The nation's debt is lagging a regional rally that has driven the rate on Italian bonds -- long regarded as the pariah of Europe and among the highest yielding -- close to a record low. That's narrowed the gap between Spanish and Italian yields to the smallest in more than two years
The European Union looks set to launch a $118 billion foray into social bonds, a market that has already swelled four-fold this year to fund projects to help societies recover from the coronavirus
Norway's government is on track to withdraw a record amount from its sovereign wealth fund this year, and to continue pumping historic amounts of stimulus in 2021, to fight the "severe setback" triggered by the Covid crisis
A quick look at global markets courtesy of NewsSquawk
Asian equities traded mixed as the region partially shrugged off the negative mood which initially rolled over from Wall St, where stock markets slumped in late trade after US President Trump announced that he is to walk away from COVID relief talks until after the election amid disparities regarding the value of the stimulus package. This resulted to losses of more than 1% for all major US indices and the large tech names were also pressured in extended trade after the House democrats antitrust committee report noted several tech giants enjoyed 'monopoly power' and recommended changes including structural separations and prohibiting dominant platforms from entering adjacent lines of business. Nonetheless, the tone in Asia gradually improved with ASX 200 (+1.3%) first to buck the trend as it reclaimed the 6000 level, led by strength in consumer stocks after the announcement of an expansionary budget which brought forward tax cuts and with sentiment also helped by increased calls for the RBA to loosen policy next month. Nikkei 225 (-0.1%) was weaker as exporters suffered from the ill effects of recent flows into the local currency but with the index off worst levels amid the slightly brightening picture, while the Hang Seng (+1.1%) reclaimed the 24000 level after shrugging off early indecision following tepid Hong Kong PMI data which showed an improvement although remained in contraction territory for a 31st consecutive month. Finally, 10yr JGBs eked minimal gains amid the lacklustre risk tone in Tokyo and following the tepid Rinban operation by the BoJ which were in the market for a reserved JPY 400bln of JGBs mostly concentrated in 3-5yr maturities.
Top Asian News
Vedanta Sinks Most Since March Amid Delisting Price Uncertainty
Yuan Looks Good for 2021 on China Recovery: FX Macro Ranking
Greentown China Soars to 7-Year High on Big September Sales Gain
Netflix Wins India Legal Battle Over Rogue Billionaires Series
European equities (Eurostoxx 50 -0.2%) trade with mild losses as US equity futures trimmed losses seen in the wake of President Trump's decision to pull the plug on COVID stimulus talks until after the election. Note, after the initial announcement, Trump suggested he would be willing to back certain aspects of a broader stimulus package such as USD 25bln for airline payroll support and USD 135bln for the Paycheck Protection Program. This helped provide some reprieve for US futures, whilst markets also continue to assess the post-November election landscape with increased focus on the prospects of a Democratic "Blue Sweep" as recent polling data moves further in favour of former VP Biden. In recent months, the main inference from such an outcome has been centred around the likelihood of a less favourable tax environment for US corporates, however, given the inertia in Congress over the past few weeks, markets could take some solace in the likelihood of a more functional legislature that could pass a sizeable support package and help soothe the concerns raised by Fed Chair Powell yesterday. In Europe, the session hasn't seen much in the way of out or underperformance across regional bourses as markets await the US entrance to market. From a sectoral standpoint, food & beverage names lead the way higher after Diageo (+1.4%) and Pernod Ricard (+2.6%) were both upgraded at Jefferies. To the downside, travel names such as Tui (-3.6%), easyJet (-4.8%) and IAG (-0.3%) have been hampered by reports in the Guardian noting that the UK decision on introducing COVID-19 testing for international arrivals - which is designed to reduce quarantine times - will not take place until November at the earliest. Individual movers include Tesco (+2.0%) after the Co.'s HY profits rose 28.7% relative to 2019, whilst Dialog Semiconductor (+0.6%) shares are firmer after raising Q3 revenue guidance and noting that improving trends are expected to continue into Q4.
Top European News
Billionaire Arnault Buys Influence Through Media Deals in France
It's Spain, Not Italy, That European Investors Are Worried About
Norway Reveals Record Withdrawals From $1.1 Trillion Fund
Tesco's New CEO Takes Over as Online Shopping Surges in U.K.
In FX, the broader Dollar and Index trade modestly softer in early European hours after US President Trump called off coronavirus stimulus talks until after the elections but is ready to sign a standalone bill for stimulus checks if he is sent one. Thus, DXY has waned off its best levels (93.900) as it drifts lower to test its 21 DMA (93.622) ahead of the 93.500 psychological mark, with the 55 DMA touted at 93.321. Looking ahead, FOMC Minutes could garner attention with regards to QE maturities after Fed's Mester suggested that the Fed should have the scope to lengthen QE maturities, alongside any meat on the bones on AIT (full primer available on the newsquawk headline feed), albeit fiscal updates are likely to steal the limelight throughout the session. The calendar from a data-standpoint is light, but speakers on the docket include voters Williams (x2), Kashkari and 2021 voter Evans.
AUD, NZD, CAD - The non-US Dollars are posting varying degrees of gains, with the Aussie outperforming as it retraces some of yesterday's post-RBA/budget losses, but remains sub-0.7150 against the Dollar, currently at the top of today's 0.7097-7146 range. The Kiwi meanwhile benefits from the broader Dollar weakness as it re-eyes 0.6600 to the upside (vs. 0.6576 at worst) with the 50 and 21 DMAs seen at 0.6632 and 0.6640 respectively. The Loonie's gains are hampered by the overnight crude decline, but nonetheless ekes mild gains against the Buck as USD/CAD decline from a high of 1.3340 and dipped below 1.300 to open the door to its 21 DMA at 1.3271 ahead of the 1.3250 psychological mark.
GBP, EUR, CHF - Modest gains seen across the European currencies as Sterling leads the gains with pertinent newsflow including reports that Chancellor Sunak is mulling new support for businesses impacted by COVID-19, whilst from a Brexit standpoint, EU member states are said to be taking an increasingly hard stance over concessions - with President Macron standing firm on the issue of fisheries. Cable has yielded the 1.2900 handle (vs. low 1.2864). EUR/USD retraces some of yesterday's losses and resides north of 1.1750 at the time of writing (vs. low 1.1726) as it eyes its 55 DMA (1.1791) ahead of the 1.1800 figure. Levels to the downside include Monday's low (1.1705) and Friday's low (1.1694), with today's OpEx comprising of EUR 750mln rolling off between 1.1740-50. CHF also stands as a beneficiary of the Dollar softness, with USD/CHF remaining below in a tight range 0.9200 (0.9161-84 range), with the 55 DMA seen around 0.9136.
JPY - The Yen bucks the trend and fails to benefit from the softer Dollar, with some pointing to technical play and after touted stops were triggered around 105.80, with more reported at 106.00+. USD/JPY resides at the top if the current 105.61-106.00 band, and with a notable USD 2.1bln in options scattered between 105.45-106.10 to keep in mind for today's NY cut.
EM - EM FX see broad-based Dollar induced gains, with the exception of the Turkish Lira which succumbed to renewed pressure in early EU hours, potentially on heightened geopolitical risk after the Iranian President warned that the Azeri-Armenian conflict could lead to a regional war, whilst Turkey continues to support its ally Azerbaijan. USD/TRY notched a fresh record high ~7.8680 from a low of 7.7800.
In commodities, WTI and Brent front month futures remain under pressure with both benchmarks at/near session lows as markets balance supply and demand side developments. On the demand side, woes of the implications of the resurging cases persist, in turn prompting the EIA to downgrade its 2020 world oil demand growth forecast by 300k BPD to a decline of 8.62mln BPD Y/Y and cut 2021 world oil demand growth forecast by 280k BPD to an increase of 6.25mln BPD Y/Y, with the OPEC and IEA releases due next week. From a supply standpoint, Private Inventory data printed a larger than expected build (+1.0mln bbls vs. Exp. +0.3mln bbls) and markets await confirmation from the EIA which showed similar expectations for the headline figure. (+0.294mln bbls). Sticking with supply, Norway sees some 330k BPD of total production shuttered amid oil and gas strikes, with plans for an escalation on the 10th of October, albeit production at the 470k BPS Johan Sverdrup field is said to be unaffected despite some workers on strike. Over to the Gulf of Mexico, NHC noted that Hurricane Delta could become a Category 4 hurricane again by later Thursday, with weakening expected as it approaches the Gulf Coast. Note, the BSEE yesterday estimated that approximately 29.22% of the current oil production and approximately 8.59% of the natural gas production in the Gulf of Mexico has been shut-in, with the next update expected around 19:00BST/14:00ET. WTI resides sub-40/bbl with the current base at USD 39.63/bbl (vs. high 40.35/bbl), while its Brent counterpart yields the USD 42/bbl mark (vs. high 42.40/bbl), with the current low at USD 41.69/bbl. Elsewhere, spot gold remains below USD 1900/oz and has largely moved at the whim of the Buck in European trade, whilst spot silver outperforms but remains shy of the USD 24/oz mark. LME copper prices meanwhile have ease off best levels but remains in the green, whilst from a fundamental standpoint, some tout the increasing possibility of potential strikes at the Candelaria mine in Chile after the latest wage offer was rejected, whilst ING also cite the petering out of LME copper inventory builds.
US Event Calendar
7am: MBA Mortgage Applications, prior -4.8%
2pm: FOMC Meeting Minutes
3pm: Consumer Credit, est. $14.0b, prior $12.3b
Central Bank Speakers
2pm: FOMC Meeting Minutes
2pm: Fed's Williams Moderates Henry Kissinger Discussion
2:40pm: Fed's Kashkari, Bostic, Rosengren to Speak on Racism
3pm: Fed's Williams Speaks on Flexible Average Inflation Targeting
4:30pm: Fed's Evans Discusses the U.S. Economy and Monetary Policy
DB's Jim Reid concludes the overnight wrap
President Trump once again took control of the headlines yesterday when he tweeted late in the US session that he had instructed White House negotiators to stop further US stimulus discussions with Congressional Democrats until after the election. He argued that Speaker Pelosi was not arguing in "good faith" and that he wants Congress to focus on the Supreme Court nomination of Judge Barrett instead. This came as a surprise after relatively positive headlines from Pelosi and Treasury Secretary Mnuchin earlier in the week, and also represented a reversal in tone given comments late Monday from White House Chief of Staff Meadows, who said "There are a lot of people that continue to hurt, are waiting on stimulus, and the President's committed to getting a deal done…He wants to make sure we move expeditiously, but also in a fiscally responsible manner."
The tweet also came just a few hours after Fed Chair Powell's speech at the NABE's annual meeting. While not much new information was proffered, Powell made one of his plainest cases for fiscal stimulus yet, saying "the risks of policy intervention are still asymmetric", and that "the risks of overdoing it seems, for now, to be smaller" compared with the risks of offering too little support. If the current polling at both the national and state level holds, and former Vice President Biden were to win the election in November, fiscal stimulus may indeed come but will have to wait until Q1 of next year when a new government is seated. Even though many observers had attributed a low probability to an agreement prior to the election given the short timeframe and the negotiating distance between the two groups, the President's comments rippled through markets late in the US session.
The S&P 500 dropped over 2.05% in the last hour and a half of trading after the tweet. By the close the S&P 500 was down -1.40%, with the NASDAQ down slightly more at -1.57%. The VIX volatility index rose +1.5pts to 29.5, the highest level since early September. The news also caused the US Dollar to rise 0.33% intraday to finish the day up +0.19%, just the second gain in the last seven sessions. Yesterday we said that markets were starting to look through the likely lack of short-term stimulus and were instead focusing on the prospect of more stimulus after the increased likelihood of a Democratic clean sweep. The late price action last night suggests otherwise but I would still say that further evidence that this election will result in a definitive result will offset any short term stimulus disappointment.
Overnight President Trump is slightly softening his stance as he called for support for airlines and the Paycheck Protection Program in a Tweet. On individual checks, he tweeted that 'If I am sent a Stand Alone Bill for Stimulus Checks ($1,200), they will go out to our great people IMMEDIATELY. I am ready to sign right now. Are you listening Nancy?'. He also tweeted that he supports $25bn aid for airlines to support payroll and $135bn for the Paycheck Protection Program aimed at small businesses. This likely indicates that the President is still up for a skinny deal with the Democrats before the election. These tweets have helped S&P 500 futures rally over half a percent from the session lows to trade broadly flat at +0.05%.
Sticking with the US, the House panel draft report on sweeping reforms of the technology sector that we had mentioned yesterday has been proposed overnight. The House antitrust subcommittee recommends the most dramatic proposal to overhaul US competition law in decades, and could lead to the breakup of tech companies if approved by Congress. The findings target four of the biggest US tech companies - Amazon, Google, Facebook, and Apple - describing them as gatekeepers of the digital economy that can use their control over markets to pick winners and losers while also abusing power to snuff out competitive threats. As things stand the report has been largely shunned by the Republicans but could be a marker for the future if we indeed get a Democrats sweep in the election, as polls are leaning towards.
Asian markets are trading mixed this morning with the Nikkei (-0.22%) down while the Hang Seng (+0.46%) is up and India's Nifty (+0.01%) is broadly flat. In Fx, the US dollar is up a further +0.17% after yesterday's +0.18% advance. Meanwhile, European futures point to a weaker open after these markets missed the late US dip last night, with the Stoxx 50 -0.50%, FTSE 100 -0.16% and Dax -0.43% all down. Before this the STOXX 600 managed a +0.07% gain yesterday, led by recent laggards Banks (+3.37%) and Travel & Leisure (+2.95%), while pandemic winners like Health Care (-0.96%) and Technology (-0.81%) were the among the biggest decliners.
Back to the US election and though there had been speculation that the second presidential debate on October 15 might not be held depending on the timing of the President's quarantine, Trump tweeted yesterday that "I am looking forward to the debate on the evening of Thursday, October 15th in Miami. It will be great!"
Speaking of debates, tonight the Vice Presidential debate take place at 21:00 ET between incumbent VP Mike Pence and California Senator Kamala Harris. There'll be a number of Covid-related changes however, including plexiglass barriers between the candidates and the moderator, while the candidates will now be seated 12 feet apart rather than 7. Like the last debate it'll be 90 minutes long, though broken down into 9 smaller segments of 10 minutes each. President Trump remains over +8pts behind former Vice President Biden in national polling averages, though recent polls have started to show Biden possibly increasing that lead, notably CNN (+15pt) and WSJ/NBC (+14pts). Pennsylvania, the state where Biden was born and the state that fivethrityeight.com's model currently calculates has the best chance of being the tipping point of the electoral college, has Biden up by +6.5pts on average.
If you want more insight into the polls, don't miss the latest DB speaker series invite "Who is going to win the 2020 US Presidential election?" - with US polling experts Amy Walter, National Editor, The Cook Political Report; G. Elliott Morris, data journalist for The Economist and Matthew Luzzetti, Chief DB US Economist. This is on Tuesday, 13 October 2020 at 3pm BST/4pm CET/10am ET, and is a live video call. Register here
On the coronavirus, there were further concerning signs out of Western Europe yesterday as cases continued to rise. Here in the UK a further 14,557cases were reported as cases have remained stubbornly above the 10k mark in recent days. This increase is now evident in hospital admissions too, and in England the numbers in hospital rose to 2,783 yesterday, which is their highest number since late June (though for context still well below the peak above 17k back in April). France reported 10,489 new cases yesterday with the 7 day rolling average rising back above 12,000 for the first time in 8 days. Cases in the Netherlands have risen over 25,000 over the past week, the highest of the pandemic. Elsewhere, Italy reported a further 2,677 cases, and the country's health minister said that there was consideration over making the use of masks outdoors compulsory. Of the most severely hit first wave countries, Italy has certainly done the best relative job in minimising a second wave. In the US, there continues to be action in New York City to contain the outbreaks. Governor Cuomo has closed businesses and schools in some regions of the city and outlaying suburbs for 14 days, with different levels of restrictions based on distance from the "hotspots". See the table below for the latest global case numbers. Meanwhile, in a widening out break at the White House, Stephen Miller, a senior adviser to the US President, became the latest White House staffer overnight to test positive for the coronavirus.
On the vaccine front the US Food and Drug Administration notified coronavirus vaccine developers yesterday that it would want at least two months of safety data before the agency would authorize it for emergency use. This requirement would likely push any availability of a US vaccine well past the Nov. 3 elections. Overnight, President Trump has accused the FDA of carrying out a "political hit job" against him by setting new vaccine review guidelines.
Over in the fixed income sphere, there was a further narrowing in sovereign bond spreads between core and periphery in Europe, and by the session's close, the spread of Italian 10yr yields over bunds had fallen a further -3.4bps to reach its tightest closing level in over 2 years, at 1.28%. Italian BTPs have performed strongly lately, and the country's 5-year yields actually fell -2.9bps to an all-time low yesterday of 0.163%. Bunds were unchanged. US 10yr Treasury yields fell -4.6bps lower, mostly after Trump's tweet but are back up +1.3bps this morning.
Sterling had another volatile session yesterday as a number of further headlines on Brexit came through. The initial selloff was sparked by a Bloomberg report which said that the EU was not planning to make any concessions before next week's summit of EU leaders – which a month ago Prime Minister Johnson had previously set as the deadline for reaching an agreement. According to the report, the EU was prepared to let the talks continue into November or December and call Johnson's bluff on whether to break off talks and leave without a deal or stay at the negotiating table beyond his self-imposed deadline. Sterling recovered later on however on some more positive Reuters headlines, which said that the talks last week on Brexit were "one of the most positive so far", and that the two sides were close to an agreement on reciprocal social security rights.
In terms of yesterday's data, the US trade balance for August showed the country's trade deficit widened to its largest since 2006, with a $67.1bn deficit. Other data showed that the number of job openings fell in August to 6.493m, which is the first decline since April. Finally in Europe, German factory orders rose by a stronger-than-expected +4.5% in August (vs. +2.8% expected), and the country's construction PMI fell deeper into contractionary territory with a 45.5 reading.
To the day ahead now, and the highlight will likely be the Vice-Presidential Debate in the US later on. Otherwise, we'll get the FOMC's minutes from their September meeting, and hear from the ECB's Lagarde, Villeroy, and the Fed's Rosengren, Bostic, Kashkari, Williams and Evans. Finally, the data highlights include August data on German industrial production, Italian retail sales and US consumer credit.