---
SPAC Bubble Pops: Flood Of New SPAC IPOs Hits A Brick Wall
"3 SPAC IPOs this week after 2 last week after 276 in Q1 (vs 228 all of last yr vs 170 from 2013 – 2019 combined)"   - Goldman Sachs trader John Flood, April 7, 2021
As Bloomberg's Drew Singer writes, the days of special purpose acquisition companies debuting by the dozens on public exchanges appear to have come and gone, "spelling trouble for the broader market for initial public offerings."
After fueling a record first quarter for IPOs, SPACs have suddenly stopped going public at anything close to the same scale, as if they hit a brick wall in the second quarter.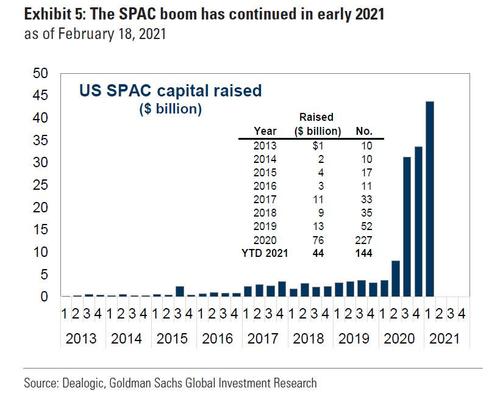 The plunge in deal making follows weak trading in these vehicles, slow progress in their search for acquisitions and outperformance by traditional listings, not to mention various warnings by the SEC itself.
Hearing about SPACs? Remember, it is never a good idea to invest in a SPAC just because someone famous sponsors or invests in it or says it is a good investment. https://t.co/pzowsgP2Oh

— SEC New York (@NewYork_SEC) April 7, 2021
Just three SPACs have listed this week, including two on Wednesday. This follows just a pair of IPOs by SPACs last week and compares to more than 20 deals a week during most of the year.
Worse, according to Bloomberg data, public SPAC offerings are poised for their slowest two-week stretch since the end of 2020.  While a reversal remains possible as we get further from Easter weekend, investors have been signaling a growing distaste for these deals. More than 100 or about a third of SPACs that went public this year are trading below their IPO price as investors wait for news of an acquisition. In all, 2021's SPACs are trading 0.8% above their debut levels, compared with an average 6.0% gain by the year's traditional IPOs.
The trouble in SPACs comes alongside other signs of weakness in the global IPO market even as the S&P 500 continues to trade near record highs. Stocks rose on Wednesday amid a surge in the Nasdaq 100.
Postmarket launches of U.S. secondary offerings:
Academy Sports (ASO)
Bookrunners: JPMorgan
Shares -3.5% postmarket
Seller unknown
Identiv (INVE)
Bookrunners: B. Riley, Lake Street, Northland
Shares -2.2% postmarket
Seller: Company
Otonomy (OTIC)
Bookrunners: Cowen, Piper Sandler
Shares -9.8% postmarket
Seller: Company