---
'SPAC Winter' Accelerates But "Trough Of Disillusionment" Could Be Ahead
The days of "SPAC Jesus," Chamath Palihapitiya, have been over for a while.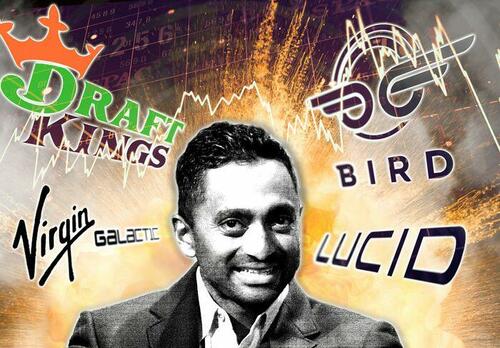 It has been apparent that the special-purpose acquisition companies (SPAC) bubble peaked in 1Q21 and has been in freefall ever since.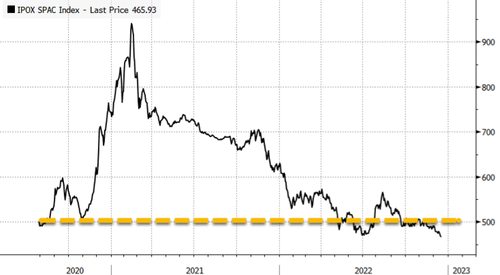 The Securities and Exchange Commission's (SEC) crackdown on SPACs, top investment banks scaling back activity in the space, and mounting macroeconomic headwinds have led to a surge in SPAC liquidations and Initial Business Combination (IBC) terminations, as well as perhaps the start of a possible de-SPAC bankruptcy wave. 
The latest figures about the SPAC market collapse come from a recent note via Water Tower Research's chief analyst Robert Sassoon, who told clients, "one-quarter of the companies de-SPACed since the start of 2021, currently trading below the $1 level." 
"We are likely to see more de-SPAC bankruptcies in addition to the six that filed for bankruptcy this year, but at some point, the value hunters, whether they be strategic or financial buyers, will look through the de-SPAC wreckage for the hidden gems," Sassoon said. 
Sassoon's note titled "SPACs and the Hype Cycle" provides the view the winter cycle in SPACs could be nearing a trough, but before that happens, more pain is likely in the space. 
"While we think there will be more de-SPAC bankruptcies declared, we may be close to the trough of disillusionment stage of the cycle. This may be the point that value hunters may be readying themselves to seek out the hidden gems among the de-SPAC wreckage." 
The analyst pointed out the model used by management consulting firm Gartner about the new adoption of new technologies, particularly the adoption life cycle of new technology. With the hype cycle over, Sassoon believes a "trough of disillusionment" could soon arrive.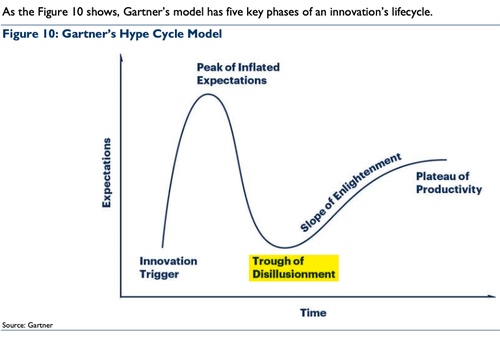 Even though a trough in SPACs is inevitable, that doesn't mean a bust cycle can worsen in the intermediate timeframe. Sassoon showed liquidations and IBC terminations are soaring this year, with the risk of increased de-SPAC bankruptcies next year.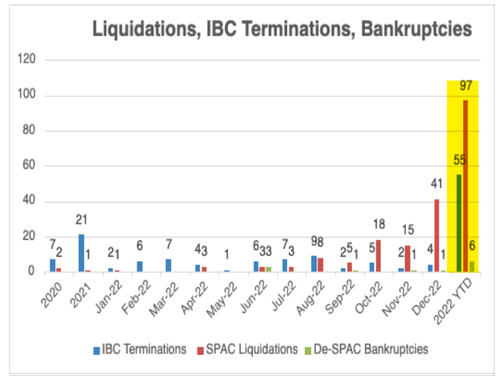 He said, "the surge of liquidations is that it is helping to accelerate the re-balancing of the SPAC market."
Here's a complete list of all the SPAC liquidations completed in the first half of December.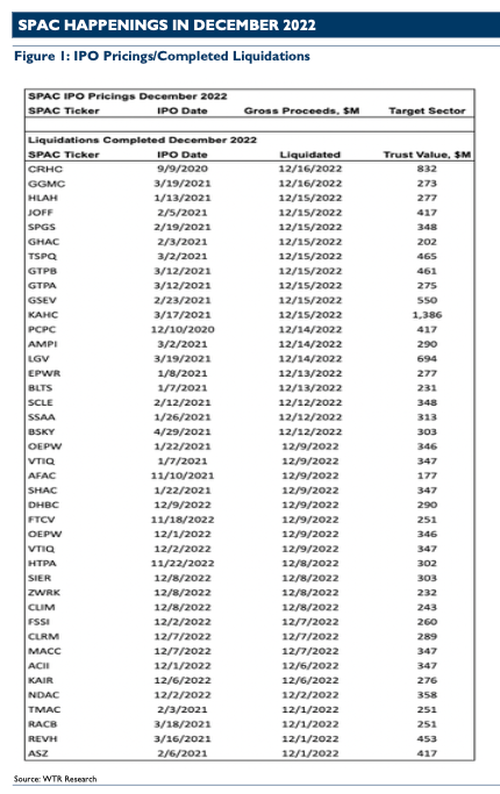 Nearly a quarter of all de-SPACs trade below $1.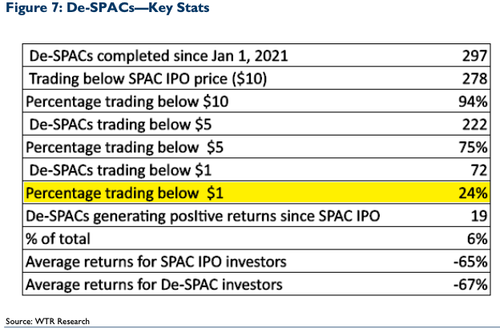 What could be evident is that the SPAC winter cycle might worsen amid a challenging macroeconomic environment but could be nearing a trough, as Sassoon's note explains. Our view would include the need for the Federal Reserve to loosen financial conditions for that to happen, which could occur as soon as late '23, if not early '24. 
One infamous British banker and politician from the Rothschild family, Baron Rothschild, once said the best time to buy is "when there is blood in the streets." 
Loading...