---
SpaceX Capsule Successfully Returns 4 Astronauts From ISS In First Nighttime Splashdown Since 1968
Four astronauts have successfully returned to Earth from the International Space Station early Sunday morning in a "splashdown" that took place in the Gulf of Mexico.
Returning in a SpaceX capsule, the astronauts marked the first nighttime return to earth for NASA "in decades", according to the Wall Street Journal. 
The Crew Dragon Resilience made its "soft splashdown" at 2:57am on Sunday and was then hoisted into a recovery vessel near Panama City, Florida. The astronauts had been in space for 168 days, completing SpaceX's first "operational round trip mission".
The crew, consisting of National Aeronautics and Space Administration astronauts Michael Hopkins, Victor Glover, and Shannon Walker and Soichi Noguchi of the Japan Aerospace Exploration Agency, was brought into orbit last year, before docking with the ISS.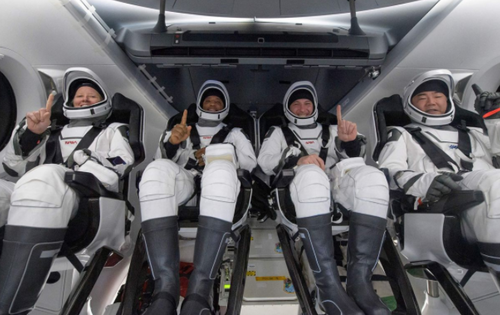 NASA and SpaceX are reportedly falling into an operational "cadence" with one another, with the return of the four astronauts marking the latest in a series of milestones for the two agencies. The two agencies "have regularly scheduled human shuttles to and from space using the company's commercially built rockets and capsules," according to the Journal. 
Another crew of four is also at the International Space Station, beginning their mission, after being launched into orbit last month on a SpaceX rocket. 
SpaceX intends on launching 7 capsules for NASA, including three cargo variants, over the next 15 months, the report said.
Apollo 8 was the last nighttime splashdown, which occurred after the mission orbited the moon in 1968.