---
Spot The Odd One Out (Jobs Edition)
While 'soft' survey data (and hard industrial data) have disappointed recently, the last few months have seen an oddly positive surge in labor market indications, serially outperforming analysts' expectations...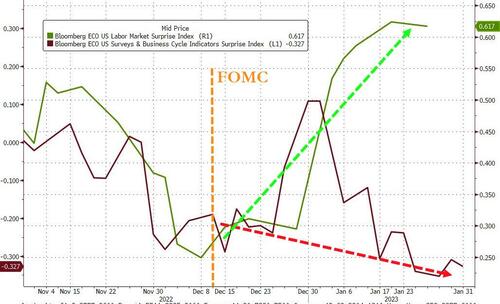 Source: Bloomberg
From initial claims (near record lows) to JOLTS (near record highs) to ADP (slowing pace of job additions but "because of the weather") and of course BLS (which refuses to stop trending higher), establishment indications of the labor market are anything but what The Fed wants to see from its mammoth rate-hikes... especially in the face of massive layoffs that have spread from some of the larger tech companies to more industrial (FedEx as the latest example).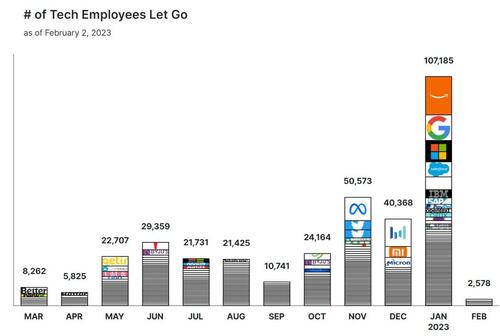 For example, this morning's initial claims print tumbled to its lowest since April 2022 (near its record lows)...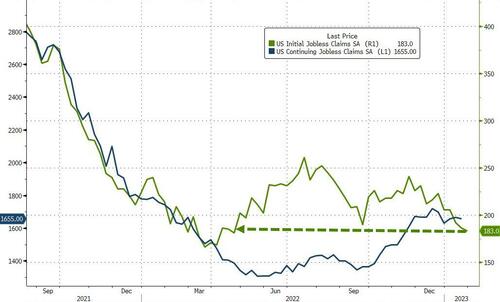 Completely decoupling from the 'tightening monetary policy plan' of The Fed...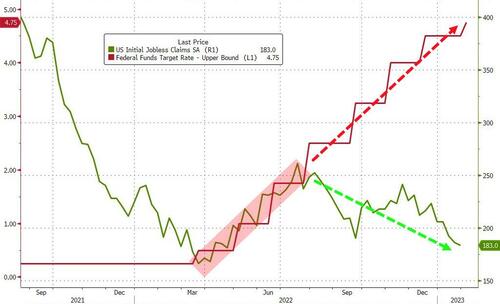 Kentucky and California (you mean where all the major layoffs have been concentrated?) saw the largest drop in jobless claims while Georgia and New York saw the biggest jump in jobless claims last week...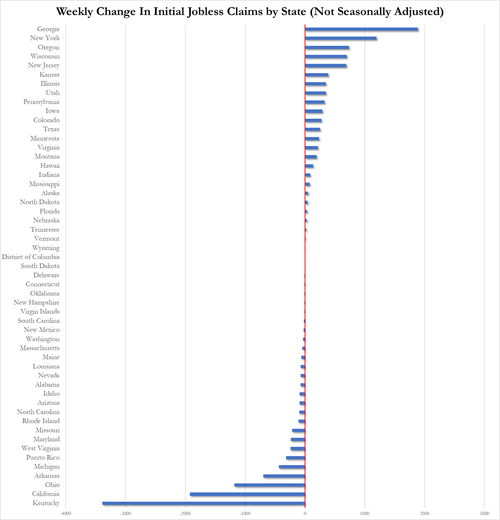 All of which is a long-winded way to get to a discussion of today's labor market data, from Challenger, Gray & Christmas which showed US employers in January announced the most job cuts since 2020.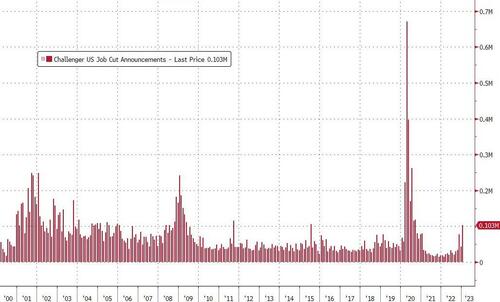 Businesses reported 102,943 cuts in the month, more than twice those announced in December and up 440% from January 2022. The technology sector made up 41% of the planned reductions...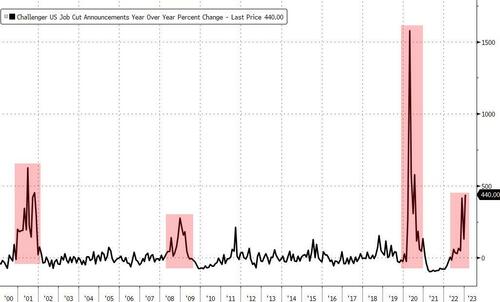 For some context, can you see the odd one out in the chart below...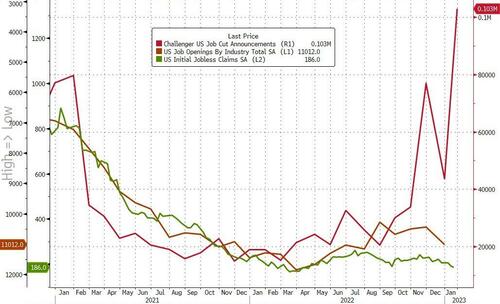 "We're now on the other side of the hiring frenzy of the pandemic years," Andrew Challenger, senior vice president of Challenger, Gray & Christmas, Inc., said in a statement.

"Companies are preparing for an economic slowdown, cutting workers and slowing hiring."
There is one caveat to all this real world carnage, these laid off workers are receiving solid severance packages (during which they cannot claim jobless benefits), but remember these are the highest-paid employees of the stack... if/when they stop spending, who do you think takes the hit and at what scale...
And are the folks who are getting laid off above to find a new job within the 3m+ severance periods that they are getting? pic.twitter.com/S697kohJq3

— Bob Elliott (@BobEUnlimited) February 2, 2023
So, if you want to believe in the B(L)S, that's fine, but as even Goldman Sachs admitted recently, both claims and JOLTS data is misrepresenting the underlying economic reality in an overly cheerful manner.
While the world and his pet rabbit is now sold (by Powell) on 'peak Fed', we wonder at what point does the establishment unleash the real picture of the labor market, that will then 'allow' The Fed to shift tone from 'higher for longer' to 'shit, we need rate-cuts or the world will end?'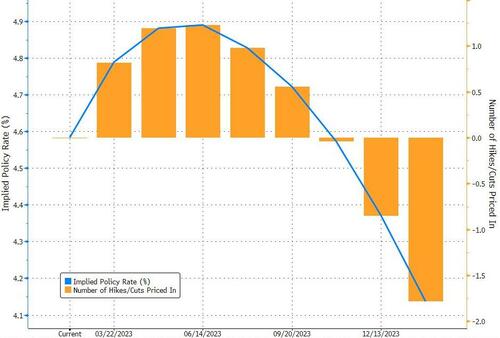 Maybe the market is on to something after all...
Or has the world changed?
Layoffs will become more and more common

Companies realize they can do more with fewer employees pic.twitter.com/SFUEZKakRH

— Genevieve Roch-Decter, CFA (@GRDecter) February 1, 2023
Cough... ChatGPT... cough
Loading...