---
Staggering Demand For 7Y Paper Delivers Third Monster Treasury Auction In A Row
A stellar 3Y auction on Tuesday, a record-breaking 5Y auction yesterday and moments ago: a blowout 7Y auction completes a sequence of three monster auctions which have seen an absolute flood of demand mostly by foreign buyers.
The high yield in today's 7Y auction stopped at a high yield of 3.517%, which was 40bps below last month's 3.921% and the lowest since August. It also stopped through the When Issued 3.538% by 2.1bps, the highest bid-to-cover also since August.
The Bid to Cover surged from 2.454 to 2.691, much higher than the six-auction average and the highest since the TSY market panic bid during the March 2020 covid crisis.
The internals were even more notable, with Indirects confirming the pattern observed in the past two auctions, seemingly unable to get enough, and getting awarded a whopping 77.1% of the auction, sharply higher than the 68.1% last month and the 4th highest on record.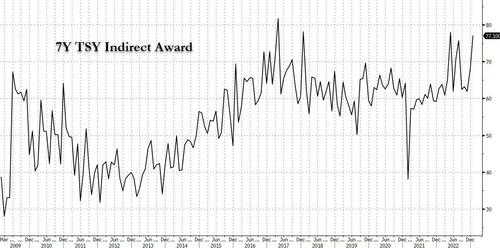 And with Directs awarded 16.8%, or just below recent averages, Dealers were left holding just 6.1%, a record low.
Overall, this was another spectacular auction and a far, far cry from that catastrophic 7Y "belly buster" auction two years ago. It also suggests that buyers are afraid that the coming debt ceiling crisis could mean no new supply for months to come, or that the bond market simply is convinced that the Fed will be slashing rates in the very near future.
Loading...