---
Defunding Police Backfires In Minneapolis As Shootings, Homicides, And Carjackings Surge
Minneapolis has transformed into an inner-city warzone in six months, just like Baltimore and Detroit, with violent crime surging to levels not seen in decades after millions of dollars in police budget cuts. 
Minneapolis, or as some say, "Murderapolis," has witnessed an explosion in homicides and carjacking this year as a severe shortage of police officers has resulted in dwindling patrols.
Minneapolis City Council members defunded the Minneapolis Police Department (MPD) back in June, with council members on Monday planning to cut an additional $8 million in police funding and transfer it to other services, a move that could undermine public safety. 
In November, more than 500 people were shot this year across the dangerous metro area, the most in 15 years, the local Star Tribune reported. Homicides have also erupted to levels not seen since the 1990s.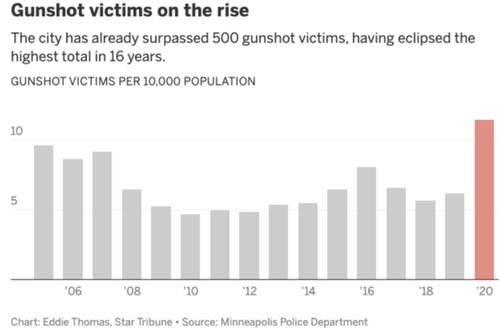 Minneapolis enjoyed years of falling crime rates, that all changed in May after the police killing of George Floyd, which triggered violent protests across the city and nationwide. Police data shows shootings and homicides jumped 64% this year compared with the four-year average. So far, 74 homicides have been recorded, the third-highest total in the city's history.
"The streak of violence since the summer stretched across the city, but as ever, Black and Latino neighborhoods have borne the brunt of the suffering. 

The increase this year is mainly driven by an increase in the number of adult victims — especially Black men, who account for roughly 40% of all gunshot victims. But it's young people who continue to make up a disproportionate share of the victims, and some of the suspects. Through Oct. 13, the last date for which reliable data are available, the number of young gunshot victims was up about 44% compared with the four-year average. The city has also recorded 22 fatal shootings of victims under age 25, twice as many as all of last year." - Star Tribune 
And while the pandemic has led to widespread job losses among the inner-city communities - the latest surge of violent crime, besides shootings and homicides, that is, violent carjackings has seen an unprecedented 537% surge in November over last year, the local Star Tribune pointed out in a separate report. 
"The numbers are staggering," a Minneapolis police spokesperson told the paper. "It defies all civility and any shred of common human decency."
Police have blamed the latest wave in carjackings on "small groups of marauding teens" but said adults had been arrested as well for the car theft. 
As violent crime spirals out of control across the metro, Minneapolis Mayor Jacob Frey and Police Chief Medaria Arradondo have criticized City Council members for their move to defund police. 
Frey called the latest plan by council members to defund the police "irresponsible and untenable," adding that he supports alternative forms of policing in inner-city communities. He said slashing the number of officers on the street would be disastrous for public safety. 
Who could have seen that coming?
December 2, 2020
And there it is, cutting police budgets appears to be backfiring for this liberal-run city.