---
"Stagflation Is Upon Us" - Dallas Fed Manufacturing Survey Contracts For 11th Straight Month
For the 11th month in a row, The Dallas Fed Manufacturing Outlook survey printed negative (signaling contraction) in March, dropping to -15.7 (from -13.5), significantly below the -10.0 expected bounce.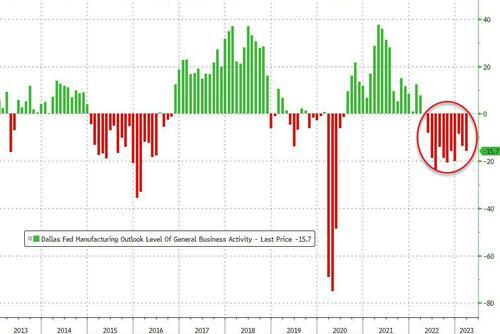 Source: Bloomberg
The new orders index was negative for a 10th month in a row and came in at -14.3, little changed from February. The growth rate of orders index was also negative and largely unchanged, at -15.2.
The capacity utilization index returned to positive territory, moving up six points to 2.3, while the shipments index pushed down from -5.0 to -10.5.
However, perceptions of broader business conditions continued to worsen in March.
The general business activity index slipped two points to -15.7. The company outlook index remained negative but rose four points to -13.3. The outlook uncertainty index came in at 22.0, down slightly from February but still elevated.
Additionally, expectations regarding future manufacturing activity were mixed in March. The future production index remained positive but fell eight points to 13.5, signaling well-below-average output growth is expected over the next six months. The future general business activity index pushed further negative, from -2.9 to -11.2.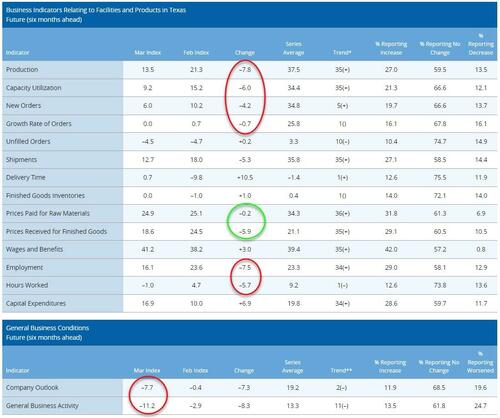 A sliver of a silver lining shows prices paid and received falling in March.
But, it is the respondents that dropped the hammer on any nascent recovery or stability:
[The collapse of] Silicon Valley Bank could be the beginning of more challenges ahead.

Illiquidity of consumer customers is increasing. Stagflation is upon us. The politically charged funny money, the denial of economic realities by the current administration and the illusion of prosperity have come home.

Our outlook is horrible. The level of certainty is zero. Production is hand to mouth. We cannot find workers.

We are laying off workers for the first time since 2010.

Foreign competition is at an all-time record percentage for our segment of the industry. Several countries, including Mexico, are subsidizing manufacturers in our industry.

There are too many negatives in the economy: International conflict, inflation, poor national leadership, deficit spending, the Federal Reserve keeping rates artificially low and now raising them quickly and steeply, thus stressing the financial markets.
Is this what Powell wants to hear?
Loading...