---
Stellantis Could Shutter 18 Facilities Under Latest Offer To UAW
If you're looking for further proof that union extortion isn't the greatest idea in history, behold Stellantis. In a recent bargaining move with the United Auto Workers union, the automaker has floated a contract proposal -- that could result in the shuttering of 18 American facilities, according to CNBC, citing sources familiar with strike discussions. 
The plan may also involve the rejuvenation of one dormant vehicle assembly plant in Illinois, hardly a silver lining for the planned "efficiency" cuts Stellantis is floating. 
The proposal stands to impact thousands of unionized workers and reduce Stellantis' operational reach in North America. Both sides of the negotiating table appear divided over the company's ambition to modernize its parts and distribution network.
Central to the proposal is the idea to discontinue 10 existing "Mopar" distribution centers spread throughout the U.S., consolidating them into larger, Amazon-esque hubs. One such "Mega Hub" is being considered for the Belvidere Assembly plant, which has been inactive since last February.
"We continue to listen to the UAW to identify where we can work together and will continue to bargain in good faith until an agreement is reached. We look forward to getting everyone back to work as soon as possible," said about ongoing talks, according to CNBC.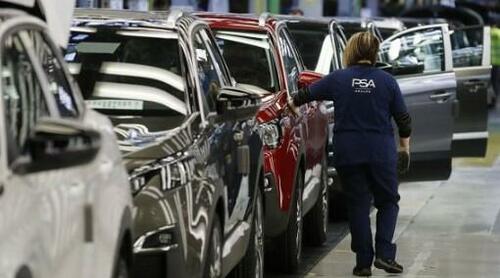 They described negotiations as "constructive and focused on where we can find common ground."
In 2021, Stellantis expressed a desire to transition the majority of its salaried workforce—including approximately 17,000 employees in North America—to remote work for the greater part of their schedules. In line with this, the automaker confirmed it was "assessing the way we operate to maximize innovation, creativity, and efficiency among our teams, including possible changes to our property assets."
The company reiterated, however, that its existing facilities would continue to serve as the North American headquarters and technical center.
The potential shutdown of 18 facilities was included in Stellantis' most recent Thursday evening contract proposal to the UAW.
On Tuesday, the head of United Auto Workers, Shawn Fain, declared he will unleash additional strikes across manufacturing facilities of General Motors Co., Ford Motor Co., and Stellantis NV on Friday. This move is contingent on the three automakers not properly addressing the union's demands for a new four-year labor contract for its 146,000 members. 
"Either the Big Three get down to business and work with us to make progress in negotiations, or more locals will be called on to stand up and go out on strike," UAW boss Fain said in a YouTube video published Monday evening. 
Fain said, "We're not waiting around, and we're not messing around. So, noon on Friday, Sept. 22 is a new deadline."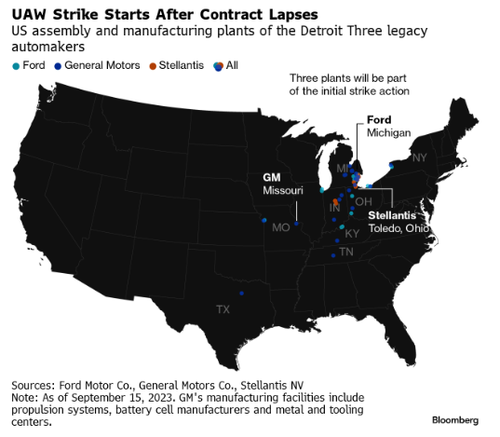 The union said Ford, General Motors, and Stellantis have "failed to put fair contract offers on the table." A union representative told Bloomberg "no new offers" have come from the automakers "since the union made its latest proposals on Sept. 14, right before its strike began." 
Loading...