---
Stellar 2Y Auction Sees Bond Market Mocking Fed's "Higher For Longer"
Back in November, when the 2Y auction hit a cycle high of 4.513%, markets knowingly nodded muttering that the bond market was agreeing with the hawkish Fed. Since then however, things haven't gone according to plan with each auction printing at an lower and lower yield, culminating with today's sale of 2Y paper which priced at just 4.139%, down from 4.390% in December, and the lowest since August. It also stopped through the When Issued 4.152% by 1.3bps, the third consecutive stop through which prior to December had tailed 3 of the past 5 times.
The Bid to Cover confirmed the stellar demand, jumping from 2.713 to 2.944, the highest going back all the way to the flight to safety bond market chaos of April 2020.
Finally, the internals were also phenomenal, with Indirects - or foreign buyers - awarded a whopping 65.0%, the third highest on record, and well above the recent average of 57.4%. And with Directs taking down 18.7%, it meant that Dealers were left holding on to just 16.3% which was also one of the lowest on record.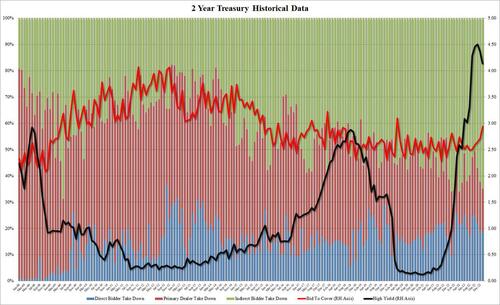 Bottom line: this was an absolutely blowout auction, and one which is clearly mocking the Fed's "higher for longer" intention as demand for 2Y paper at well below the Fed's market implied terminal rate of 2Y suggests that even the smartest guys in the room are convinced the Fed will be cutting quickly and aggressively as soon as the second half.
Not surprisingly, both the 10Y and the 2Y yields hit session lows after news of the stellar demand for 2Y paper hit the wires.
Loading...