---
Stellar 3Y Auction With Record Foreign Demand Shows Bonds Not Worried About "Six Or Seven" Hikes
Just like a month ago, there were quite a few nerves heading into today's 3Y auction, which is part of the Treasury's refunding cycle, and saw the sale of some $50BN in paper. And just like a month ago, demand for today's offering was absolutely stellar, despite fears that the Fed's hiking cycle will unleash pandemonium in the bond market, suggesting that at least in the rational and forward looking bond market investors see the Fed's current infatuation with tightening being over well before the maturity of today's offering on Feb 15, 2025.
Here is how today's auction fared: the Treasury sold $50BN in 3Y notes at a high yield of 1.592%, which while 35.4 bps above last month's 1.241% and the highest since December 2019, also stopped through the When Issued 1.595% by 0.3bps, a solid topline result for a tenor that has not tailed since November.
The unremarkable Bid to Cover of 2.452 was in line with the six-auction average of 2.428 and below last month's 2.469.
However it was the internals that were most remarkable, with foreign buyers (or Indirects) immediately sticking out because with their 68.5% take down, they were tied for the highest ever (the only time in the past when Indirects took down an identical amount was in Nov 2009), and a clearly and sharp surge compared to recent auctions, certainly last month's 61.6%.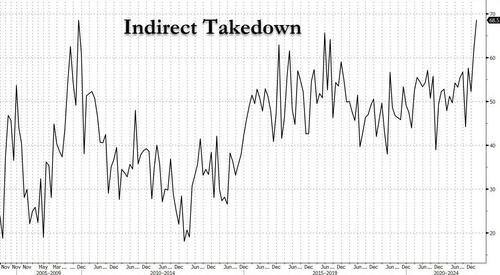 And since foreign demand was off the charts, and since Directs took down 11.14%, well below the recent average of 18.0% and the lowest since April 2020, this meant that Dealers were left holding just 20.3% of the auction, the lowest amount on record (to be expected since they will no longer be able to turn around and flip it back to the Fed at a modest risk-free profit).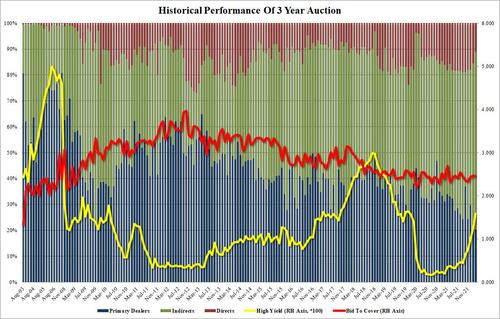 Bottom line: another stellar auction, just like January's 3Y, and yet another confirmation that despite fears of a collapse in demand for US paper due to Fed tightening, the bond market is either not concerned about the coming avalanche of rate hikes, or simply thinks that by the time these bonds mature, the Fed will have long since reversed its tightening policy - perhaps as a result of an imminent recession - and slashed rates back to zero (if not lower).