---
Stock Reactions To Q3 Earnings "Smack Of The Tech Bubble"
First the good news: Q3 earnings season has so far been stellar.
Following the second week of earnings, 134 S&P 500 companies comprising 37% of index earnings have reported.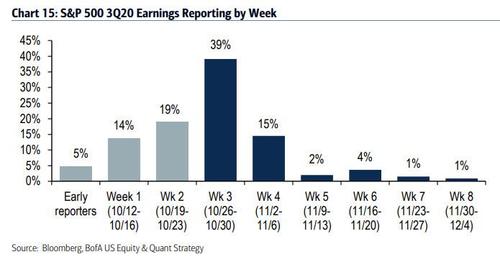 According to BofA's Savita Subramanian, earnings continued to surprise to the upside, with reported earnings so far topping consensus by a remarkable 18%, led by Financials (+9% ex-Fins). This means that 3Q EPS is now pointing to $34.90 (-17% y/y), up 6% since the start of October and 1% above BofA's own estimate of $34.50 (where it forecast a 5% beat). For companies that have yet to report, estimates are down 0.6% since Oct 1, suggesting further upside if the momentum continues.
So far, 69% of companies have beaten on both top and bottom lines, representing the strongest post-Week 2 proportion of beats in history since 3Q11 (40% on average).

80% have beaten on EPS and 81% have beaten on sales, the second highest in history and well above the average after Week 2 (61% and 54%, respectively). Last quarter when earnings ultimately came in 21% above consensus (biggest beat ever), 61%/77%/73% (both/EPS/sales) beat following Week 2.
Now the bad news: Q3 earnings season has been a deja vu of the tech bubble.
As Subramanian explains, stock reactions to surprise thus far "smack of the Tech Bubble, which was the only earnings season in history when surprises saw perverse rather than intuitive reactions – beats were not rewarded and misses were not penalized." And as she ominously reminds us, "the market cracked after the 2Q earnings season when this happened."
So far this quarter, companies that beat on both top and bottom line have underperformed the S&P 500 by 5bps the day after (worst in history), and misses outperformed by 60bps, highest in history.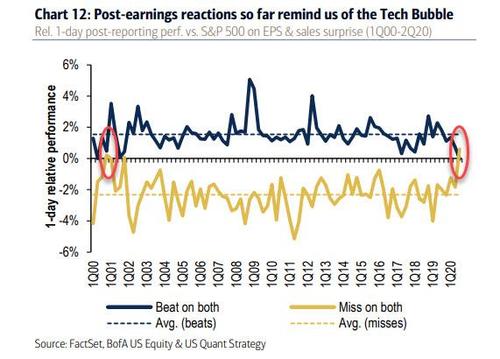 According to Subramanian, "the lack of alpha indicates a lot of good news (or bad news) is priced in already, and investors are more focused on the upcoming election and macro factors (i.e. stimulus, virus, etc.) than what happened in 3Q." Whether traders also react to Q3 earnings season once it is concluded the way it reacted to the tech bubble remains to be seen.
The one mitigating factor according to the BofA strategist is that the bank's bear market signposts - which include this factor (alpha from beats) - are still below the 80% threshold of indicating a potential bear market (63% triggered).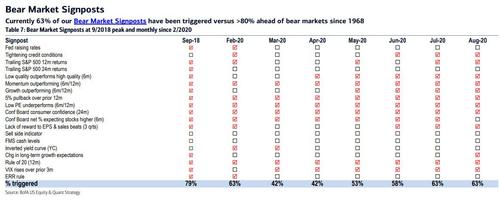 Still, as noted above this factor suggests that the good earnings news has largely been priced in, and macro factors (election, stimulus, virus, etc.) supersede a big 3Q earnings beat.